Simple Condensed Milk Toast Recipe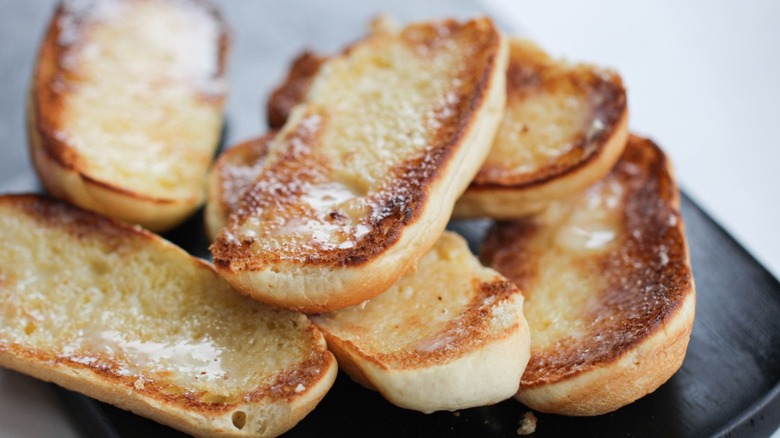 Susan Olayinka/Mashed
Bread is a staple in many households, as you can pair it with lots of dishes. It's also, however, delicious to eat on its own. There are many ways to enjoy the staple food — either you top it with peanut butter and jam, add ham and cheese in between slices, make grilled cheese sandwiches, or simply enjoy good old toast. 
Speaking of toast, did you know that you can eat it with condensed milk? It may seem new and foreign to some people, but the delicious treat is actually a staple in Hong Kong (via Huffpost).
While people in Hong Kong often add condensed milk in between two bread slices, it's also eaten with the condensed milk on top of a single toast. Recipe developer and blogger of The Flexible Fridge, Susan Olayinka, went with the single slice version, applying the milk as a spread on top of each slice. She also uses brioche, noting that this type of bread is the most suitable for the recipe and that you can use brioche in the form of a roll or a loaf.
"This is a great treat mid-afternoon, or you could have this treat after dinner," says Olayinka. "It is so, so simple to make and tastes absolutely delicious. My son and husband loved it!"
Gather your ingredients for the condensed milk toast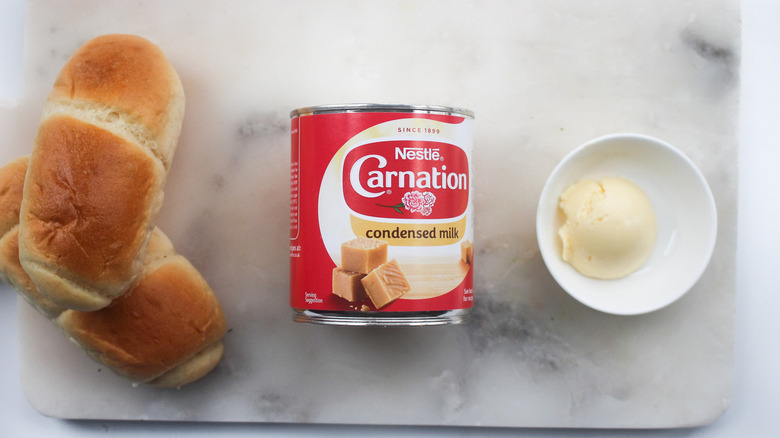 Susan Olayinka/Mashed
To make the condensed milk toast, you will only need three ingredients: four brioche rolls, butter, and condensed milk. Yes, it's that simple! 
Slice the brioche rolls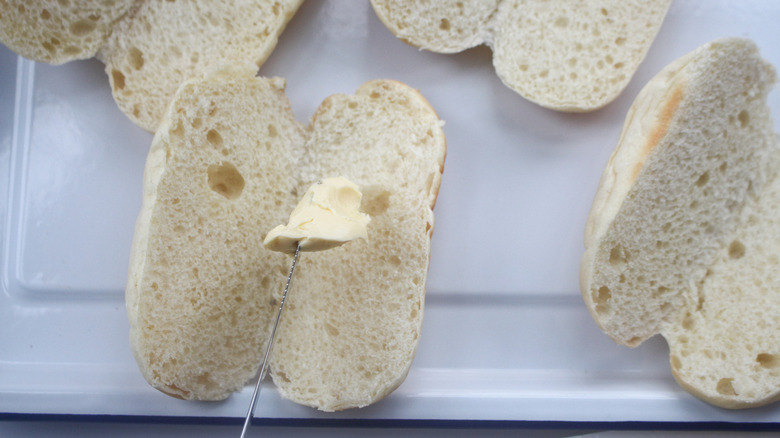 Susan Olayinka/Mashed
You can start the preparation process once you have all the ingredients. Grab the brioche rolls and slice them in half. To cut them, lay them sideways and cut vertically — similar to how you would cut a burger bun. Additionally, when slicing, don't cut all the way. Make sure that the two sides can be laid flat but are still connected. You want each serving to be the size of toast. If you slice all the way through a roll, each piece will be too narrow. 
If your brioche is in the form of a loaf, you can just slice the bread all the way through.
Toast the bread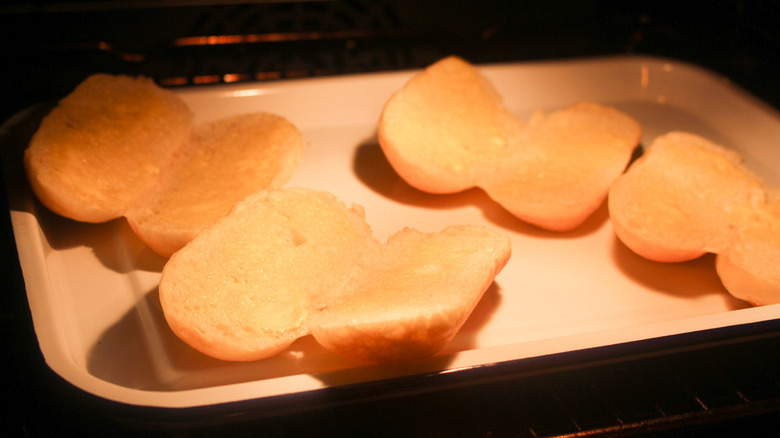 Susan Olayinka/Mashed
When the brioche is sliced and ready, you can then place each one on a baking sheet under the broiler and broil them on high. Since the temperature is high, the bread can quickly burn to a crisp, which is why Olayinka notes to cook the bread for only one minute. If you want it to look more browned, you can opt to leave it on the heat for a few more seconds or simply check it frequently. 
There are also other ways to toast the brioche, notes Olayinka, including toasting it in a cast-iron skillet or in a toaster oven.
Apply butter and condensed milk on the rolls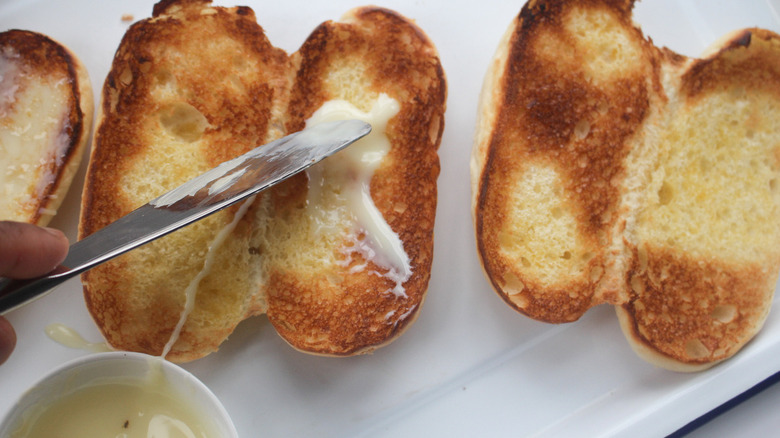 Susan Olayinka/Mashed
When you're done toasting the bread, apply butter on each slice. While Olayinka only uses 2 tablespoons of butter in her recipe, you can tweak the amount, depending on your preference. 
Next, open the condensed milk can and pour some of the liquid into a small container. Using another knife, spread the milk on each buttered slice of bread. When you're done, separate the slices and serve them on a plate.
Simple Condensed Milk Toast Recipe
With sweet condensed milk on top of toasted and buttered brioche, this simple condensed milk toast recipe tastes just as good as it looks.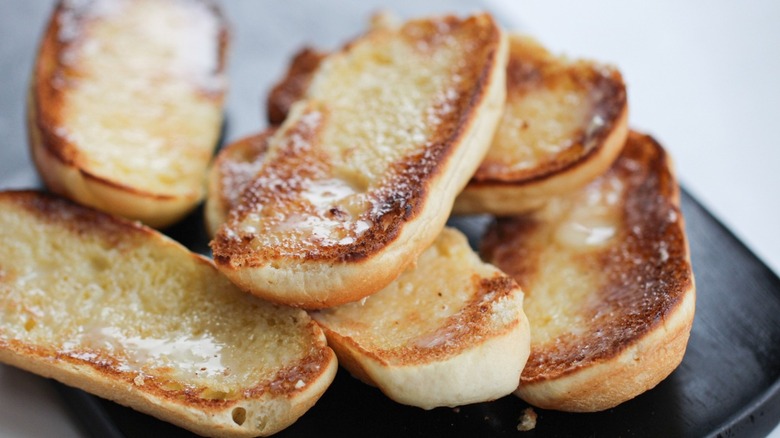 Ingredients
4 brioche rolls
2 tablespoons butter
2 tablespoons condensed milk
Directions
Divide the brioche rolls into two pieces with a breadknife, without cutting all the way through.
Put the cut side of the brioche rolls on a baking sheet and place them under the broiler on the high setting for one minute or until toasted.
Butter the toasted brioche rolls.
Spread the condensed milk on all the brioche rolls.
Serve the condensed milk toasts.
Nutrition
| | |
| --- | --- |
| Calories per Serving | 327 |
| Total Fat | 13.3 g |
| Saturated Fat | 6.8 g |
| Trans Fat | 0.3 g |
| Cholesterol | 63.4 mg |
| | |
| --- | --- |
| Total Carbohydrates | 43.3 g |
| Dietary Fiber | 1.7 g |
| Total Sugars | 8.3 g |
| Sodium | 306.0 mg |
| Protein | 8.3 g |