Classic Chocolate Milkshake Recipe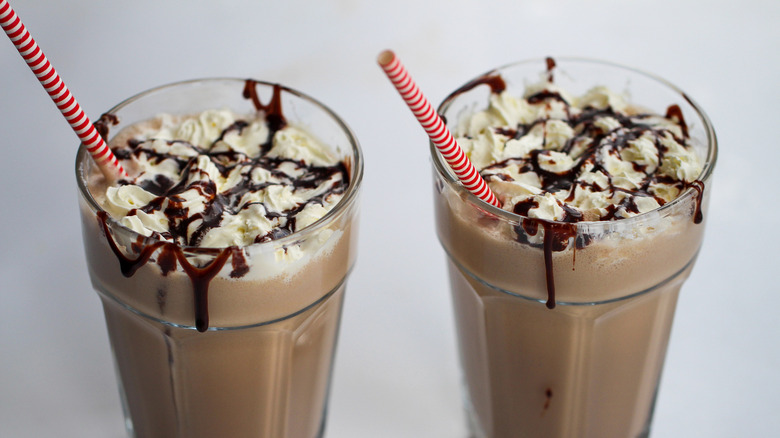 Susan Olayinka/Mashed
Chocolate milkshakes are kind of a perfect dessert, and we all know when the craving hits, it can be pretty strong. If you've been on the hunt for the perfect at-home shake recipe, you've come to the right place. Sometimes it can be challenging to get those ice cream to milk ratios just right in your own kitchen. 
We consulted Susan Olayinka of The Flexible Fridge on how to get the perfect chocolate milkshake courtesy of our own blenders. "I have consumed so many chocolate shake recipes so it was only fitting for me to make it!" she says. "It was about getting the perfect balance between chocolate sauce and ice cream. I made sure it wasn't too little as I want home cooks to taste it. I added more chocolate sauce and blended it a couple times till I reached the perfect amount which was 1/2 cup."
So, read on for how you can blend this smooth, chocolatey concoction for an instant solution to any household milkshake cravings.
Gather the chocolate milkshake ingredients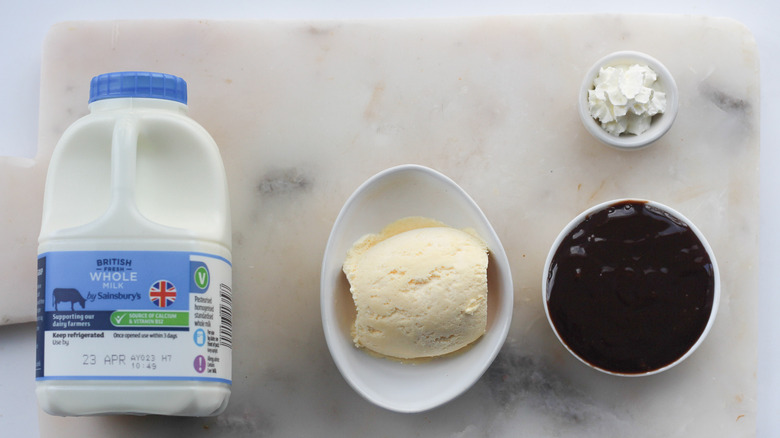 Susan Olayinka/Mashed
First up, gather all the ingredients for your chocolate milkshake. This recipe yields two servings so it's enough for two glasses worth of shake. If you'd prefer to just stick a straw in the blender when you're done combining everything and call it a day, we certainly won't judge. 
You'll need one cup of milk (even dairy-free works if that's your preference), two cups of vanilla ice cream, and a half cup of chocolate sauce. Getting the right milk-to-ice cream ratio is important for making the best milkshake. And while any brand of chocolate sauce is acceptable, according to Olayinka, "Belgian chocolate is the best to use." You can also add whipped cream on top of the final product if you wish.
Place all the chocolate milkshake ingredients in a blender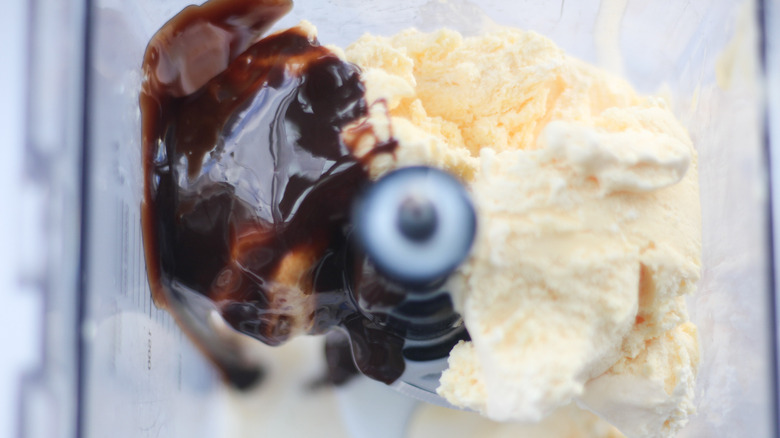 Susan Olayinka/Mashed
Next up, add the vanilla ice cream, chocolate sauce, and milk to a blender. We'd suggest starting with the ice cream and ending with the milk. You do not need any ice cubes to make this shake. Just make sure your ice cream is just out of the freezer and your milk is extra cold.
You might be wondering why we're not using chocolate ice cream for this chocolate milkshake recipe. While one might assume it's the go-to ingredient, Olayinka tells us that the combo of vanilla ice cream and chocolate sauce is the "traditional," classic recipe.
Blend the chocolate milkshake ingredietns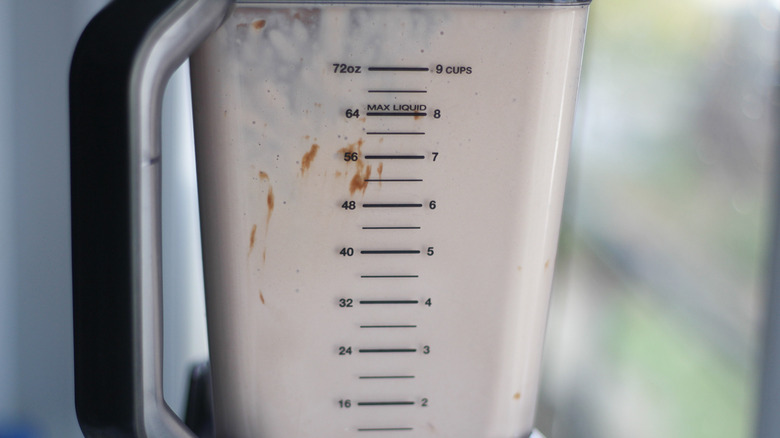 Susan Olayinka/Mashed
Once you've placed all the ingredients in the blender, blend everything on high for 30 seconds, or until the resulting liquid is smooth and creamy. If it's not your desired level of thickness by this point, feel free to add another spoonful or two of ice cream to the blender.
It's also worth noting, while Olayinka demonstrates with a high-speed blender in these accompanying photos, you definitely don't have to own one to execute this chocolate shake. Luckily, when it's just ice cream, milk, and chocolate sauce, a regular ol' blender is more than sufficient for getting the job done.
Pour the chocolate milkshake into glasses and serve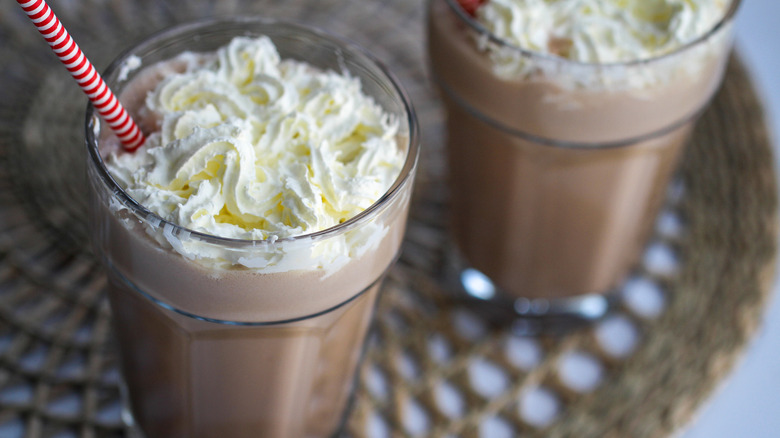 Susan Olayinka/Mashed
Once your ingredients are fully combined and blended smooth, transfer the milkshake from the blender to two glasses and serve immediately. You can adorn the shakes with whipped cream (or even make your own), more chocolate sauce, and/or Maraschino cherries. You could also add chocolate shavings to the top if you want to get extra fancy. 
While we like this ratio of ingredients for a perfect chocolate milkshake, you can assume it's always a safe bet to go two parts ice cream, one part milk, with any flavor combination you choose. One cup milk, 2 cups of chocolate ice cream, and half a cup of peanut butter would also be delicious. 
Classic Chocolate Milkshake Recipe
Nothing satisfies a chocolate and ice cream fix quite like a chocolate milkshake. Making this treat is so easy you may just want to make multiple shakes.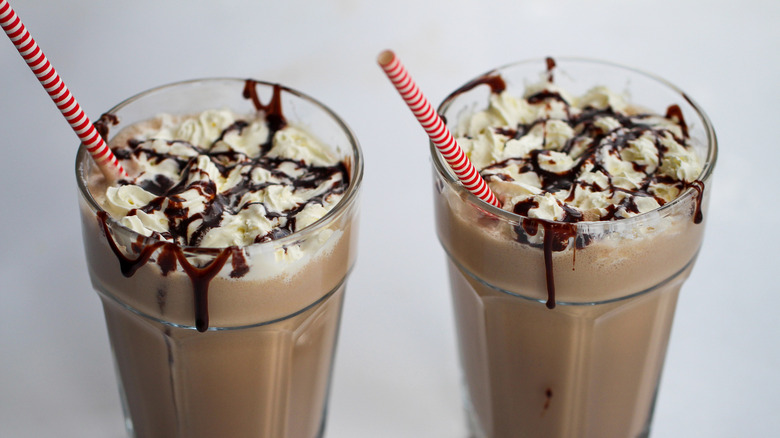 Ingredients
1 cup milk (dairy/non-dairy)
2 cups vanilla ice cream
½ cup chocolate sauce
Optional Ingredients
whipped cream
additional chocolate sauce
maraschino cherries
Directions
Put all ingredients into a blender.
Blend on high for 30 seconds, until smooth, then pour into a serving glass.
Top with whipped cream, maraschino cherry, and drizzle with chocolate sauce. Serve immediately with a straw.
Nutrition
| | |
| --- | --- |
| Calories per Serving | 396 |
| Total Fat | 19.9 g |
| Saturated Fat | 12.1 g |
| Trans Fat | 0.0 g |
| Cholesterol | 75.3 mg |
| | |
| --- | --- |
| Total Carbohydrates | 43.7 g |
| Dietary Fiber | 1.5 g |
| Total Sugars | 40.2 g |
| Sodium | 185.6 mg |
| Protein | 10.7 g |