Aldi's Coffee And Dulce De Leche Ice Cream Flavors Are Turning Heads
Aldi is a popular grocery store — not just for its great deals and reasonable prices, but also because shoppers can often find special treats and snacks within the aisles that can't be found at any other store. The chain has done it again, this time in the frozen treats section, with the release of their new Specially Selected ice cream flavors. These sweet, creamy desserts are now available in two new indulgent selections: Coffee and Dulce De Leche.
The popular Instagram account @theamazingaldi made a post on May 13 alerting followers to the new finds, saying: "Time for dessert? ... I'm really wishing I'd bought one of these right now." The account's followers that had already given the treat a taste were quick to confirm these new flavors are definitely worth the purchase. In fact, it seems Aldi fans couldn't have dreamed up a better option for the upcoming summer months. If the responses on social media are anything to go by, the only problem shoppers may have with this ice cream is deciding which flavor to buy — or getting them before they're sold out.
These ice cream flavors are melting hearts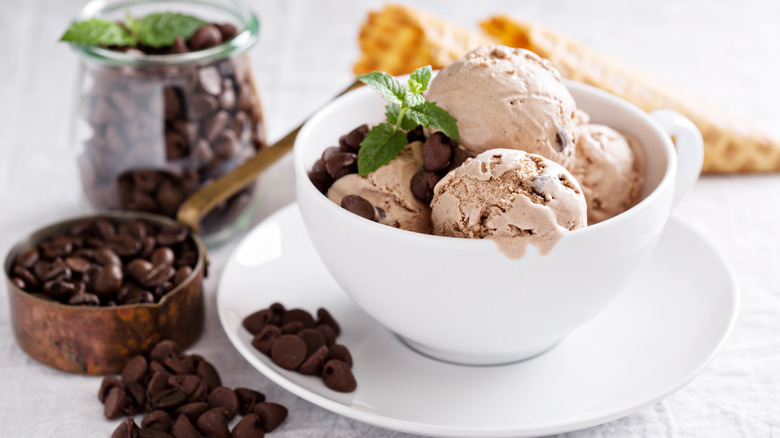 Shutterstock
Quite a few Aldi fans were quick to sing the praises of the Coffee flavor in particular. One raved, "The Coffee is so good!" And another affirmed, "Yesss!!! Coffee is our favorite ice cream flavor!" However, others shoppers were even bigger fans of the decadent Dulce De Leche pick. One said, "Dulce de leche for the win!!!" while another shopper chimed in, "The Dulce de leche tastes just like Haagen-dazs." In terms of taste comparisons, another commenter added, "This is the best coffee ice cream EVER. Beats Baskin-Robbins."
While personal preferences certainly come into play, the general consensus seems to be that you can't go wrong with these sweet treats, no matter which flavor you prefer. With the weather already warming up, it's just about time to start stocking up on the sweet snacks that can be enjoyed when it's hot outside. And don't want to wait to grab a carton or two the next time you're in the freezer section of your local Aldi — we predict these will go fast.