How Much KFC Employees Really Make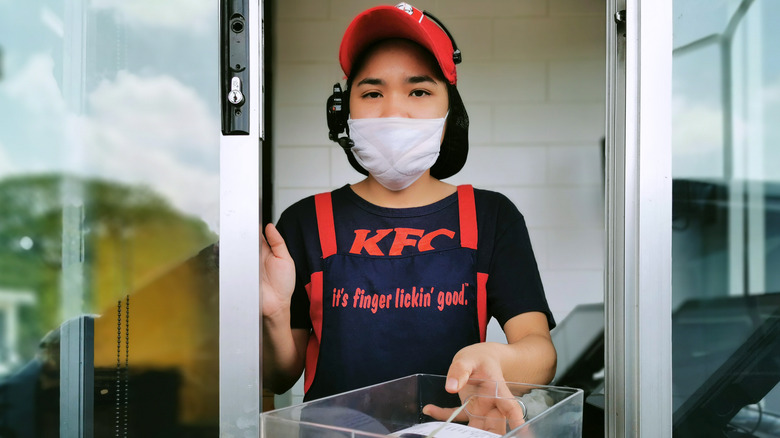 Shutterstock
With takeout restaurants adorning street corners and packing city centers, the allure of fast food couldn't shine brighter. Among the top picks for Americans is none other than KFC. 
KFC is one of the most successful fast food chains going, boasting over 25,000 restaurants worldwide, according to the brand. Though estimates vary of the company's employee count, as of 2021, KFC was hoping to bring on at least 20,000 more restaurant hires this year alone (via QSR). With such a powerful brand, huge workforce, and massive revenue (annual turnover stands at well over $2 billion, according to Craft), KFC is without a doubt an impressive company to work for.
Even though money appears to pour into KFC at about the same speed as a headless chicken runs around, life for its employees may not necessarily be as tasty as its gravy. Research by Glassdoor notes that the average pay of cooks, cashiers, and team members is $9 an hour, details that are backed up by Payscale.
It can take a long time for KFC workers to earn big wages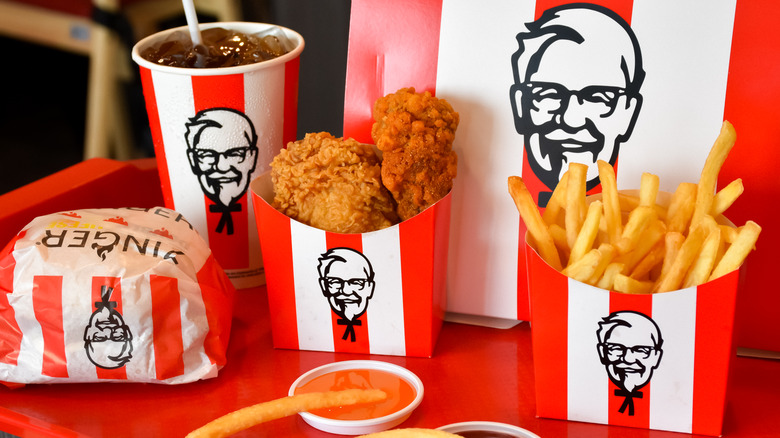 Shutterstock
The financial situation does not improve greatly for more senior staff members. Despite holding more responsibilities with their advanced roles, shift supervisors are recorded as earning $11 an hour, whereas shift managers acquire an average hourly pay of $13, according to the site Glassdoor.
Bigger bucks do start to roll in as employees progress through the corporation. Findings by Indeed suggest that general managers at KFC are paid $50,756 per year, while district managers could earn $68,330 annually. The information acknowledges that pay is similarly positive for maintenance staff — the average pay of a facilities technician, for example, is $57,446 a year.
With all pay scales taken into consideration, the overall average base hourly rate of KFC workers is considered to be $9.75 (via Payscale). But, in addition to money, KFC employees cite benefits including training, health insurance, and free food as being added perks for working for the Colonel's famous brand, per AmbitionBox.