Costco Fans Are Loving These Frozen Sweet Potato Fries
Sweet potato fries have come to dominate dinner tables over the past few years. According to My Recipes, Alexia Foods' waffle cut seasoned sweet potato fries, Ore Ida straight sweet potato fries, and Trader Joe's signature sweet potato fries all rank as crowd favorites when it comes to making this delectable side at home. Costco, playing to win, now carries a sweet potato fry that easily challenges all of these established brands and might have what it takes to rank as the best frozen sweet potato fry ever.
Instagrammer @costcobuys spotted a big bag of Tropicland sweet potato fries on their latest Costco run and snatched up the product. They posted a picture of the score, alongside the caption, "Grab this HUGE bag of sweet potato fries at Costco for only $7.69! These are vegan and gluten-free and taste good, especially in the air fryer!" Fans concurred, awarding the post almost 1,500 likes and a ton of glowing comments like, "These taste so good, better than the ones from sprouts and if you make them extra crispy," and "These were bomb."
A sweet potato fry worth celebrating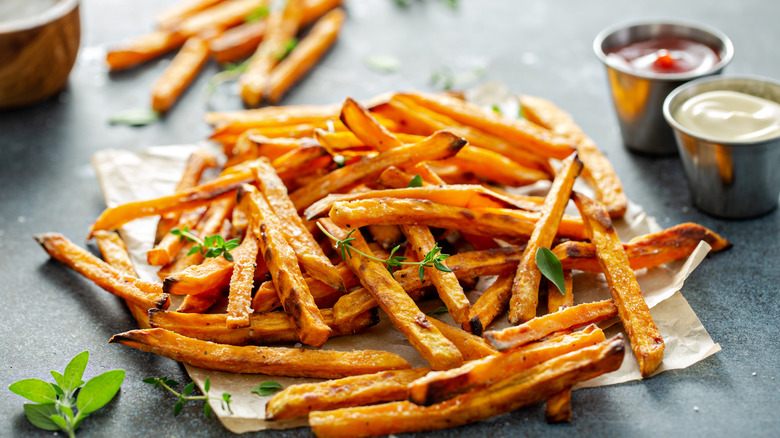 Shutterstock
These new sweet potato fries also offer up a slew of health benefits if you select them over other brands. According to Fooducate, the product doesn't contain any cholesterol or added sugar, while packing in the fiber to keep you full. Even better, a serving of these fries contain a scant 3% of your daily recommended sodium, making them perfect for anyone looking to limit salt while indulging in a great treat.
If you still can't decide if these fries have your name on them or not, find out by picking up a bag next time you make your next grocery run and see if they can win you over. With a bit of luck, you might just discover your new favorite frozen side. If you do fall in love with the product, make sure to stock up — Costco has a habit of pulling products right as you fall in love with them, and you wouldn't want to lose this new fry.