The Untold Truth Of Stubb's BBQ Sauce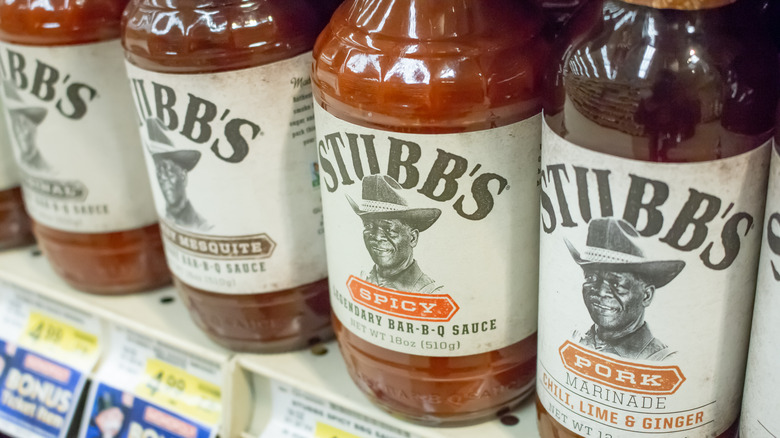 Shutterstock
Barbecue sauce can be a very personal choice when it comes to flavor and texture. Walk into any grocery store and you'll find an entire section of an aisle devoted to this tangy, sweet sauce to lather on your preferred cut of meat and roast it on the grill. Most people have their favorite style, whether they prefer a zing or sweeter notes of rich molasses.
Stubb's BBQ sauce has a following with plenty of fans but many people may not realize that purchasing a bottle of Stubb's sauce from the supermarket came much later. That's because Stubb's first began with a restaurant in Lubbock, a town in Texas that would also serve as a music venue and attract crowds from all over. As for the sauce, it would be a few decades later before Stubb would consider bottling up his recipe with his face on the label, and then expand into marinades and rubs. This company would be worth millions, too, all in the name of a delicious sweet sauce.
Cooking up barbecue inspired by his time in the army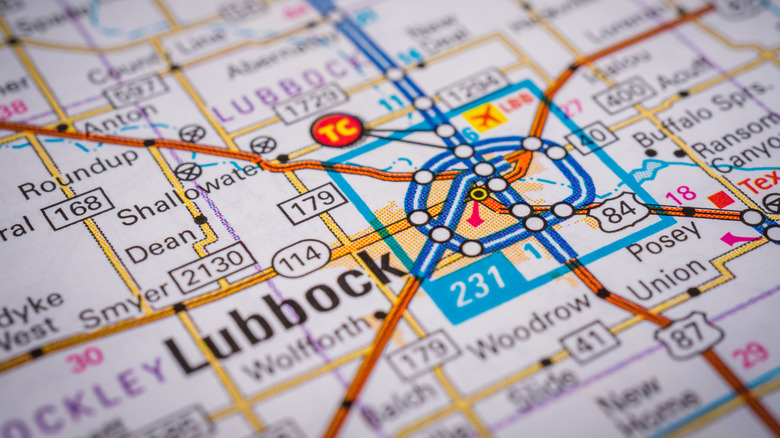 Shutterstock
Christopher B. Stubblefield, or Stubb, his nickname that his family and friends used, is the man behind the well-known Stubb's BBQ sauce, according to the Stubb's website. But selling his own sauce wasn't on his radar, initially and wouldn't be for several years. 
You can say his adventure into all things barbecue began while stationed in the army. Yup, of all places. Stubb was part of the U.S. Army's all-Black infantry in the 96th Field Artillery during the Korean War with his role as a gunner, according to the Texas State Historical Association (TSHA). But after two injuries, he became a mess sergeant, where he gained plenty of experience cooking because his new duty was to prepare delicious food for his fellow comrades. But when he was honorably discharged in 1967, he moved back home to Lubbock, Texas, where he was inspired to open his own restaurant, according to the Stubb's website.
A restaurant came first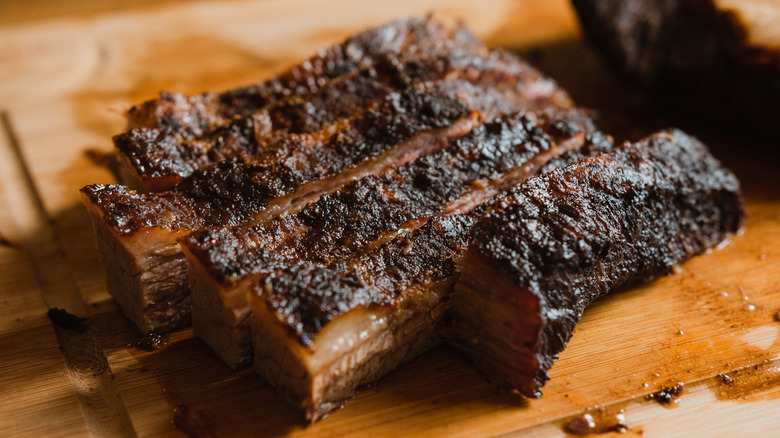 Shutterstock
By 1968, he opened his first restaurant in Texas and called it Stubb's Legendary Bar-B-Q, according to Stubb's website. The place wasn't big — with a capacity of 75 people — and he served beef brisket, ribs, sausages, and chicken from the hickory pit located outside in the back of the restaurant. But this small restaurant also became equally popular as a hangout and a place to listen to live music while eating scrumptious barbecue, especially on weekends. In fact, musicians would come to play in exchange for tips and good ole' BBQ since Stubb didn't have the cash to pay them (via TSHA).
But within a little less than two decades, Stubb's was forced to close its doors due to money and tax problems. According to Stubb's website, he told Texas Monthly, "Let's put it this way, I got run out of Lubbock 'cause I was broke, busted, and disgusted. I can't fight the IRS with barbecue and sauce."
Started selling barbeque sauce when his second restaurant closed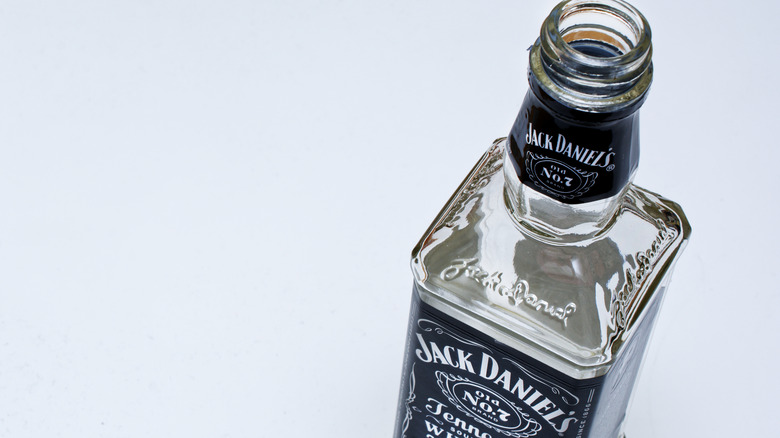 Shutterstock
Soon after leaving Lubbock, Stubb relocated to Austin, Texas, where he worked in a BBQ restaurant (via TSHA) before opening a new restaurant and music venue of his own in 1986. But this restaurant would not keep its doors open for very long as it would close down three years later. But that's when inspiration hit, thanks to the suggestions of several friends: bottle up the sauce and sell it. One of the keys to his sauce, aside from love and care in preparing it, was how he bottled it. 
In the beginning, he reused bottles and jars — Jack Daniel's bottles, in particular, according to Texas Monthly, and simply removed the label. Then, he hand poured the sauce, added a jalapeño pepper, and corked it, according to Taste of Home. Further setting Stubb's apart in the sauce's early days, each bottle came with an audio cookbook named "Stubb's Blues Cookbook Cassette" recorded on a cassette tape, according to Texas Monthly.
Stubb's is now owned by McCormick & Co.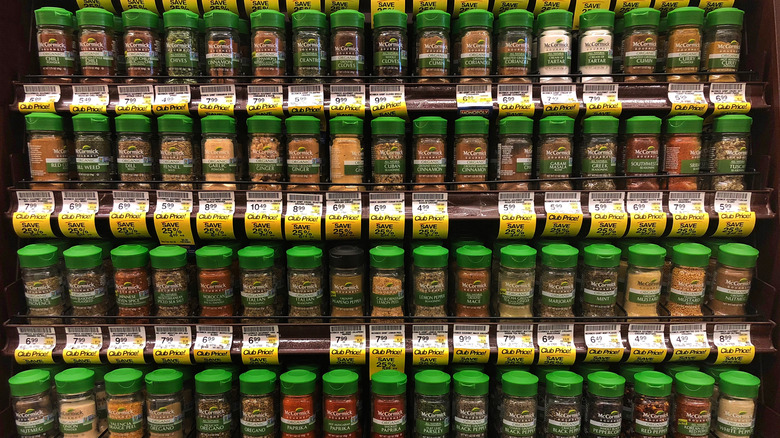 Shutterstock
McCormick & Co. is a well-known spice brand famous for their white and red spice tins, although now their spices come in transparent jars that you'll find in the spice aisle. But it also owns multiple companies, including hot sauce, condiments, pre-made food and beloved Old Bay Seasoning (via ChowHound). Stubb's barbeque brand that includes rubs, and marinades was sold to McCormick & Co in 2015 for a hefty sum of money. According to a press release from McCormick and Co in 2015, "McCormick acquired the Stubb's business for a cash payment of approximately $100 million subject to certain closing adjustments." 
McCormick elaborated, "Stubb's products complement McCormick's range of grilling items with the addition of authentic, craft barbeque sauces. McCormick plans to drive sales of the Stubb's brand through expanded distribution, increased household penetration and innovative flavors." Thanks to this, you can find Stubb's brand in many places in the world.
Honoring Stubb's with a restaurant and statue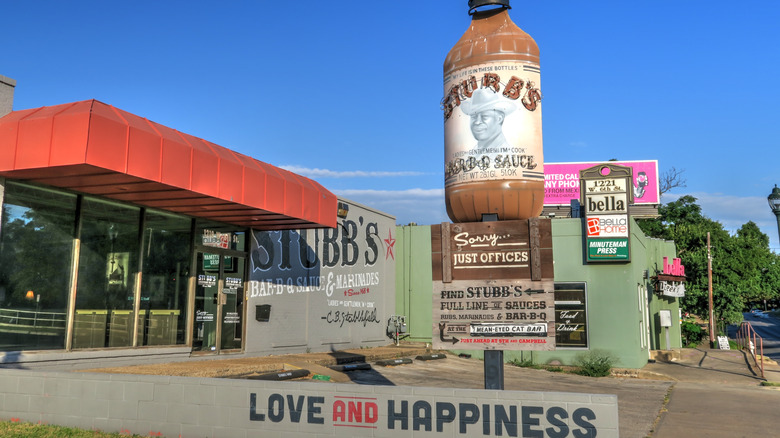 Shutterstock
Stubb passed away too soon at the age of 64, due to congestive heart failure in May 1995, according to the Texas State Historical Association. However, his spirit lives on not only in his line of barbecue sauces, marinades, and cookbooks, but also in his restaurant in Austin, Texas that he once had to close. After his death, his partners pulled resources and fundraised to purchase the historical building that housed his restaurant to bring people together to enjoy barbecue and live music. 
In 2009, The Austin Music Memorial inducted Stubb in honor of his contributions to the music scene in Austin (per TSHA). And although his original restaurant has been closed for years, his friends crafted a life size bronze statue of Stubb that is placed near the original location as a tribute to him and his hometown (per Texas Monthly). So if you ever find yourself passing through Lubbock, you can pay your respects to Mr. Stubb.