How Some People Think KFC's Secret Recipe Was Leaked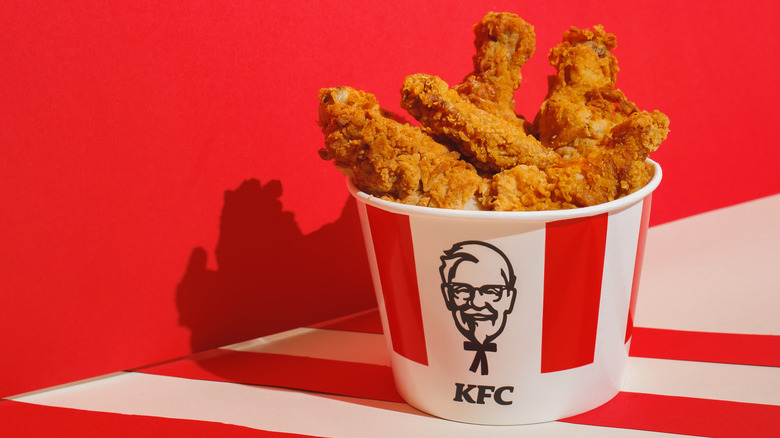 Shutterstock
It's no secret that the fast food chain KFC, aka Kentucky Fried Chicken, keeps their special recipes under lock and key. Colonel Harland Sanders, the founder of the chicken empire, invented the original recipe for the delicious and scrumptious fried chicken that spawned the jingle, "It´s finger lickin´good" in decades of advertisements and commercials.
If you're curious about the exact variety of 11 spices and herbs that are in the iconic seasoning blend, you may be able to detect some of them simply through taste tasting — it might take a few buckets, not that anyone is complaining. But as far as having access to the precise recipe and making it yourself at home — consider the task monumental since the family considers it a trade secret and part of their heritage, according to the Food Channel. They note that, in 2008, the original handwritten recipe was removed from a safe for the first time in 68 years to be transported to a top secret location and was done so with police and armored cars.
KFC's recipe may have been accidentally leaked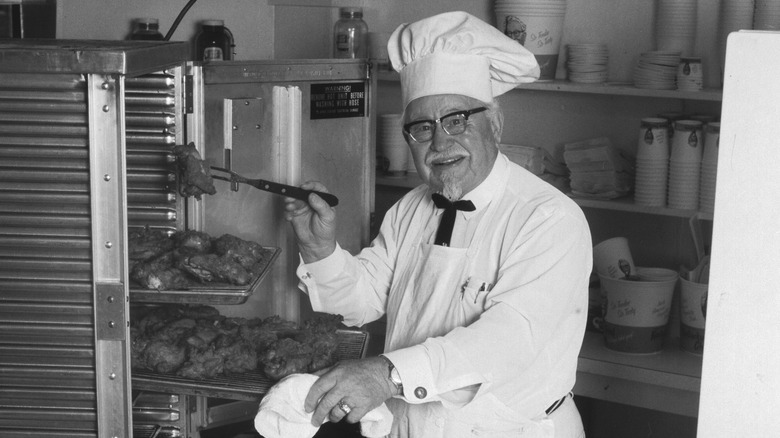 Leila Grossman/Getty Images
Despite all the secrecy, and effort to keep the recipe out of the hands of the public for decades, it may have accidentally been leaked during a 2016 interview with Colonel Sanders' nephew, Joe Ledington. Chicago Tribune journalist Jay Jones traveled to Kentucky to interview Ledington for a feature article in the paper's travel section that year.
Ledington was prepared for the chat with a scrapbook, created by Sanders' second wife, Claudia Ledington, that was filled with photos of key moments in the history of KFC, as well as mementos and keepsakes (via Chicago Tribune). Curiously, an official document professing to be Claudia's last will happened to be in the back of the album that her nephew proudly showed off to Jones to show what each family member received upon her passing. 
However, Jones was more fascinated by the handwritten note in blue ink on the back that looked to be a rundown of the exact 11 spices and herbs that people had been trying to uncover for years. It included salt, thyme, basil, oregano, celery salt, black pepper, dried mustard, paprika, garlic salt, ground ginger, and white pepper and was instructed to be mixed with 2 cups of white flour.
Although Ledington initially admitted they were the ingredients to the confidential recipe, he later tried to save face, saying he couldn't confirm if the handwritten note was the original recipe, especially since it wasn't in his uncle´s handwriting, according to the Chicago Tribune. It may be as close as we will get to ever knowing the top secret recipe — and regardless, it sounds delicious.