No-Bake Reese's Krispie Cookies Recipe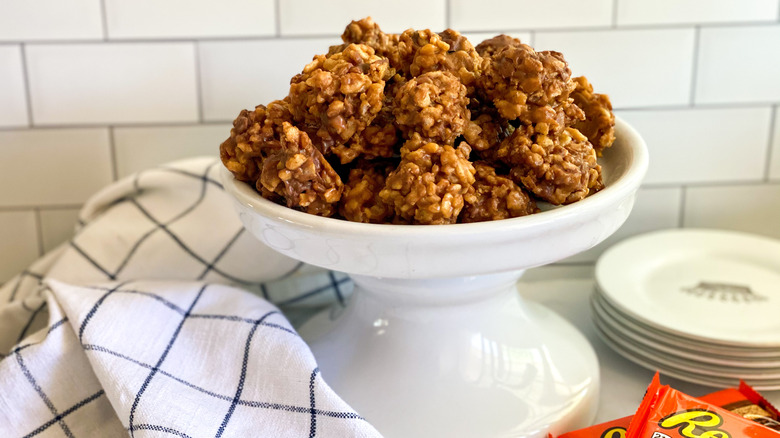 Miriam Hahn/Mashed
Biting into a freshly baked cookie is one of life's most enjoyable, decadent moments. However, it requires a bit of preparation and careful monitoring to preheat the oven and ensure the perfect baking time. In the summer, the thought of turning on the oven can be so unbearable that your appetite for something sweet is halted even before you manage to satiate it. Thank goodness for Miriam Hahn's delicious No-Bake Reese's Krispie Cookies. 
Miriam is a wellness coach, nutrition pro, and recipe developer, and she knows that life is all about balance. Eat all of your vegetables and healthy proteins, and you have plenty of leeway to enjoy these delicious cookies. Miriam designed these no-bake cookie balls with Rice Krispie treats in mind, making a few easy tweaks for a delicious taste that might make you forget all about the original. The iconic pairing of peanut butter and chocolate in the Reese's is amplified with extra additions of both ingredients. Rice Krispies keep everything nice and airy, just like your kitchen will be with the oven turned off. 
Get mixing, and you'll be able to enjoy these sweet and salty bites in no time.
Gather the ingredients for your no-bake Reese's Krispie cookies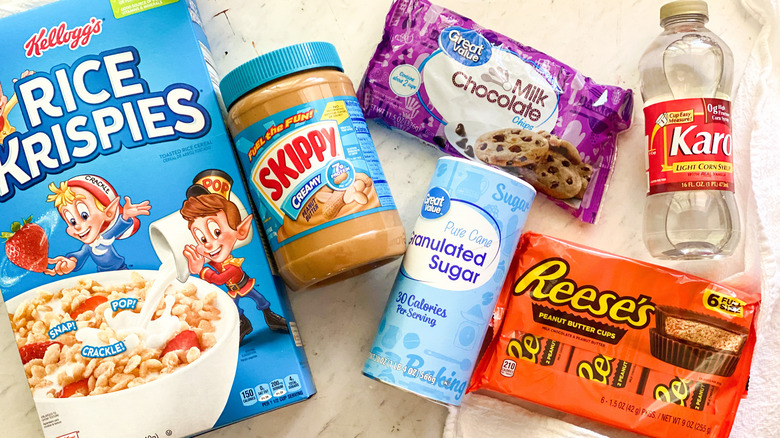 Miriam Hahn/Mashed
Gather up the ingredients you need for these no-bake Reese's Krispie cookies. There's definitely space for improvisation in this recipe as long as you keep the proportions of the different components the same. To start, you'll need light corn syrup to provide just the right amount of stickiness to keep all the ingredients stuck together. If you prefer, Miriam says you can sub maple or agave syrup for the same texture. Next, some granulated sugar will add extra sweetness and will dissolve with the corn syrup and peanut butter to create an unctuous blend that will coat the Rice Krispies. 
Use your favorite peanut butter, just keep in mind if it's chunky, you will have extra crunchy bits in your cookies. And of course, these wouldn't be Krispie cookies without Rice Krispies! The classic plain ones work well, and according to Hahn, "You could use another cereal of a similar size, and it would work fine." Next, you'll need chocolate chips so that each bite is filled with chocolatey goodness. Finally, arguably the highlight are the Reese's Cups, also possibly the ideal balance of sweet and salty. If you're not as enthused about the cups as we are, Hahn says these will work fine with most chocolate bars as long as they are chopped up small.
Heat the corn syrup, sugar, and peanut butter, and melt until they are combined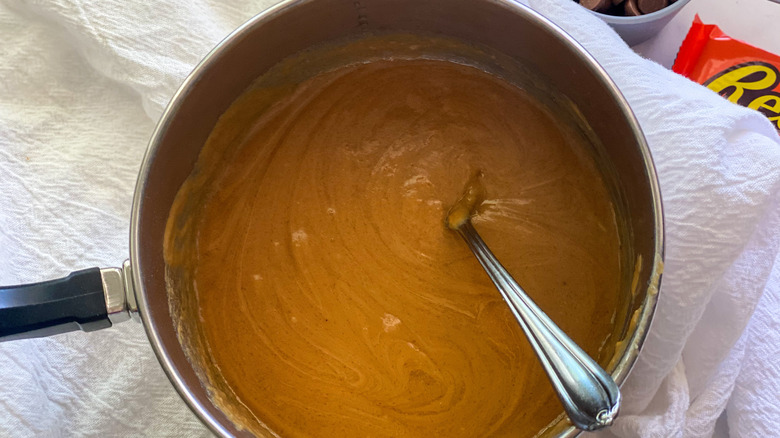 Miriam Hahn/Mashed
First things first: Add the light corn syrup, granulated sugar, and peanut butter to a small pot. Place the pot on the stove, and set the burner to medium heat. Gently stir the ingredients with a spatula as they begin to melt together. Once they are properly combined and have formed a homogenous mixture, remove the pot from the stove top. Make sure not to heat the mixture too much or overcook it once everything has combined, or the bottom might begin to burn. Allow the mixture to cool just slightly, but don't let it harden, or you'll have a tricky time with the next step.
Pour the Rice Krispies into a bowl, and add the melted mixture and chocolate chips
Miriam Hahn/Mashed
Pour the Rice Krispies into a large bowl. Add the peanut butter, corn syrup, and sugar mixture, and mix thoroughly. Make sure all the Rice Krispies are coated in the blend — you want to taste the peanut butter between every grain of puffed rice. Once the peanut butter is properly combined, stir in the chocolate chips. You'll want to spread these out evenly as well to have chocolate in every single bite. Mini or regular-sized chocolate chips are best for easy mixing, but you can chop up chocolate squares if it's all you have.
Chop up the Reese's and add to the mixture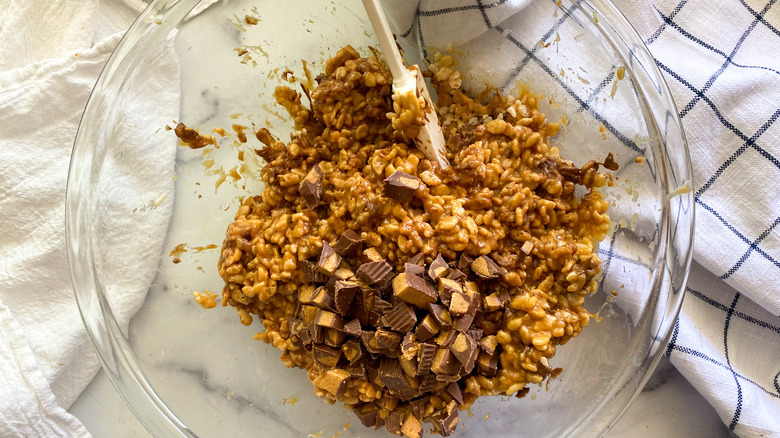 Miriam Hahn/Mashed
Now's the time to add more of the winning chocolate and peanut butter combination. Chop up your Reese's Cups fairly small to make them easy to pack into each cookie ball. Add the chopped Reese's to the Rice Krispies, peanut butter, and chocolate mixture. You better love chocolate and peanut butter because this is the ultimate union of the two. Make sure they are properly spread throughout the Rice Krispies mixture, or you'll regret it when you bite into a cookie with no Reese's. Your "dough" is now ready to shape. 
Scoop out tablespoon-sized balls of the mixture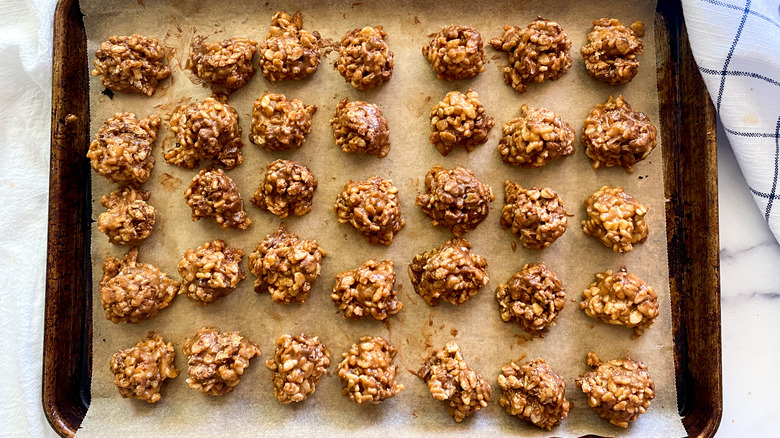 Miriam Hahn/Mashed
Line a cookie sheet with parchment paper to start. Scoop out balls approximately one tablespoon in size for each cookie. Lay them flat on the cookie sheet — no need to separate them at a specific distance since "no-bake" means they will stay exactly the same size. Once you have finished scooping out the entire mixture into balls, place the tray into the freezer. Leave it in for 30 minutes as the balls harden.  
Remove the tray from the freezer and serve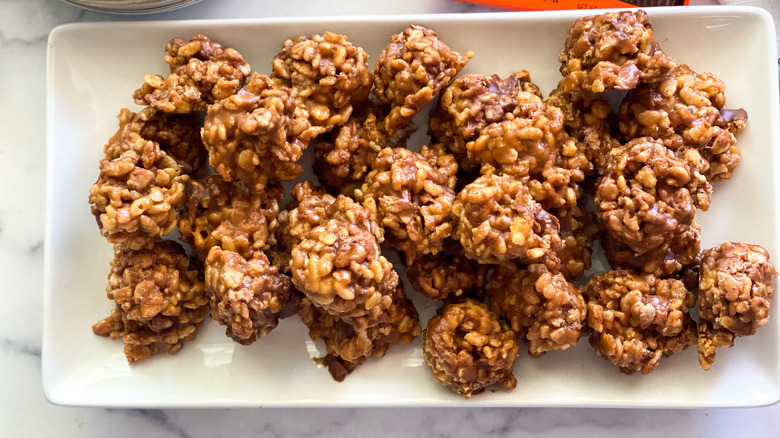 Miriam Hahn/Mashed
If you peeked before 30 minutes, we don't blame you, but if you managed to wait the entire time, now remove the tray from the freezer. Transfer the cookies to a plate and dig in! Once the cookies have properly hardened in the freezer, they can be stored in an air-tight container in the refrigerator for five days. If you want to keep them longer, you can leave them in the freezer and remove them about 10 minutes before you want to indulge. These are delicious as a snack or dessert, and they would pair well with a glass of milk or a cup of tea. You can also go all out then serve them with some vanilla ice cream. It's all about the balance!
No-Bake Reese's Krispie Cookies Recipe
We designed these no-bake cookies with Rice Krispie treats in mind, making a few tweaks for a delicious taste that might make you forget all about the original.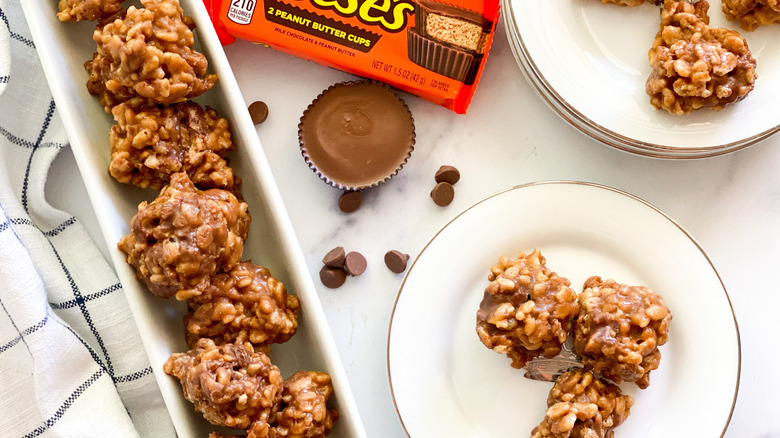 Ingredients
1 cup light corn syrup
¾ cup granulated sugar
1 ¼ cup peanut butter
4 cups Rice Krispies cereal
½ cup chocolate chips
5 Reese's Peanut Butter Cups
Directions
Add the corn syrup, sugar, and peanut butter to a small pot.
Heat on medium heat until the mixture has melted.
Pour the Rice Krispies into a large bowl.
Add in the melted peanut butter mixture, and stir to combine.
Next, add in the chocolate chips.
Cut the Reese's into small pieces and add them to the mixture.
Next, scoop out balls from the mixture, about 1 tablespoon each, and lay them on a large cookie sheet. They can be placed very close together since you won't be baking them.
When all the balls are laid out, put the cookie sheet in the freezer to set for about 30 minutes.
After 30 minutes, they are ready to serve. Store the balls in the refrigerator. They will keep for up to 5 days in an air-tight container.
Nutrition
| | |
| --- | --- |
| Calories per Serving | 166 |
| Total Fat | 8.1 g |
| Saturated Fat | 2.4 g |
| Trans Fat | 0.0 g |
| Cholesterol | 1.1 mg |
| | |
| --- | --- |
| Total Carbohydrates | 22.1 g |
| Dietary Fiber | 0.9 g |
| Total Sugars | 18.2 g |
| Sodium | 60.4 mg |
| Protein | 3.2 g |