Frank's RedHot Just Announced A Cicada-Themed Cookbook. Here's What's Inside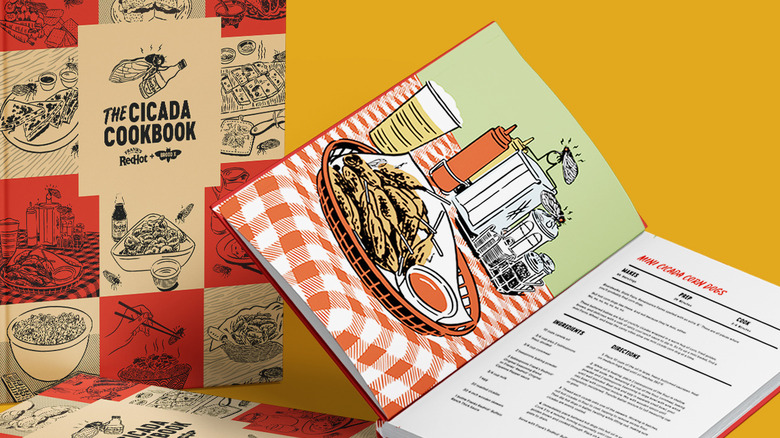 Franks
The Brood X cicadas are here. As temperatures rise this spring, billions of the insects are expected to emerge from their underground homes, where they've spent 17 years preparing to see the light of day, and amaze the human populations of 15 states and Washington D.C. (via USA Today).
 You know what that means, right? Food. According to what chef Bun Lai told The New York Times, cicadas are protein-rich and taste like walnuts or chestnuts. Their insides, apparently, are soft shell crab creamy. And, if you've got a sweet tooth, a company in Maryland might be the answer to your prayers. It's begun to sell them, air-fried, crunchy and covered in chocolate (via Food & Wine).
But if you want to take a more hands-on approach to preparing cicada-themed summer dishes, if chocolate-covered bugs aren't your jam, and if spicey insects are, Frank's RedHot wants to help with that. Learn to cook with cicadas with the release of its new, cicada-themed cookbook. "If you can't beat them, eat them," Frank's RedHot suggests in a statement sent to Mashed. The cookbook, which will be available digitally, is said to be for those prepared "to forge into the edible unknown." Here's what all the buzz is all about. 
Frank's RedHot wants you to try buffalo cicada wings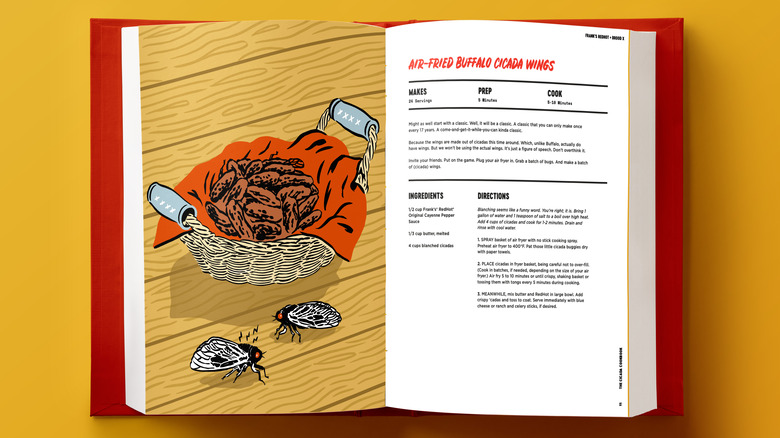 Franks
Frank's RedHot has come up with 13 hot sauce-infused cicada cuisines, which means you can enjoy a different one all 13 weeks of summer. Maybe save the butter-heavy buffalo cicada "wings" (for which you'll need an air fryer) for a special occasion. The buffalo bug dip (including cream cheese, ranch dressing, and Franks RedHot) is probably the perfect bring-along for your family reunion, and the mixed feelings you may well have about it. For the insect-weary, the hot sauce company's bloody mary recipe seems safe. The cicadas are only included as a garnish, and — you know — you'll have vodka to wash them down. Yes, you can harvest cicadas by yourself, if you want. Chef Bun Lai recommended to The New York Times that you only do so in parks (to avoid lead contamination) and that you stick to areas that are most likely to be pesticide-free. 
Franks RedHot cicada-themed cookbook will be available starting the week of May 30th, and the company thinks that you should use it to celebrate Memorial Day.