Binging With Babish's Mac And Cheese With A Twist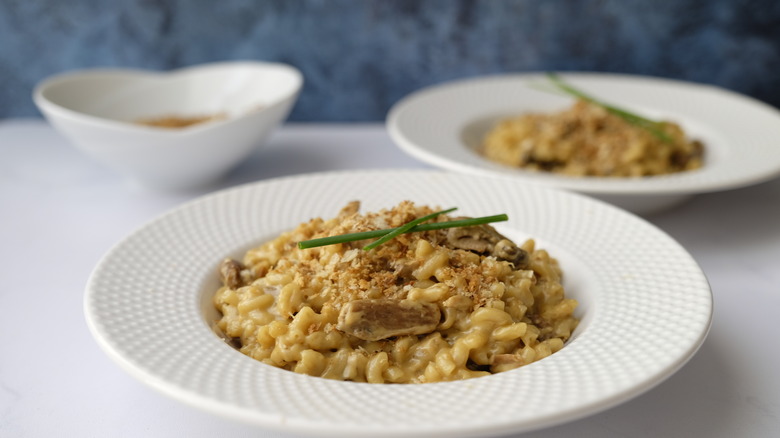 Eric Ngo/Mashed
Fans of chef/YouTuber Andrew Rea's cooking show "Binging with Babish" will love recipe developer Eric Ngo's sophisticated take on the America's Test Kitchen Mac & Cheese Method recipe that he presents in his video on the easiest, creamiest ways to make mac and cheese. 
Ngo remembers mac and cheese as one of the first American dishes he learned to make as a teenager, using the classic blue-boxed Kraft version. "Mac and cheese is for the inner kid in all of us," he said of the comfort food. "Its simplicity is a gateway to the world of cooking. For me, my love for mac and cheese encouraged me to explore the world of cheese and all of its glory." Currently, his favorite variety of the fan favorite mixes truffled ham into the cheesy goodness.
Ngo's interpretation also gives mac and cheese a more continental look and taste by adding porcini mushrooms and swapping in Gruyère for cheddar. "The main reason for using Gruyère cheese is because I live in France where Gruyère is much more common," explained Ngo.  
Gather your ingredients and grate the cheese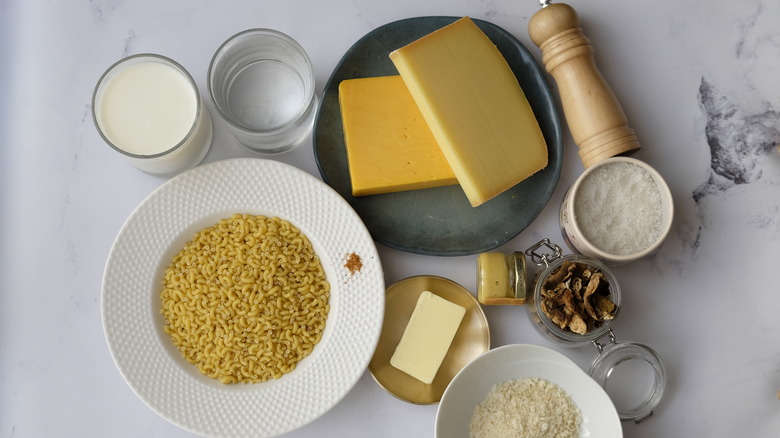 Eric Ngo/Mashed
For starters, you'll need freshly grated Gruyère cheese — avoid buying pre-shredded stuff. You'll also need breadcrumbs, which you can optionally toast ahead of time. For the mac and cheese recipe itself, you'll need 1 ½ cups whole milk, 1 cup water, 8 ounces of dry pasta, 1 teaspoon of Dijon mustard, a dash of cayenne pepper, the grated Gruyère cheese, a 1-ounce package of dried porcini mushrooms, kosher salt and freshly ground pepper. Finally, adding some spinach can up the veggie ante for those looking for a greener option, Ngo recommended.
Plump up your mushrooms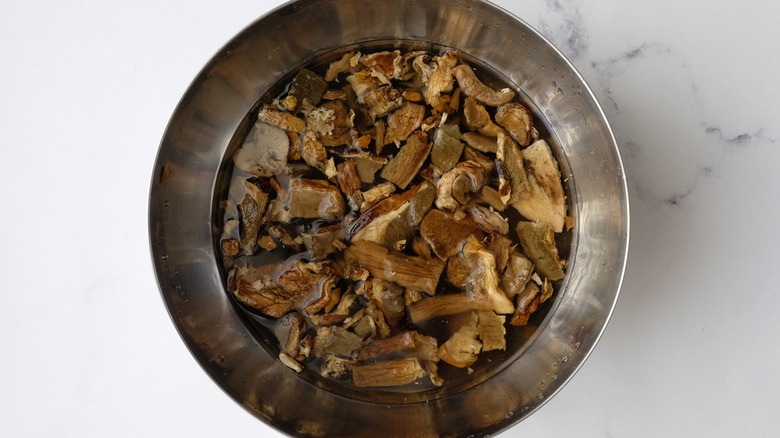 Eric Ngo/Mashed
Now it's time to reconstitute those mushrooms. First, you'll soak the 1 ounce of dried porcini mushrooms in a bowl with 1 cup of water. Let this mixture stand until the mushrooms soften, about 10 to 15 minutes. Remove the fungi with a slotted spoon, and drain on a paper towel. Don't discard the mushroom-flavored water, though; instead, save it for the sauce pan. You'll use it to punch up the mac and cheese's flavor.
Time to cook the pasta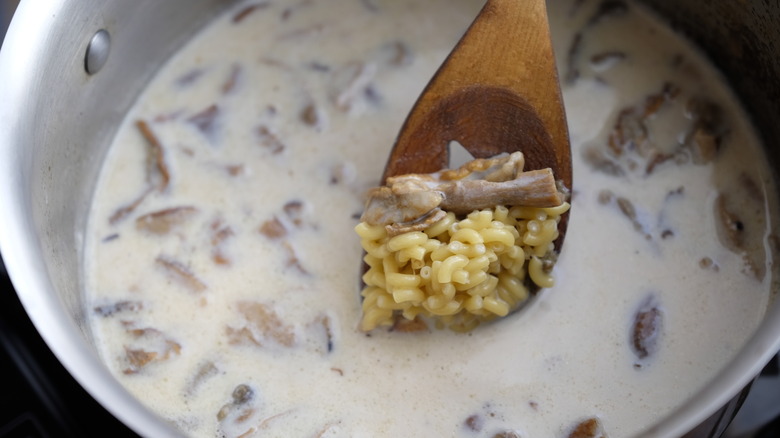 Eric Ngo/Mashed
Take the mushroom water and combine it with 1 ½ cups of whole milk in a medium-sized saucepan. Cook the liquid until boiling and then add the 8 ounces of pasta, along with the softened mushrooms. Lower the temperature to a medium heat and stir the liquid, allowing the pasta to absorb all those delicious, creamy flavors. 
About a minute before the pasta is finished, you can reduce the heat. Remember that the more the pasta cooks, the gummier it can taste. So be sure to test it periodically.
Add cheese, spices, and garnish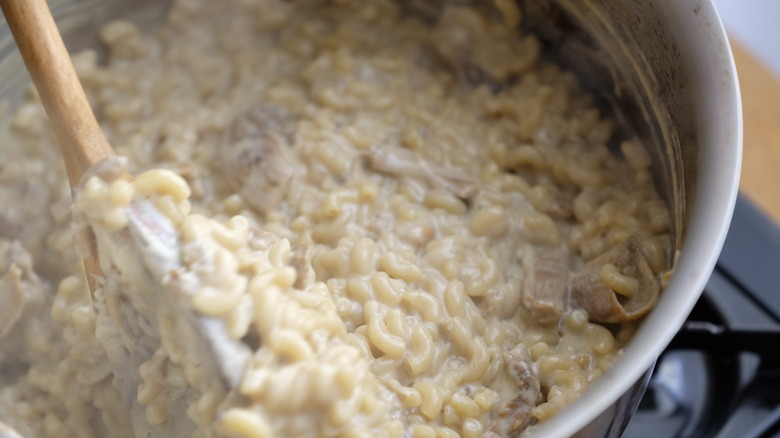 Eric Ngo/Mashed
Add 1 teaspoon of Dijon mustard and a touch of salt and pepper to the mixture, along with a sprinkle of the cayenne and, finally, the star ingredient, which is the 4 ounces of grated cheese. Turn off heat and mix until everything is thoroughly blended and has coated the pasta throughly in a thin, even sauce. Cover the pot and let the mac and cheese rest for five minutes to thicken. When time is up, stir it and serve. This is where you can add those toasted breadcrumbs on top for a bit of crunch, if you want.
What did we change?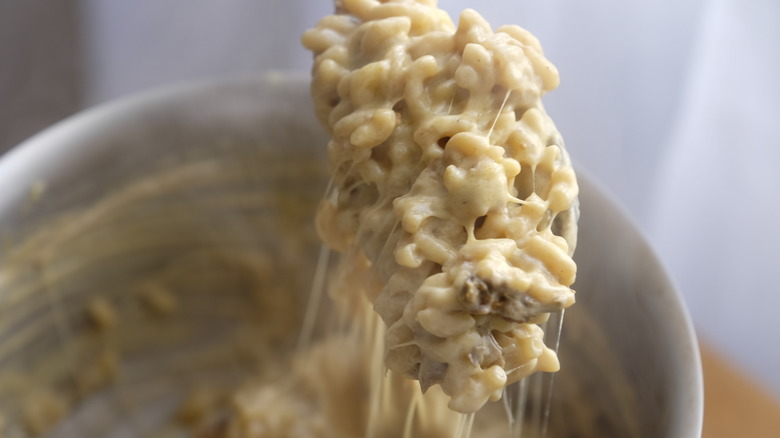 Eric Ngo/Mashed
The main twist for this recipe is the addition of the dried porcini mushroom. Ngo used the same amount of water in the original Babish recipe to rehydrate the dried porcini mushrooms before using it with the milk to prepare the pasta. Using the broth in the dish gives it umami, a savory flavor. 
He also substituted Gruyère for the cheddar because, according to Ngo, it melts well and the nutty flavor complements the porcini mushrooms. Most people go wrong by not eating their mac and cheese right away, advised Ngo. "It is not a dish that should sit at the dinner table for more than 10 minutes. Any more and the magic of that stringy cheese will be gone." He also does not recommend freezing or reheating this dish. "You won't enjoy that cheesy, creamy texture most mac and cheese fans want," he said. If you must re-heat it, he recommends adding a bit of water to the dish and warming it in a pan for best results.
Binging With Babish's Mac And Cheese With A Twist
Fans of chef/YouTuber Andrew Rea's cooking show will love this creamy and sophisticated recipe for Binging With Babish's mac and cheese with a twist.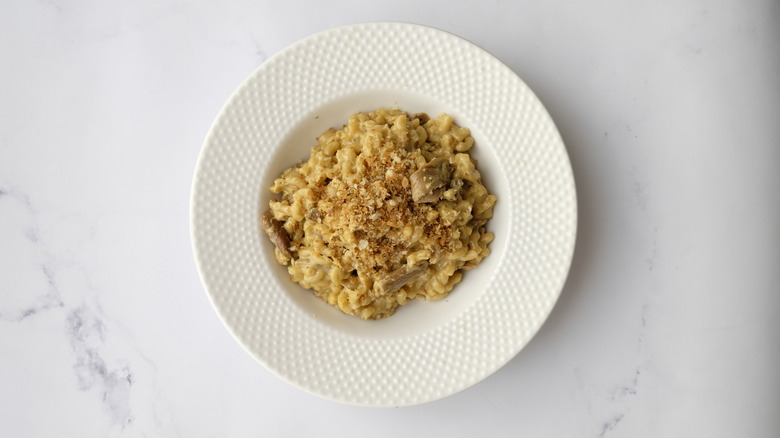 Ingredients
1 ounce dried porcini mushrooms
1 ½ cups whole milk
1 cup water
8 ounces dry pasta
1 teaspoon Dijon mustard
Sprinkle cayenne pepper
4 ounces Gruyère cheese, grated
Freshly ground black pepper
Kosher salt
Optional Ingredients
Directions
Combine 1 cup of water with 1 ounce dried mushrooms and let it stand until mushrooms soften, about 15 to 20 minutes. Remove the mushrooms with a slotted spoon and drain them on paper towel.
Combine the mushroom water with 1 ½ cups whole milk in a medium saucepan. Bring the liquid to a boil and add the pasta.
Lower the heat to medium and stir, allowing the pasta to absorb flavor. About a minute before the pasta is finished, reduce the heat.
Add 1 teaspoon Dijon mustard, a sprinkle of cayenne pepper, 4 ounces of Gruyère grated cheese, and black pepper and salt to taste. Turn off the heat and mix until all the ingredients are thoroughly combined.
Cover the pot and let the mac and cheese rest for 5 minutes. When time is up, stir and serve. Add the toasted breadcrumbs on top for a bit of crunch, if you wish.