Rachael Ray's Macaroni And Cheese With A Twist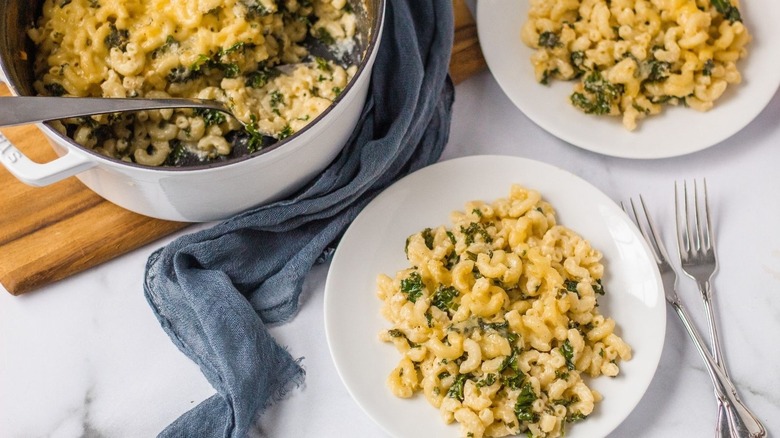 Jaime Shelbert/Mashed
What is better than some good old-fashioned mac and cheese? How about some mac and cheese with a few added veggies, so you feel like you're eating relatively healthy in the midst of all that delicious cheese and pasta? Jamie Shelbert of Wholly Nourished is the mastermind behind this recipe with a twist, which combines one of Rachael Ray's signature macaroni recipes with kale as a healthy addition to the mix. Not only is the presentation outstanding, but the taste is off-the-charts good. Seriously, you'll be asking for this recipe — with the kale — again and again.
Shelbert shares that her favorite part about this dish is its ease of preparation. "I love how quickly and easily it comes together," she says. "Plus it's so customizable with veggie stir-ins at the end. Another favorite to stir in is butternut squash." 
This is a delicious, simple dish that will not have you working overtime in the kitchen. All told, this recipe requires just 10 minutes of prep time and then 25 minutes of cook time, which sure sounds like a win in our book. Keep scrolling to find out how to make this impressive dish, which you can serve as a side, a main course, or even as an eye-catching team player at a potluck. However you choose to debut it, you'll be glad you did.
Gather the ingredients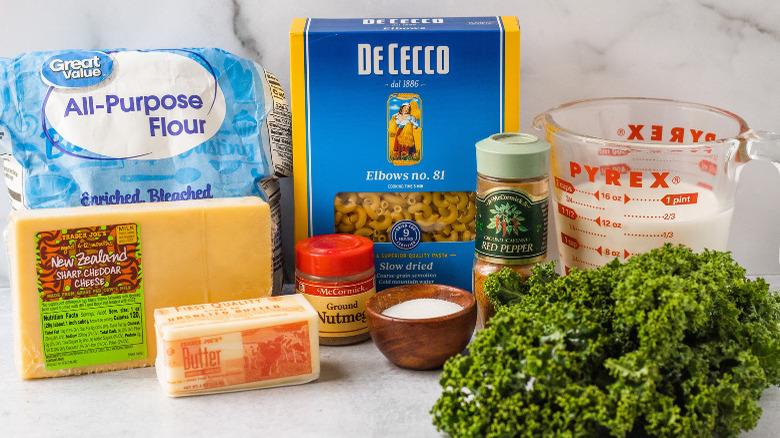 Jaime Shelbert/Mashed
To make Rachael Ray's macaroni and cheese with a twist, you will need extra virgin olive oil, butter, flour, and whole milk or 2% milk, depending on your preference. Another dairy item on the list is white cheddar cheese — because what's mac and cheese with no cheese, after all? In terms of spices, you'll need nutmeg, cayenne, and salt. And, of course, you'll want to get some elbow pasta. Be sure that your pasta is pre-cooked to an al dente texture before starting this process.
Preheat and prep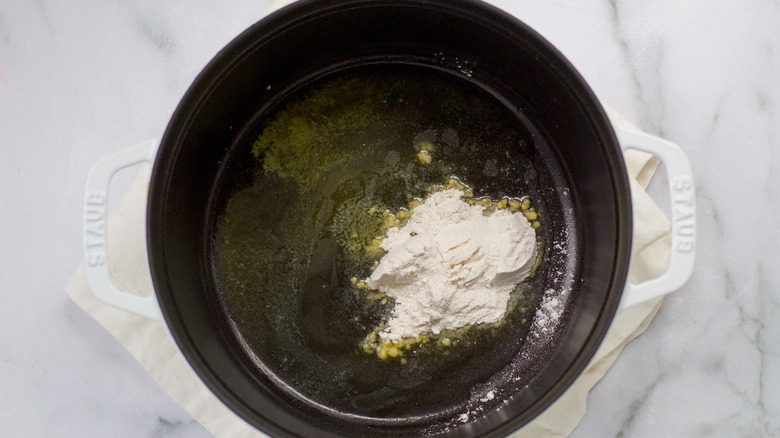 Jaime Shelbert/Mashed
First things first — preheat your broiler. While it gets hot, get out a medium-deep skillet or a Dutch oven. Place it over a burner and turn the heat to medium. In the Dutch oven or skillet, add the oil and butter. Once you've added both items and have allowed it to begin heating, add the flour to the mix. Instead of a spoon, use a whisk to combine it all into a paste. This mixture of flour and fat is called a "roux", which is the base of many fine sauces, including a well-made macaroni and cheese.
Slowly add in the milk as you're whisking everything else, making sure to break up any clumps with the whisk. Then, turn the heat up and bring the mix to a bubble while you keep whisking.
Thicken and season the cheese sauce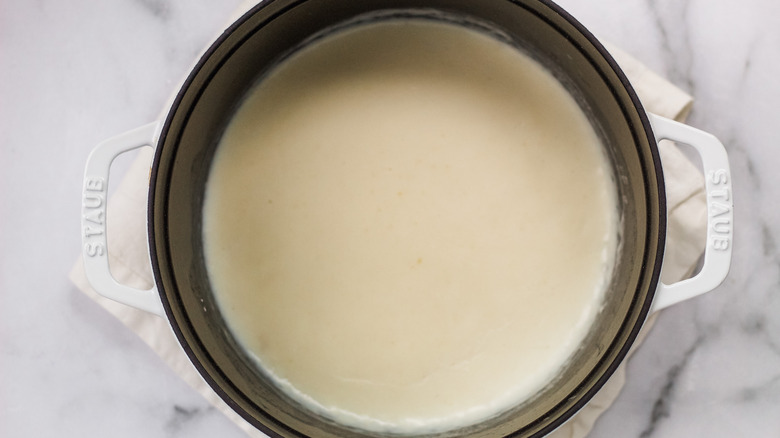 Jaime Shelbert/Mashed
Now, allow the milk to thicken up a bit as the mixture continues to heat and you whisk. Once you see its consistency changing, measure out two cups of cheese and begin incorporating it into the dish. Remember to only put in one handful at a time and be sure to stir it thoroughly, all so it has time to properly blend and melt.
When you've added all the cheese, season the sauce with nutmeg and cayenne. Nutmeg will lend a warm, rounded flavor, while cayenne brings just a bit of heat and complexity to the mix. You can also add some salt as needed. Now you can move on to the next step which requires adding just a few more items. 
Add the kale and macaroni pasta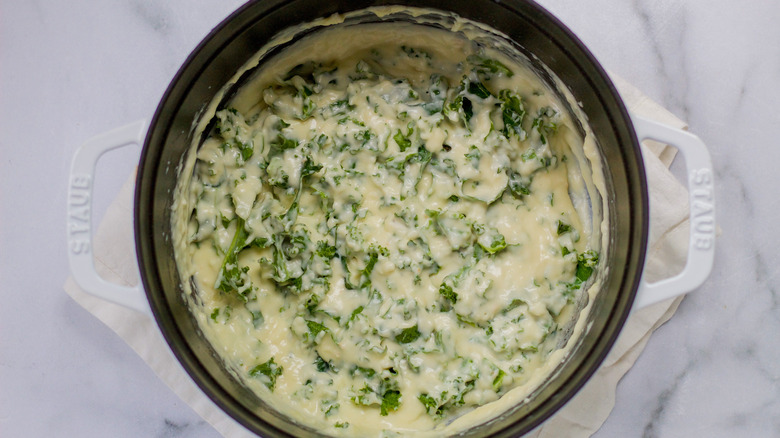 Jaime Shelbert/Mashed
You're getting closer to macaroni and cheese greatness with each and every step! Grab your chopped kale and stir it into the sauce to incorporate it. Once you mix the kale a few times, add the cooked pasta into the pot and continue to stir so everything gets evenly coated in the cheesy sauce. And if you want room for further variation, consider switching out the classic elbow pasta for a different shape. "This is a classic macaroni and cheese dish but any noodle would work," Shelbert shares.
Once you finish that step, the stirring is done, so pat yourself on the back!
Assemble the macaroni and cheese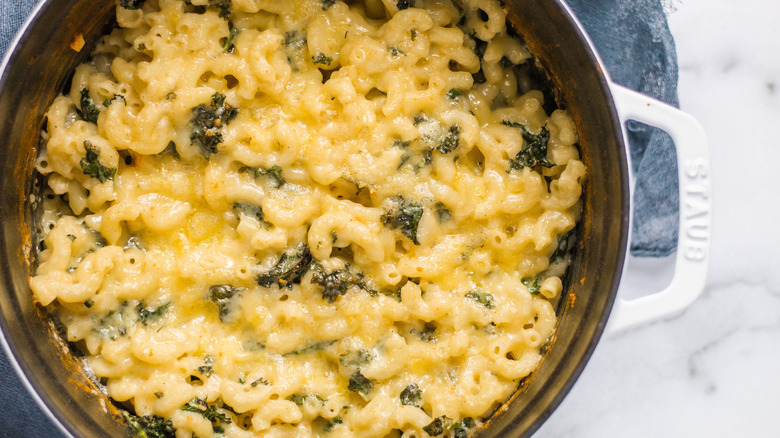 Jaime Shelbert/Mashed
Luckily, the final steps of the process don't require a lot of work. First, sprinkle the remaining cup of cheese evenly on top of the macaroni. If you used a pot or pan that isn't oven-safe, then transfer the pasta into a baking dish before you put it in the oven. If you opted to use a Dutch oven, that can go directly under the broiler. Then place the entire dish under the broiler until the top is melted and golden brown.
Once you see the cheese turn golden brown, it's finally complete. Pop it out of the oven and serve however you prefer. Shelbert recommends pairing this with "a large salad or someone could add a protein on the side like grilled chicken." If you happen to have any leftovers after everyone's down chowing then, then the remainder can last 3 to 5 days in the fridge.
Rachael Ray's Macaroni And Cheese With A Twist
Not only does it look great, but the taste of Rachael Ray's macaroni and cheese with a twist is off-the-charts good. You'll be asking for this recipe again.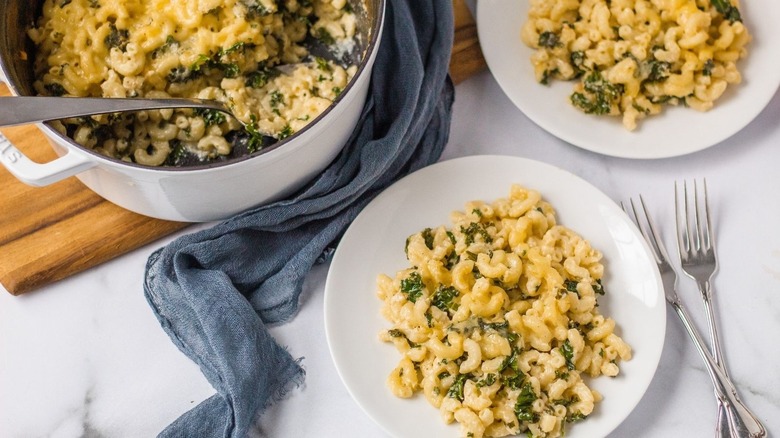 Ingredients
1 tablespoon extra virgin olive oil
2 tablespoons butter
3 tablespoon flour
1 ½ cups milk, whole or 2%
3 cups white cheddar cheese, divided
½ teaspoon nutmeg
½ teaspoon cayenne
Salt
2 cups kale, shredded or chopped
12 ounces elbow macaroni, pre-cooked to al dente texture
Directions
Preheat broiler.
Heat a medium deep skillet or Dutch oven over medium heat. Add the oil and butter.
Add the flour and whisk to combine, about 3 minutes.
Slowly add the milk while continuing to whisk. Bring the mixture to a bubble while whisking.
Allow the milk to thicken a bit and add in two cups of cheese one handful at a time.
Season the sauce with nutmeg and cayenne. Season with salt as needed.
Add in the chopped kale and stir to incorporate.
Add the cooked pasta into the sauce and stir to coat completely.
Transfer to a baking dish if not using a Dutch oven and top with the remaining one cup of cheese.
Place under the broiler until the top is melted and golden brown.
Nutrition
| | |
| --- | --- |
| Calories per Serving | 504 |
| Total Fat | 26.9 g |
| Saturated Fat | 14.5 g |
| Trans Fat | 0.8 g |
| Cholesterol | 71.7 mg |
| | |
| --- | --- |
| Total Carbohydrates | 42.7 g |
| Dietary Fiber | 1.9 g |
| Total Sugars | 4.2 g |
| Sodium | 399.2 mg |
| Protein | 22.2 g |