Copycat Chuy's Creamy Jalapeno Dip Recipe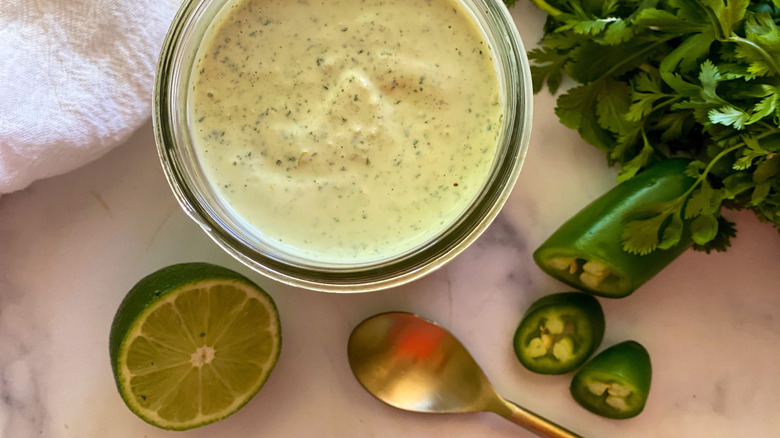 Miriam Hahn/Mashed
You can more than be forgiven for filling up on chips when you've whipped up a batch of this copycat Chuy's creamy jalapeño dip. In fact, you'll be hard-pressed not to. That said, if you only use this rich, creamy, modestly spicy, and all around delicious concoction as a dip, you're not giving the stuff its fair due. While it's great as a dip with chips or even jicama, says chef and recipe developer Miriam Hahn of YouCare SelfCare, it's "also great with tacos, burritos, pita sandwiches, taco salad, fajitas, and taquitos."
Other options include use it as a dressing by thinning the dip into more of a sauce with extra buttermilk, or using it as a drizzle for cooked meats, rice, or roasted potatoes. However you plan to enjoy your copycat Chuy's Creamy Jalapeño Dip, you'll need all of five minutes to prepare it, so it'll be easy to throw together last minute. Want some extra spice? Consider adding a habanero pepper in along with the jalapeños. Or maybe just add some red pepper flakes instead.
And if you end up some left over, Hahn says it will keep for three to five days in an airtight container in the fridge.
Gather your ingredients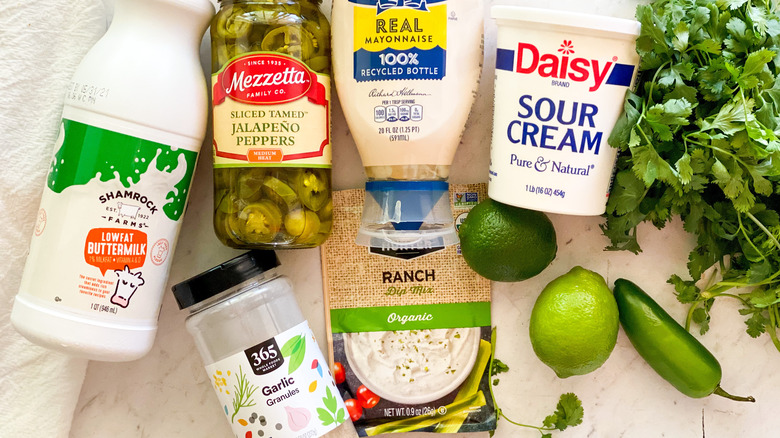 Miriam Hahn/Mashed
To whip up (or blend up, more accurately) a batch of this dip, you'll need sour cream, mayonnaise, a packet of ranch dressing mix, pickled jalapeños, freshly chopped cilantro, buttermilk, lime juice, and garlic powder.
Note that the buttermilk is the ingredient that will have the most impact on the consistency, dictating whether this is more of a dip, sauce, or dressing. "The main tip is just add the buttermilk a little bit at a time," says Hahn. "If you want it thick, you may not want to add any buttermilk at all," she adds, which is great to keep in mind if you don't have any buttermilk in your fridge.
Prep and blend your ingredients (except the buttermilk)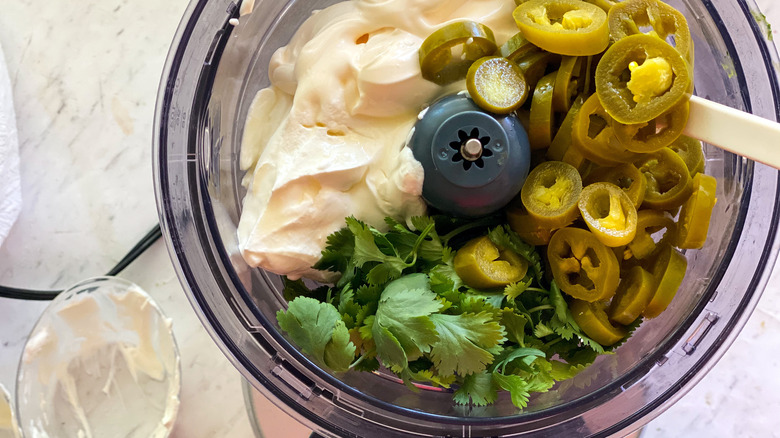 Miriam Hahn/Mashed
Start off by measuring out your ingredients. Juice the lime or measuring out the bottled lime juice, then de-stem and roughly chop the cilantro (it will be blended, so don't go nuts with that part). 
Now add the sour cream, mayonnaise, cilantro, and jalapeños to a food processor or a powerful blender and blend until everything is evenly mixed and smooth. Next, add the Ranch dressing packet, the garlic powder, and the lime juice and then run the food processor or blender again to mix these ingredients in fully.
Slowly add in the buttermilk and keep mixing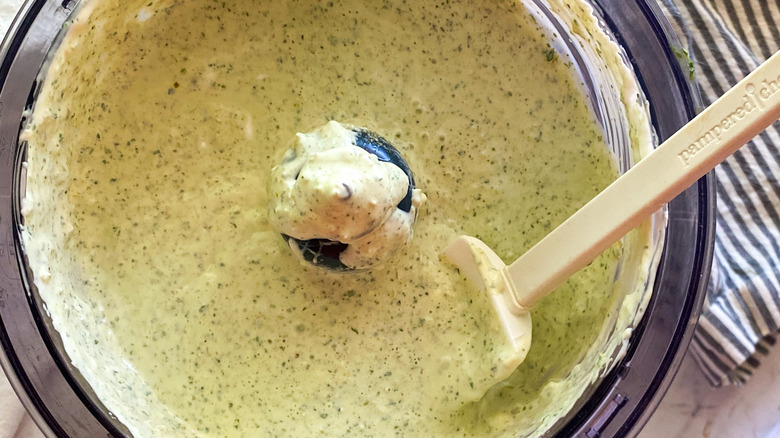 Miriam Hahn/Mashed
Test the consistency of the dip at this stage — it will be nice and thick, and that's perfect for eating with chips and veggies and such, but it will be too viscous for other purposes. It also might be thicker than you like your dips anyway. 
To thin the dip, begin to add in the buttermilk a little bit at a time, blending after every few tablespoons. For a thicker sauce, only add about a ¼ cup total. For a thinner sauce, add more buttermilk.
And that's it! You can top the dip with more fresh cilantro if desired, or serve it as is. 
The health benefits of jalapenos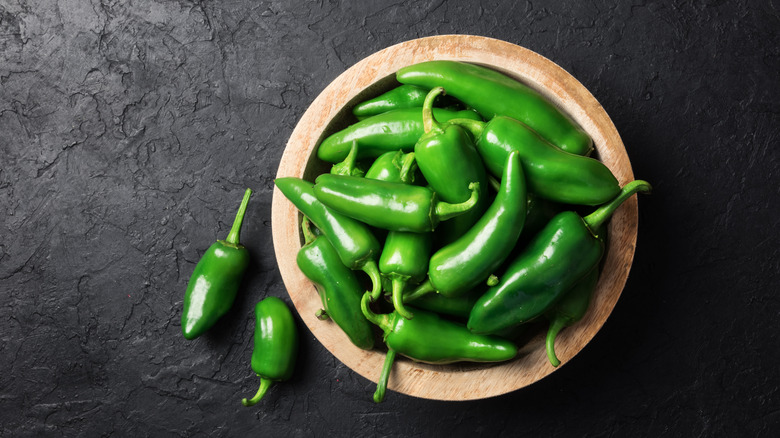 Shutterstock
Jalapeños are a delight to the tastebuds, but did you know they're actually quite healthy as well? According to Health Line, "Jalapeños are low in calories and full of vitamins, minerals, fiber, and antioxidants." A few of the specific vitamins you'll get as a part of your daily needs are vitamin C and vitamin B6.
Eating jalapeños might also help promote weight loss, fight cancer cells, and perhaps surprisingly, given the "burn" of these hot peppers, they might even help prevent stomach ulcers and promote good gut health. Plus, they're good for your heart. Just don't touch your eyes after touching jalapeños (and definitely wash your hands)!
Copycat Chuy's Creamy Jalapeno Dip Recipe
Great with chips, veggies, jicama, tacos, burritos, pitas, taco salads, fajitas, and taquitos, this copycat Chuy's creamy jalapeno dip recipe is a winner.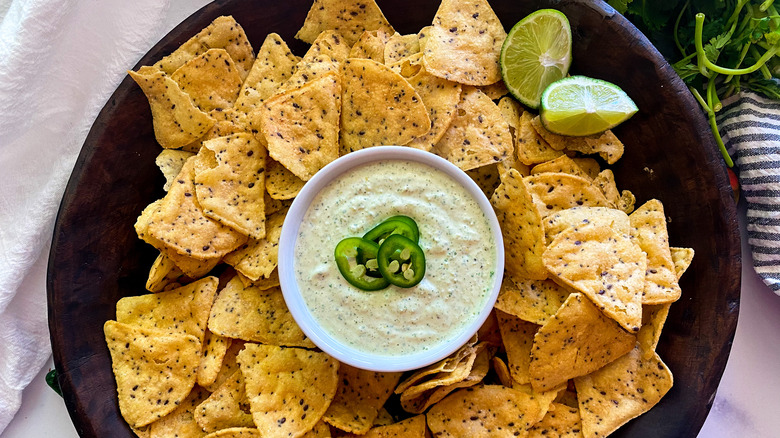 Ingredients
1 cup sour cream
½ cup mayonnaise
1 packet ranch dressing mix
¾ cup pickled jalapeños
½ cup cilantro
¼ to ½ cup buttermilk
1 teaspoon lime juice
¼ teaspoon garlic powder
Directions
Add the sour cream, mayonnaise, cilantro and jalapeños to a food processor and blend until smooth
Add in the ranch dressing packet, garlic powder, and lime juice and blend again
Check the consistency, then add in the buttermilk a little bit at a time -- for a thicker sauce, only add about ¼ cup; for a thinner sauce, add ½ cup.
Top with fresh chopped cilantro if desired and serve.