Why Minor League Baseball Fans Are Comparing This Team's Meals To The Fyre Festival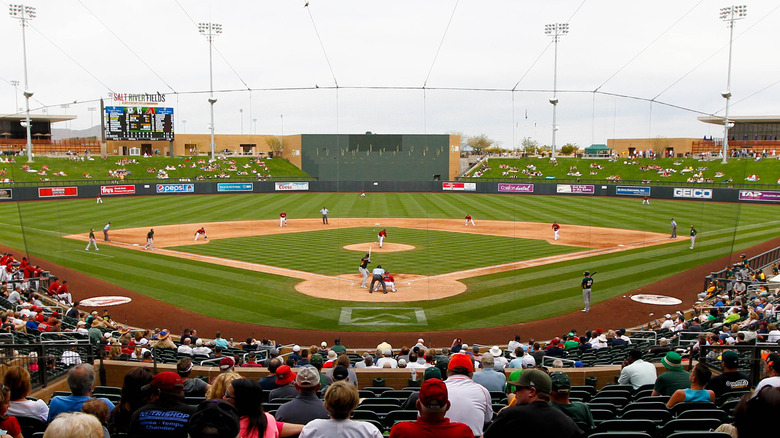 Shutterstock
We have seen some questionable meals in our day, but these meals fed to minor league baseball players hit it out of the park. On Tuesday, a tweet went viral that depicted two photographs of food served to athletes in the Oakland Athletics Minor League organization. The post-game meals are now being compared to the infamous and fraudulent Fyre Festival, which gave out some bread and sliced cheese for dinner in 2017, ESPN reported. Yum.
The Twitter account that shared these photos is run by Advocates for Minor Leaguers, an organization that fights for fair pay among Minor League Baseball, per their website. A far cry from the stadium food at MLB parks that vendors are slinging, the apparent post-game meal for these players was a sad-looking cheese sandwich and a soggy taco. As Twitter user Russell Grace put it: "Seriously? This is the cheese sandwich that sank the Fyre Festival." Athletics president, Dave Kaval, replied to the tweet claiming that the food was "unacceptable" (via Twitter).
Kaval continued his response by saying "when we found out several weeks ago we terminated the third party vendor" and apologized to the players, staff, and coaches. According to SFGate, the first photo was taken on May 18, and the second photo on May 28, meaning that this is believed to be two separate incidents. Guess the Oakland A's just hit a double.
This is how the Oakland A's responded
Similar to the Athletics president, the A's claimed that this does not meet their quality standards. The Advocates for Minor Leaguers executive director, Harry Marino, told ESPN that, "I appreciate Mr. Kaval's prompt acknowledgement that these meals are unacceptable and his promise to do better going forward."
This is not an isolated incident that has occurred in Minor League baseball, as it is continually alleged that players are mistreated and afraid to speak out publicly for fear of retribution, Marino pointed out. It is important that athletes have nutritious post-game meals in order to perform well on the field. Due to the fact that the Oakland A's is currently a $1.13 billion dollar organization, it should be assumed that players are well taken care of (via Statista). 
Marino recognized this issue and opened the door to working on a better environment for Minor League Baseball players. According to ESPN, he said, "I would welcome the opportunity to work collaboratively with Mr. Kaval or any other MLB representative who would like to hear these stories." Let's hope that history does not repeat itself!