This Popular Natural Soap Brand Just Announced Its Own Line Of Chocolate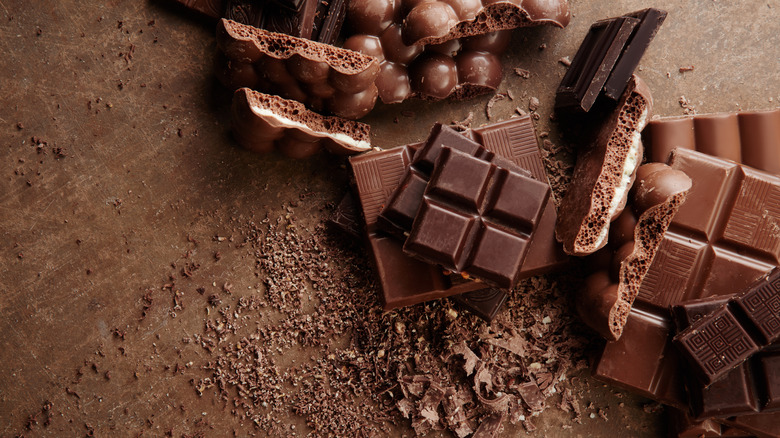 Shutterstock
Dr. Bronner's has truly made a name for itself as a business over the years. Emmanuel Bronner, a Jewish immigrant to America and pioneer of liquid soap, founded the company decades ago and used the product to preach his unique religious message (via Into The Gloss). The famous soap has earned its reputation as an amazing product, and the brand has seen rising profits and growth for years, according to the San Diego Business Journal. With so much success, it only makes sense that the soap sensation that is Dr. Bronner's expands and diversifies to include some new products.
In a twist few could have anticipated, the brand has rolled out a new line of chocolate that continues to preach the soap company's unique worldview, as noted by Food & Wine. Starting on August 1st, you can expect grocery stores nationwide to feature Dr. Bronner's Magic All-One Chocolate, which comes in six flavors. You have the choice to try Roasted Whole Hazelnuts, Crunchy Hazelnut Butter, Salted Whole Almonds, Salted Almond Butter, Salted Dark Chocolate, and Smooth Coconut Praline once the candy hits shelves. Each three-ounce bar of chocolate should retail around $5.49, making it a nice treat for anyone looking for a midday pick-me-up.
A fair-trade chocolate with a message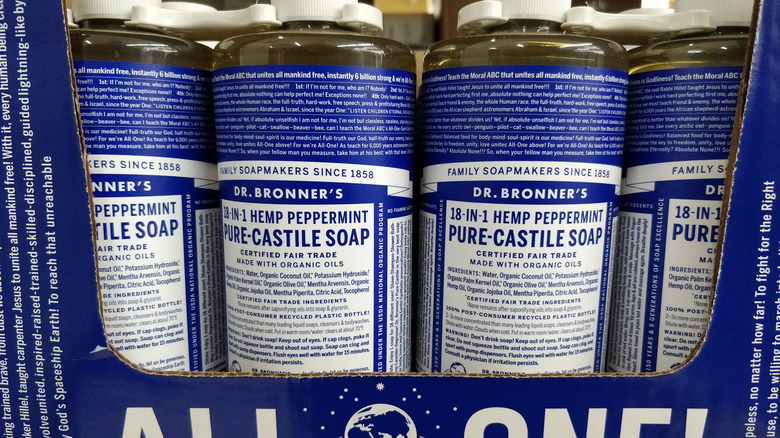 Shutterstock
You can expect the new Dr. Bronner's chocolate to keep the company's values close to its heart. According to Food & Wine, the candy classifies as USDA organic, fair trade, vegan, kosher, and non-GMO verified. It even uses wrapping material that consists of at least 80% recycled paper. 
The positive values don't stop there. The chocolates feature Ghanaian and Ivory Coast cocoa, Indonesian coconut sugar, Congolese cocoa butter, and Madagascar vanilla sourced from fairly-compensated farmers. The end product develops a fruity, caramel-like flavor thanks to the complexity of the sourced ingredients.
If you love the all-natural feeling of Dr. Bronner's Magic Soap, you need to get some of the company's new chocolate into your life. With a bit of luck, you might just end up discovering your new favorite candy and a product anyone can feel good indulging in. Keep your eyes peeled for these chocolate bars when they hit shelves in a few weeks and see if they can compete with the rest of the Dr. Bronner's product line.