Costco's Cheesy, Keto-Friendly Tortilla Chips Are Turning Heads
If you are a fan of Doritos, but not of all their added carbs, fat, and sugar, then you might want to head to Costco right away. The wholesale market has just started selling Hilo Life nacho cheese tortilla chips, which are the perfect low-carb, keto-friendly way to satisfy that snack craving. Like Doritos, they are cheesy, crunchy, and delicious, but unlike other brands of chips, Hilo Life's cheesy tortilla chips contain just 3 grams of net carbs, 9 grams of protein, and zero grams of added sugar, via Hilo Life. Made with almond flour and bold seasonings, their tortilla chips are also available in other delicious flavors, like ranch and spicy salsa.
Fans of the Hilo Life brand were excited to see their products are now available at participating Costco locations, and many took to social media to express that excitement. The popular Instagram account @costcobuys made a post alerting their followers to the new find, writing: "@hilolifesnacks Nacho Cheese Almond Flour Tortilla Style Chips are an AMAZING keto-friendly, low carb snack option that's available now in @Costco Texas locations for a limited time... I love these as a snack for any time of the day, and they go great with dips!"
These Hilo Life chips received rave reviews on social media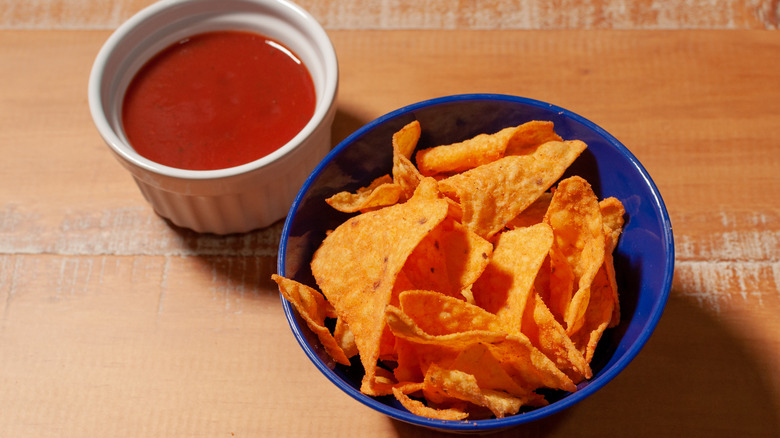 Shutterstock
Many other Instagram users were quick to sing the praises of these chips, while others couldn't wait for them to arrive at their local Costco warehouse. "I hope they get these in Cleveland! I've been buying the ranch ones off Amazon, so good and actually crunch like chips," Instagram user @whitincle posted. "These are so good. I've been buying them off Amazon. Please bring to Cali," another follower agreed, while Instagram user @walmartgems simply raved: "Yum!!"
12 ounce bags of these tasty treats are on sale now at Costco for just $7.99 (via Instagram). Their crispy, satisfying crunch and bold flavor makes them the perfect Keto-friendly snack. So if you are trying to stick to a lower-carb diet, or simply want to give a different kind of chip a try, then you won't want to miss grabbing a bag or two of these chips on your next Costco run. If fans on social media are to be believed, you certainly won't be disappointed.