Aldi's Coconut And Avocado Cooking Sprays Are Turning Heads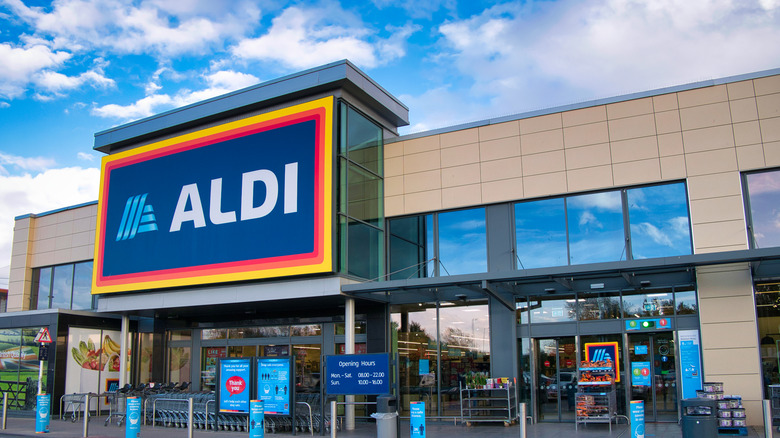 Shutterstock
Aldi has big fans across the country because it offers delicious food at an affordable price. Customers can't get enough of its tasty options like their five-cheese frozen pizza, double-glazed ham, or their incredibly fresh produce options. Now, we all have even more to look forward to, since the grocery chain just stocked their shelves with new cooking spray made with avocados and coconuts. Not only are these containers easy to use when you're cooking your next meal in a pan, they also offer a healthy alternative to other cooking sprays and have a high smoke point. 
Instagrammer @aldifavoritefinds recently spotted them on store shelves and wrote, "Have you tried these cooking sprays? They pop back into Aldi a couple times a year so make sure to grab them when you see them." The post has already raked in over 1,400 likes, with fans raving about how much they love the product.
What Aldi shoppers had to say about the new cooking sprays
Followers of the post seemed to enjoy the avocado spray the most, extolling over how amazing it was. One commented, "The avocado is goood and the spray is nice and even!" While another added, "Tried the avocado one, love it!!" However, there were still some big fans of the coconut spray as well. A follower posted, "Just bought the coconut spray last night! we love it." While another wrote that they love them all and are planning on stocking up on their next grocery run. Others also recommended the best way to use the spray, with one suggesting coating your food in it for the next time you use your air fryer. 
So, if these products sound like the perfect addition to your kitchen, you should hurry over to your nearest Aldi's. With a healthy and easy-to-use cooking spray like this, they likely won't sit on shelves long.