Aldi Fans Love These Individual Fruit And Veggie Snack Trays For Active Summer Days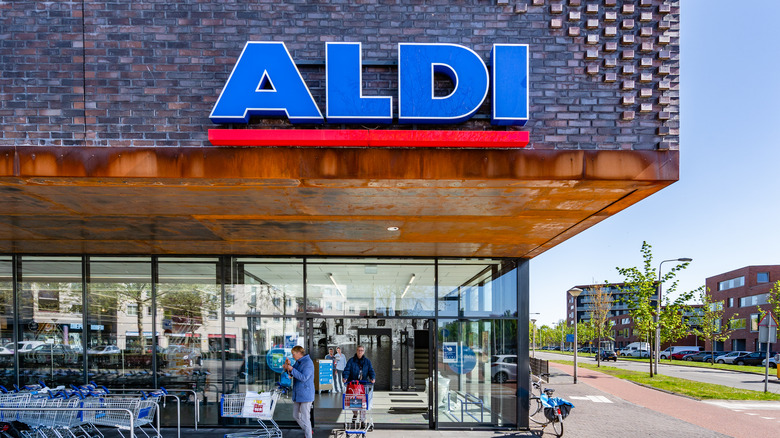 Shutterstock
With summer almost upon us, nothing sounds better than some refreshing fruit to enjoy next to the pool or on a picnic. Watermelon, mango, papayas, and strawberries all rank as some of the best sweet in-season fruit you can pick up that makes hot days feel that much more bearable. If you can't get a hold of some of these tropical offerings, raspberries, cherries, peaches, and blueberries can tide over anyone looking for some relief from warm weather. While these treats taste great, assembling fruit trays takes some time, let alone picking out great vegetables to accompany them as a healthy snack. Luckily, Aldi has tapped straight into this need and have the solution for anyone looking for healthy snack options.
Instagrammer @theamazingaldi recently discovered that their local Aldi has started selling fruit and vegetable trays perfect for relaxing in warm weather. They posted a picture of the find alongside the caption, "Sooo many on-the-go snacks and meals at Aldi! These are so perfect for taking to the pool or wherever you're going this summer." The post has taken off, already scoring over 800 likes and has attracted a slew of positive comments.
The perfect Aldi produce spreads for cookouts and beach days
Followers of @theamazingald can't get enough of these fruit and vegetable trays that come with crackers and cheese cubes. Positive responses have ranged from "I got both this past week! My Sis likes quick lunches," all the way to "I would much rather buy these for my toddler than lunch ables. All she eats is fruit anyway." Each tray retails for $1.99, making them the perfect option for a snack or light, on-the-go lunch and guarantee to pack in a ton of wholesome flavor into each serving. If you count yourself as a fruit and vegetable fanatic or just want something light to munch on, you need to get these treats into your life.
Make sure to keep an eye out for these platters next time you hit up your local Aldi. With the perfect balance of flavor and crispness, you couldn't ask for a better, healthier summertime snack that can please anyone looking for something fresh. Grab a pack next time a craving hits and get ready to enjoy all the tastes of summer.