Classic Banana Bread Recipe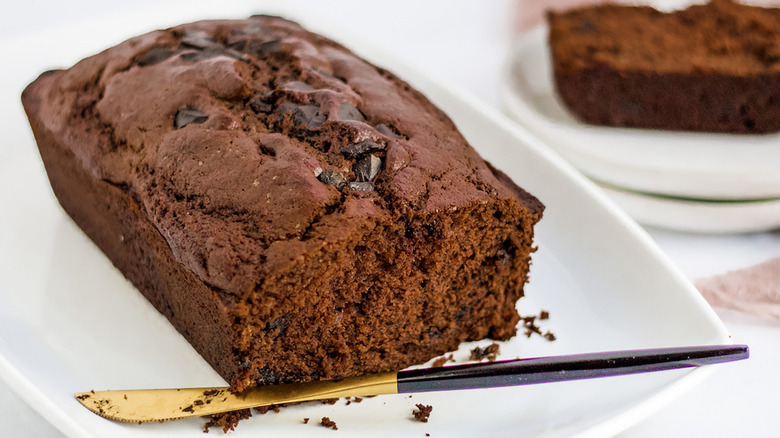 Jaime Bachtell-Shelbert/Mashed
While a classic banana bread recipe is always a delicious option to make, putting a twist on it adds another level of yumminess. For this bread recipe developer Jaime Bachtell-Shelbert of Wholly Nourished took a regular banana bread recipe and added not one but two forms of chocolate to it! Now more of a delicious dessert bread than a snack or breakfast bread, this chocolate banana bread is sweet but not too sweet. The dark chocolate and cacao add a big punch of chocolate without too much richness, and it is incredibly delicious.
What's even better about this banana bread recipe is that it's so easy to make. All of the ingredients just go right into the mixer — no fuss required! There's no better way to use up those bananas you always seem to have sitting on the counter or in the fruit basket. Once they've passed the point of being truly fresh and enjoyable to eat as fruit, it's time to throw them into banana bread to give them a whole new life.
This banana bread is truly easy to whip up, and it's a great thing to have on hand. It's quick to have with coffee or tea and an easy treat to have anytime of day. It's also a perfect recipe to prepare for dessert when you're invited to a friend's house and a great choice to serve for a brunch buffet.
Ahead, find the step-by-step instructions for making this classic banana bread recipe with a twist.
Gather your ingredients to prepare this delicious chocolate banana bread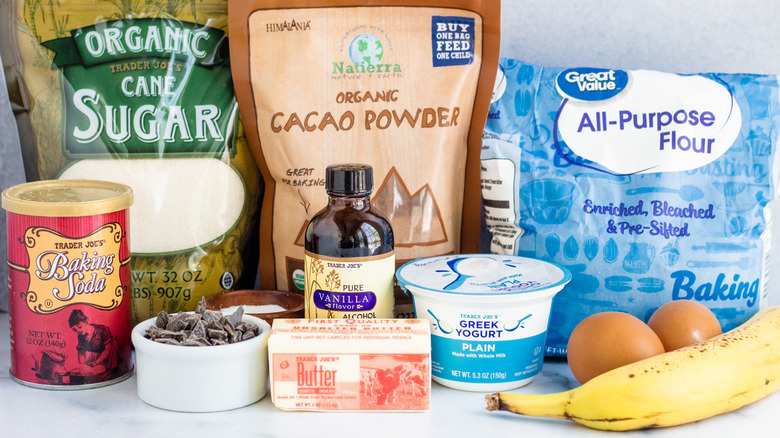 Jaime Bachtell-Shelbert/Mashed
The first step in making this banana bread is to get together all your ingredients together. You'll likely already have many of the items in your pantry and fridge, which is another easy thing about this recipe. You will need to pull out unsalted butter that's already soft, sugar, eggs, flour, cacao powder, baking soda, salt, bananas, plain Greek yogurt, and dark chocolate chunks.
Aside from making sure your butter is soft before you get started, you'll also want to make sure your bananas are very ripe and mashed up. This recipe calls for 1 cup of banana, which you should measure after you mash it up. As mentioned previously, this recipe is a yummy and practical way to use up your bananas that are otherwise too ripe to eat, and they will not go to waste. If they're full of dark spots, they're perfect for banana bread!
This classic banana bread recipe will be a favorite recipe used just for the purpose of not wasting too-ripened bananas, and we're all for it! Plus, your family is sure to love eating this bread, so it's a win/win situation all the way around. So it's a great habit to make sure you have all of the above ingredients ready and waiting in your pantry. This way, each week that you have bananas that are turning, you will be prepared to whip up a great treat for all to enjoy.
Start with the wet ingredients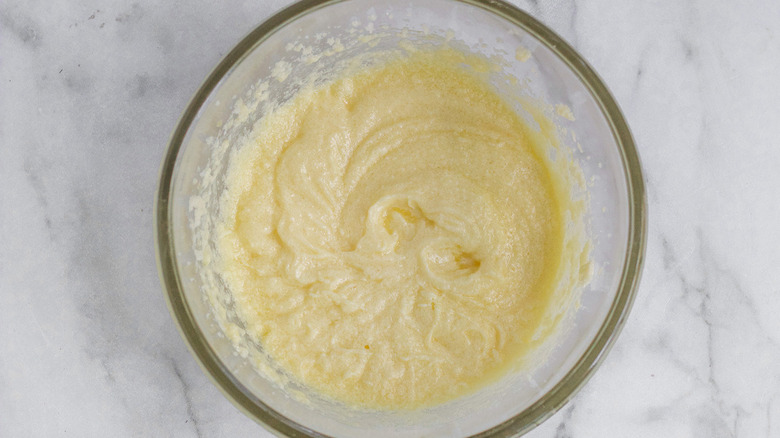 Jaime Bachtell-Shelbert/Mashed
After you have your ingredients out, preheat your oven to 350 F. Grab a loaf pan, and spray it well with nonstick cooking spray, and then set that aside to use in a bit. 
You'll need a mixer for this next step. Pull out a mixing bowl, and add the soft butter and the sugar. Using the mixer, cream those two ingredients together until they're light and fluffy. This should only take about one to two minutes. Once those items are mixed well, add in the eggs, and mix everything until combined. This should only take about one more minute. Set this batter aside once it is all mixed together, because you will get back to it shortly.
Mix the dry ingredients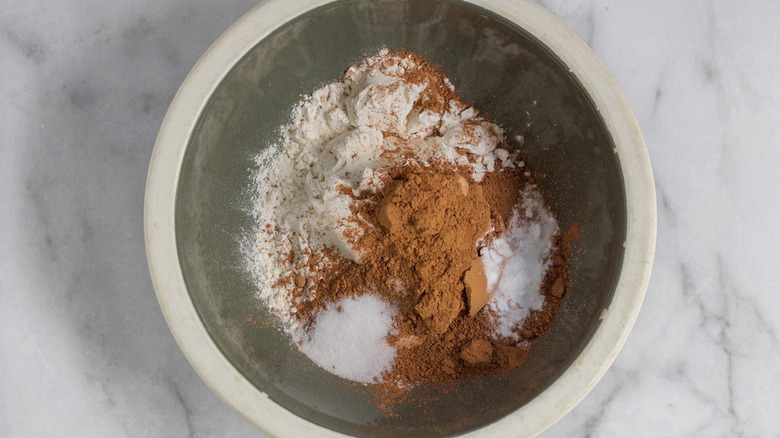 Jaime Bachtell-Shelbert/Mashed
Pull out another bowl, and add in the flour, cacao powder, baking soda, and salt. Using a wire whisk or mixing spoon, combine all of these dry ingredients together thoroughly.
It's important to note that this recipe calls for cacao powder and not cocoa powder. While the two can sometimes be used interchangeably, they're actually not the same. While they're both chocolate, they're slightly different in how they're processed. Cacao powder tends to be less processed than cocoa powder is. However, if you have cocoa powder on hand at home and not cacao, it will work in this case, but we do recommend cacao.
Now that your dry ingredients are mixed, pour them into the bowl of the wet ingredients you had set aside, and use the mixer to blend it all together. This should only take about one minute to blend. You don't want to over-mix the dough, so one minute is ample time for this.
Add the bananas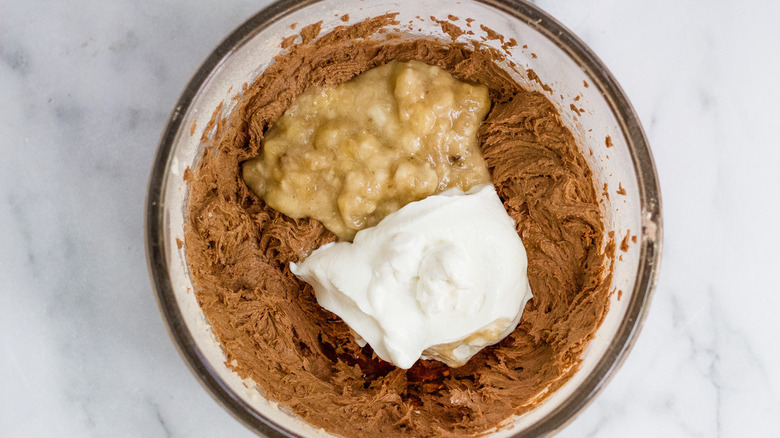 Jaime Bachtell-Shelbert/Mashed
With the bowl still in the mixer, you're going to add to it the last of the wet ingredients. Put in the mashed bananas, yogurt, and vanilla. Mix all of this together just until blended.
You might find the Greek yogurt to be a surprising ingredient here — it's not always used in baking — but that's not the twist in this recipe. As a matter of fact, the Greek yogurt is a common baking ingredient even if you haven't seen it before. The yogurt will add another layer of moisture to the dough, preventing your banana bread from being dry. It also adds a nice flavor. Plus, the acidity in the yogurt activates the baking soda. So there's a little bit of a chemistry lesson for you!
Add the chocolate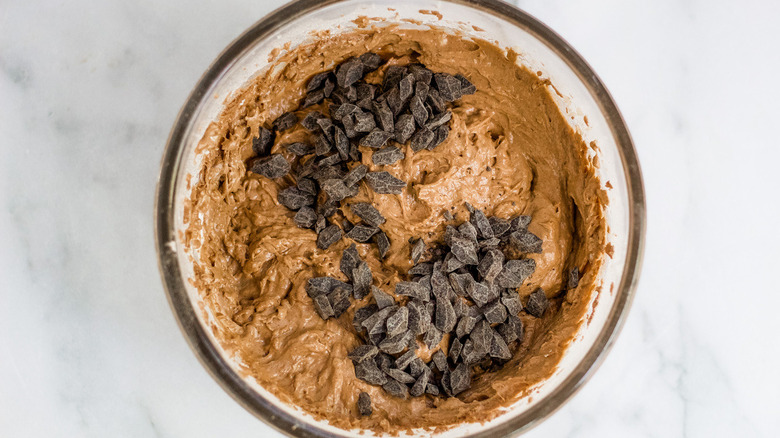 Jaime Bachtell-Shelbert/Mashed
Take the bowl out from the mixer for this last step. Pour in the chocolate chunks, and use a rubber spatula to fold them in so they're evenly distributed. After all, everyone will want to taste some in each heavenly bite.
The reason we recommend using dark chocolate chunks for this recipe, is because the dark chocolate will provide a contrast in taste to the sweet bread dough. If you want more sweetness in your bread, however, you could do a semi-sweet or milk chocolate chunk instead. Just keep in mind that doing so will make this bread into even more of a dessert bread than it already is! It will still taste scrumptious if you decide to tweak.
Bake your chocolate banana bread for 50 minutes
Jaime Bachtell-Shelbert/Mashed
Pour the bread dough into the prepared loaf pan, and put it in the preheated oven. Next, you're going to bake your banana bread for 50 to 55 minutes, or until a toothpick inserted into the center comes out clean. When done baking, remove your pan from the oven, and let sit to cool before you serve it. Your banana bread is done!
As far as serving options, you can leave it as-is or take it out, and place it on a small cake platter. It can be completely enjoyed just by itself, but you can get as creative as you'd like. Consider adding a squirt of whipped cream on each slice, a scoop of French vanilla ice cream, some fresh berries, or even a sprinkle of powdered sugar. Hey — you can even place a cherry or two on top if you'd like!
Storing this sweet treat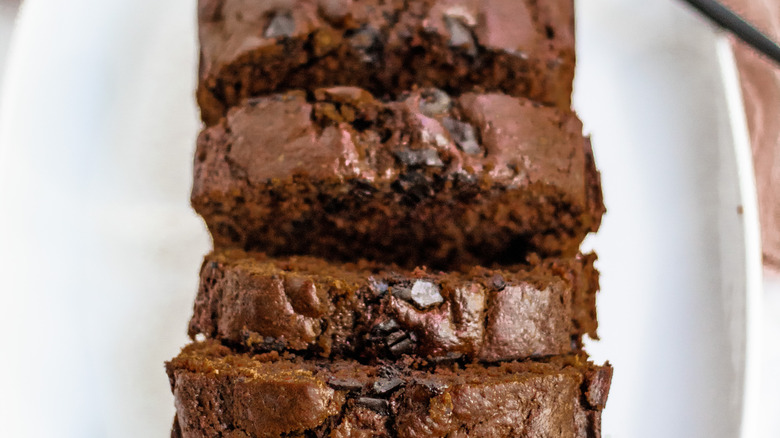 Jaime Bachtell-Shelbert/Mashed
Your banana bread is sure to be such a big hit with the entire family, and it may not last for very long after it's served. But it's great to know that the bread will keep for up to three days at room temperature on your counter or for up to seven days in the fridge. For either option, make sure your banana bread is covered to prevent it from drying out. You can also pop the prepared loaf into the freezer to last even longer! Just make sure it is wrapped properly and stored in something like a Ziplock bag to hold in the freshness. This is great to do so you are never without a dessert that's ready and easy to serve. This way, when you want to put it out for dessert or bring it to a picnic, just remove it from the freezer, and allow it to thaw before enjoying.
Classic Banana Bread Recipe
Classic banana bread recipe with a twist has two forms of chocolate added to it for an incredibly sweet treat.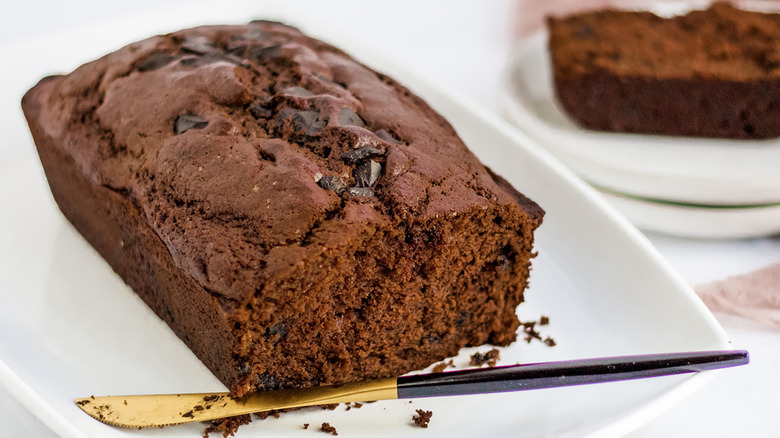 Ingredients
½ cup unsalted butter, softened
1 cup sugar
2 eggs
1 ¼ cups flour
¼ cup cacao powder
1 teaspoon baking soda
1 teaspoon salt
1 teaspoon vanilla extract
1 cup mashed ripe bananas
½ cup plain Greek yogurt
⅓ cup dark chocolate chunks
Directions
Preheat oven to 350 F.
Spray a standard loaf pan with nonstick cooking spray.
Cream the butter and sugar with an electric mixer until light and fluffy. Then, add the eggs, mixing well.
In a separate bowl, whisk together the flour, cacao powder, baking soda, and salt.
Add the dry ingredients to the wet ingredients, and mix well.
Add the vanilla, mashed banana, and Greek yogurt to the mixture, and mix just until incorporated.
Fold in the chocolate chunks.
Bake the chocolate banana bread in the preheated oven for 50 to 55 minutes or until a toothpick inserted into the center comes out clean.
Nutrition
| | |
| --- | --- |
| Calories per Serving | 379 |
| Total Fat | 17.4 g |
| Saturated Fat | 10.4 g |
| Trans Fat | 0.5 g |
| Cholesterol | 73.1 mg |
| | |
| --- | --- |
| Total Carbohydrates | 52.1 g |
| Dietary Fiber | 3.1 g |
| Total Sugars | 31.0 g |
| Sodium | 295.3 mg |
| Protein | 6.2 g |