5 Soups You Should Be Making And 5 You Shouldn't
Shutterstock
Soups are mostly liquid and so they're not that bad for you, right? Wrong! Depending on the specific ingredients, some soups can be overwhelmingly high in saturated fat and calories, offering little in the way of nutritional value. As a soup-loving gal, I tend to order soups when I'm out and make tons of it throughout the fall and winter months. As such, I've had to become more discriminatory when it comes to my soup choices, opting for ones that are high in fiber, protein, and veggie-based vitamins and minerals over the bowls that are decadent but not so great for my health. Take a look here to see which soups you should make and which ones you ought to skip.
Lentil soup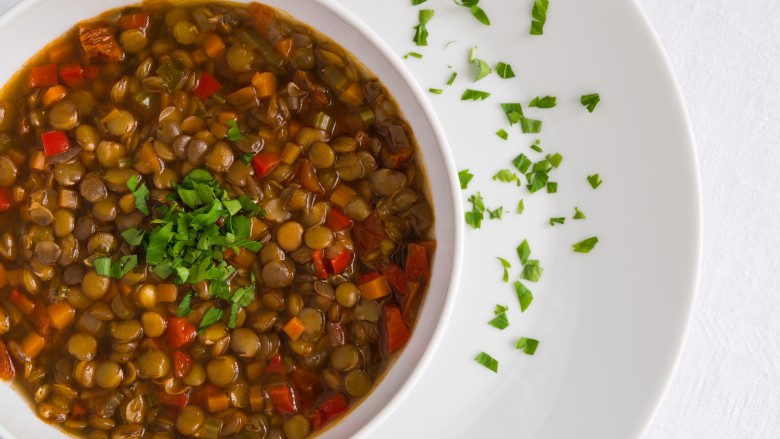 Shutterstock
Lentils come in a great variety, including red, green, and black. One of my favorite ways to use these nutritious legumes is by making them the main component of a warming soup. In addition to being low in calories and high in fiber, lentil soup is a rich source of iron, providing you with enough for the entire day. Enjoy this soup because it's ridiculously comforting and boasts a host of health benefits. It's a great choice for aiding weight loss, maintaining energy levels during the day, and keeping you happily regular. Moreover, lentil soup tastes delicious, adding nutty flavor and depth to your meal plan. Here are a few lentil-forward soup recipes to get you going.
This recipe from The New York Times is easy to make and encourages all the cozy feels. Red lentils, a splash of bright lemon flavor, and delightful veggie chunks make all the difference at the end of the day.
This French lentil soup from Epicurious is simple, adaptable, and flavorful, which are qualities that make for weeknight dinner bliss. Check it out and see for yourself.
Try this Indian-inspired recipe recipe from Bon Appetit when you want an updated take on the classic soup. Curry powder lends warm flavor, while pureed chickpeas add hearty texture.
Carrot ginger soup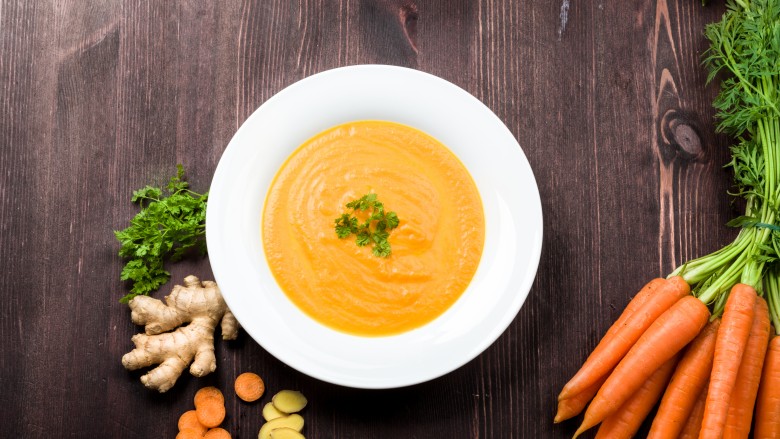 Shutterstock
Carrot and ginger soup is a great option when you want a light, healthy meal that isn't loaded with fat. Moreover, its components provide a slew of health benefits. Ginger has long been regarded by healers as a soothing medicine that helps to reduce pain and inflammation, stimulate circulation, and inhibit bacteria. And carrots? Well, this superfood is kind of a big deal. They are a terrific source of beta-carotene, which helps to improve vision and slow down the signs of aging. Additionally, their antioxidants contribute to a healthy complexion. Now feeling good and looking good is a combo we should all get on board with. If you need a little nudge, try these glorious soup recipes out for taste.
I am smitten with this recipe from The Mediterranean Dish. This version of the classic soup makes the most of the carrots' natural sweetness by roasting them first, while the freshly grated ginger lends an irresistibly earthy kick.
This recipe from Foodie Crush is a healthy meal that doesn't sacrifice taste. Carrots and ginger are combined with fiber-rich Greek yogurt for added creaminess.
This paleo recipe from Paleo Leap is a rich, creamy, and light dinner miracle. Carrots, ginger, and zucchini are seasoned with warm spices like turmeric and cinnamon.
Minestrone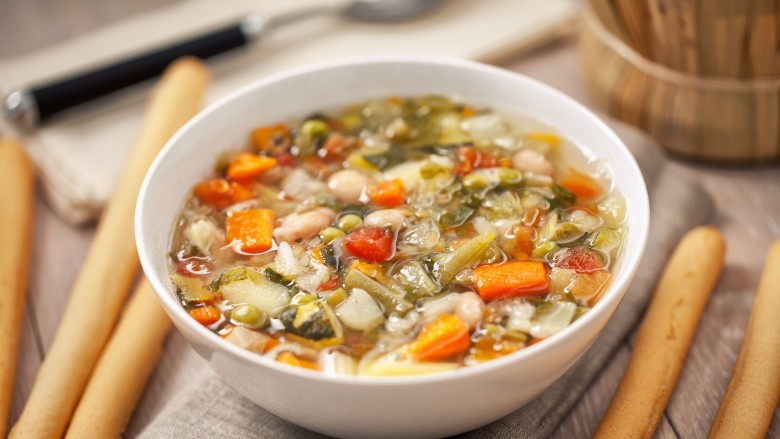 Shutterstock
Minestrone is a high-fiber vegetable soup that can be a delicious addition to a balanced diet when you're thoughtful about the ingredients you use. Since it traditionally contains broth, tomatoes, and various types of healthy veggies, this soup tends to be low in calories and full of nutrients. Choose produce that's low in calories and high in fiber content — think leafy greens — as well as broth with reduced sodium levels to achieve the most nutritious results. You can also include some legumes if you wish to incorporate more protein into your meal. Minestrone is infinitely versatile and endlessly adaptable. Here are some different takes on the classic soup.
This version of minestrone from Cooking Light is a colorful and satisfying warm weather staple. Making use of late summer produce like tomatoes, squash, and corn, it naturally bursts with flavor.
Try this slow cooker minestrone from Skinnytaste for some dinnertime ease. By adding white beans, kale, and pasta, you are rewarded with a vegetable soup that's quite hearty and filling.
This veggie-forward recipe from Our Best Bites brims with goodness. A variety of colorful vegetables and hearty beans turn this weeknight soup into something extraordinary and totally comforting to boot.
Gazpacho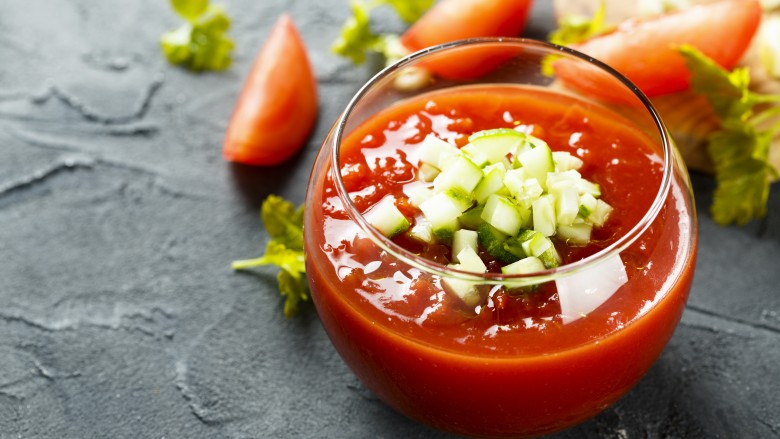 Shutterstock
An Andalusian tomato soup traditionally served cold, gazpacho is light, refreshing, and unsurprisingly good for you. The vitamins in the tomatoes and peppers help to stave off colds, while the antioxidants act as an anti-aging agent. These antioxidants are also shown to eliminate radicals in the blood system and reduce inflammations. This chilled soup is easy to make at home and much healthier, too. On the other hand, when you order it at restaurants, you take the risk of consuming extra sodium, sugar, calories, and the like. To maximize the benefits of gazpacho, skip the dollops of sour cream, reduce the amount of oil you use, and opt for fresh tomatoes over their canned counterparts! Ready to try this Spanish favorite? Check out these recipes.
This twist on gazpacho from Eating Well incorporates hydrating watermelon for natural sweetness minus the extra calories. The result is nothing short of divine — true soup bliss.
This creative recipe from My Recipes brings smoky flavor to gazpacho by grilling the veggies before pureeing them into soup. Yes, please.
This rustic gazpacho from Food & Wine is low-key, simple, and beautifully classic. Whip out the blender, no cooking involved.
Mushroom barley soup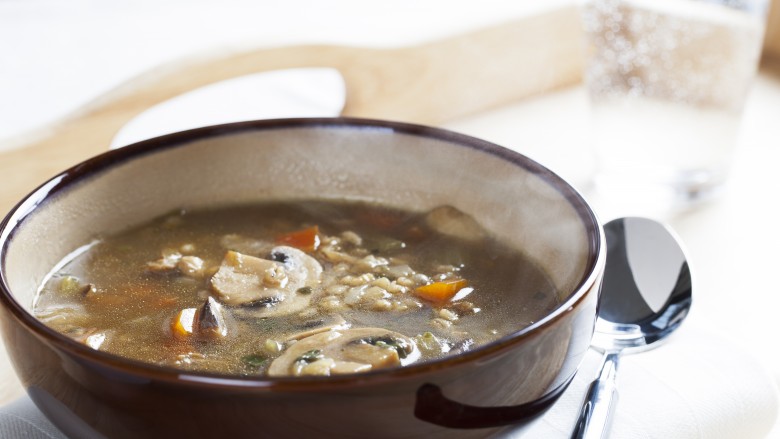 Shutterstock
The fact that mushroom barley soup is healthy simply blows my mind, as it tastes almost too good to be nutritious. Mushrooms lend earthy flavor along with a good dose of fiber to keep you regular, beta-glucan to improve your immune system, and minerals such germanium to regulate the oxygen. A hero of the grain world, barley is all kinds of wonderful. Its hearty texture keeps you feeling full, while lowering your glucose levels and controlling your blood sugar levels. If you love mushrooms as much as I do, you'll understand the appeal of this satisfying soup. I like to use a mix to achieve depth of flavor. Try cremini, shiitake, and oyster mushrooms to start. Need more guidance? Give these A+ recipes a go.
This deli-style recipe from Tori Avey is charming in its use of classic ingredients and quest for old-school flavors. Shiitake mushrooms, pearl barley, and flavorful broth make this the perfect meal to fill you up and leave you feeling all warm and fuzzy inside.
This take on mushroom barley soup from The New York Times is all about simplicity and ease. Eight ingredients and one pot. Do it!
This complex mushroom barley soup from Food & Wine gets its unbeatable flavor from the beef stock.
Avoid anything with the word "chowder" in it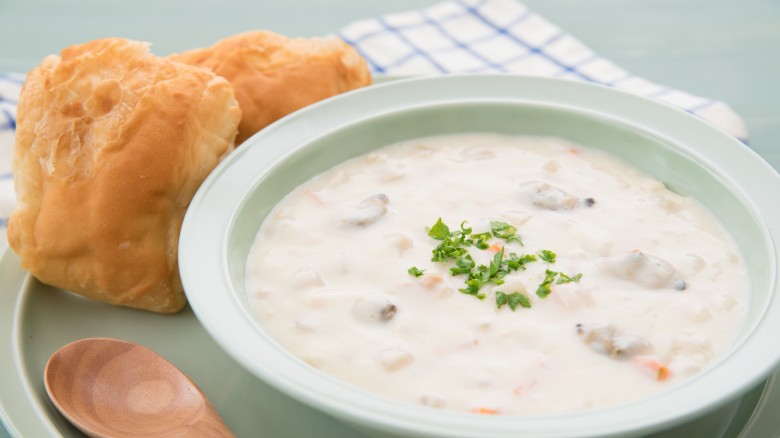 Shutterstock
By definition, a chowder is a type of soup that's made with milk — or cream — which means it tends to be very rich, as well as high in fat and calories. If you're aiming to maintain a healthy diet, any kind of chowder-adjacent soup might derail you a bit. Thick, creamy, and likely made with seafood (like clam, for instance), this type of soup tends to be thick, chunky, and loaded with saturated fat Its dense structure is achieved by incorporating hearty veggies such as starchy potatoes.
Stay away from potato soup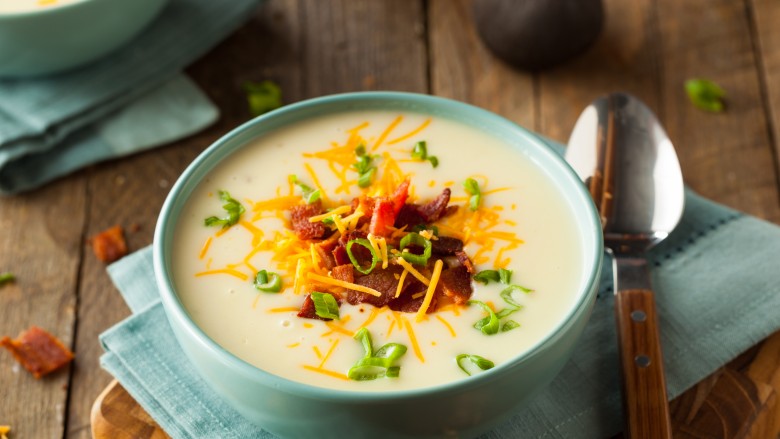 Shutterstock
Potatoes in and of themselves are actually quite nutritious, containing a host of vitamins, minerals, and fiber. However, they are often transformed into cream-laden soups that are extremely fatty. Their inherent health benefits go out the window as soon as you add heavy cream, milk, or sour cream along with all those other extras like bacon and cheese that spike up sodium levels. If you truly want to enjoy potato soup that's remotely nourishing, opt for the ones made with non-fat milk.
Forget about all that bisque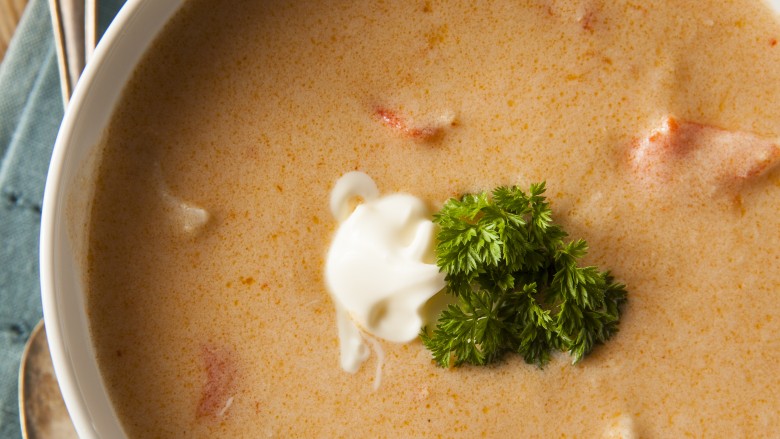 Shutterstock
Like chowder, bisque is a type of French soup traditionally made with a rich dairy base and seafood components. If you're on a strict diet, this soup will send you over the edge. Smoother and creamier than chowder, it's made by pureeing the shellfish along with the dairy and other ingredients, which include wine. Slight differences aside, most bisques contain as much saturated fat and calories as their chowder cousins. Steer clear!
Say goodbye to broccoli cheddar soup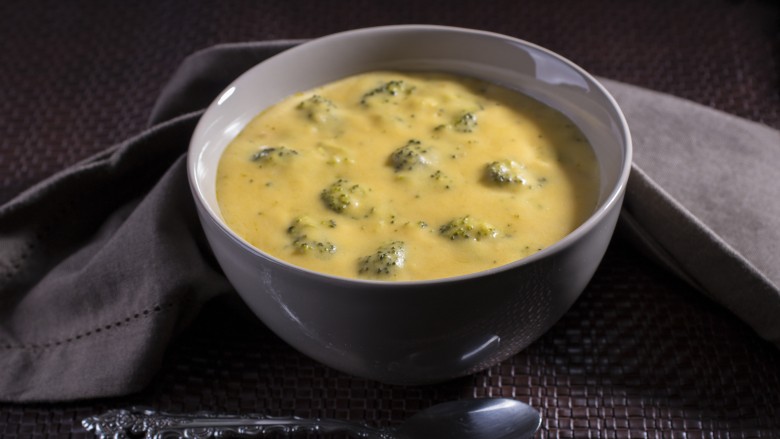 Shutterstock
Yes, this soup has broccoli in it, but it also contains copious amounts of fatty cheese. Broccoli cheddar is tasty, sure, but it's not the healthiest choice. Most broccoli and cheese soups use only a small amount of broccoli and a whole lot of cheese. As a result, the health benefits of technically being a vegetable soup get cancelled out pretty quickly. If you want cheese, just eat some cheese, but don't fool yourself into thinking this soup is a vehicle for the broccoli.
No more hot and sour soup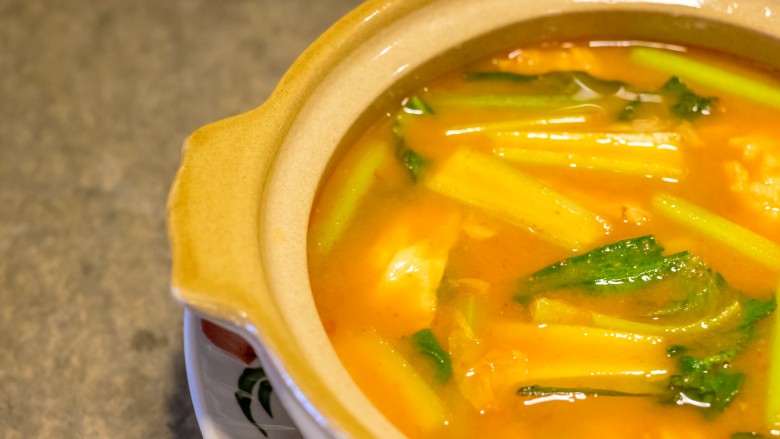 Shutterstock
Hot and sour soup is one of those dishes you probably don't make at home but order as part of your Chinese takeout haul. While the ingredients in this soup are not actually unhealthy — a meat-based broth with wood ear fungus, bamboo shoots, day lily buds, and tofu — the sodium level in many restaurant-made varieties is completely bonkers. A measly cup of it can contain as much as 876 milligrams of sodium or 37 percent of your overall daily value. That's crazy!
Now that you're in the know, go get your soup on.