The Garlic Festival You Never Knew About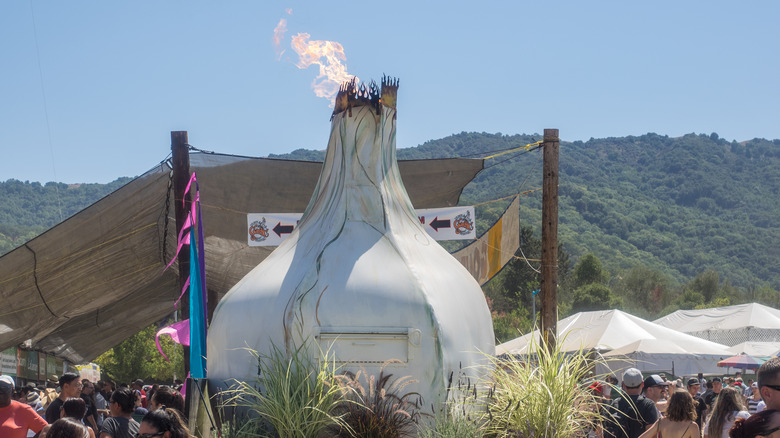 Shutterstock
There are two types of people in this world: Those that obey recipes calling for one clove of garlic and those that go ahead and dice up an entire head. For the latter, there is a special place for people like you — the "garlic capital of the world," a place known as Gilroy. The quaint town in California hosts the one and only Gilroy Garlic Festival every year with festivities that are all about enjoying the aromatic bold flavors of garlic — but the association that puts on the event is committed to more than just spreading the flavor but also goodwill too.
The beloved festival has been going strong since 1979, according to the official website. And while attending this one-of-a-kind, three-day celebration (typically in the end of July and early August) may leave you with some bad breath, it's totally worth it. As you fill your belly up with garlicky goods, you can also enjoy live entertainment on one of the three stages, cheer on both rookie and professional chefs that partake in cooking battles, witness wild pyrotechnic performances, and enjoy countless other activities, open to all ages and families. After you've indulged in some "Garli-Que" and garlic ice cream (if you're adventurous enough), you can wash the flavors down with noteworthy local wines in the scenic mulberry grove, Visit Gilroy shares.
There is no such thing as too much garlic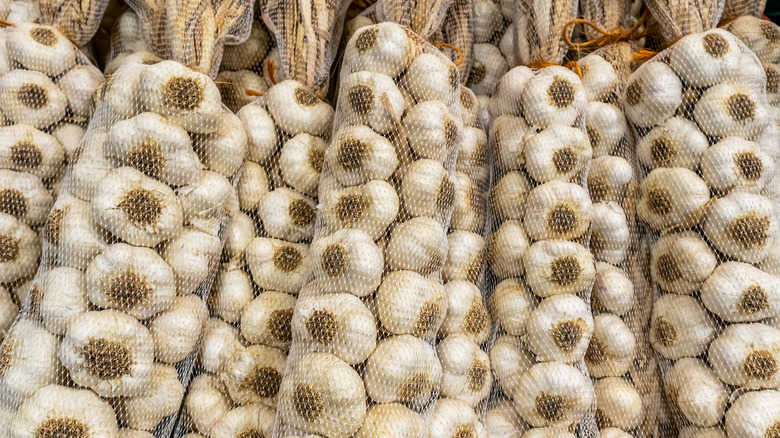 Shutterstock
In the heated summer weeks when the festival takes place, passersby can literally smell the garlic as soon as they cross the "Welcome to Gilroy" sign. The scent is from the plants processing garlic, confirms NY Times. At the same time, the whole town of Gilroy gets a makeover — a garlic makeover, that is. Gilroy blankets itself in themed shops, banners, and town decorations, boasting the event that welcomes upwards of 100,000 over three days (per Silicon Valley Business Journal) and takes a total of 4,000-plus dedicated volunteers to pull together. 
But, beyond whipping up unique dishes for garlic lovers to enjoy, The Gilroy Garlic Festival Association has another purpose for the event — to give back. In its history, the festival has raised and delivered nearly $12 million to the community. Through the Gilroy Garlic Festival Endowment Fund, the association has donated funds to various non-profit organizations, school groups, sports teams, and a handful of other groups in the area that are dear to the city's heart.
So, if you're a true garlic fanatic, this is one festival you cannot miss.