Barq's Root Beer Float Ice Pops At Aldi Are Turning Heads
Barq's root beer has made waves ever since Edward Charles Edmond Barq Sr. started selling the very first bottles of his signature soda in 1897 (via Barq's). From this point forward, the company has made it a point to stay on top of the cultural zeitgeist and respond to whatever consumers wanted out of the fizzy drink. The strategy has worked out well for the company. Barq's currently ranks as the leading root beer beverage on the market, thanks to their winning product and keen business insights (via Marketing91). The brand has tapped into another sweet market and guarantees to claim even more fans thanks to a collaboration that only Aldi could dish out.
Instagrammer @aldi.mademedoit recently learned that Aldi now stocks Barq's Frozen Root Beer and Vanilla Ice Cream Float popsicles. After grabbing a package for themself, the Instagram user posted a picture of the find alongside the caption, "If you love root beer or root beer floats go buy these Barq's root beer float ice creams then thank me later!! I about fainted when I saw them and bought two boxes." The post has already grabbed some serious attention, scoring almost 1,000 likes.
The perfect Aldi treat for hot weather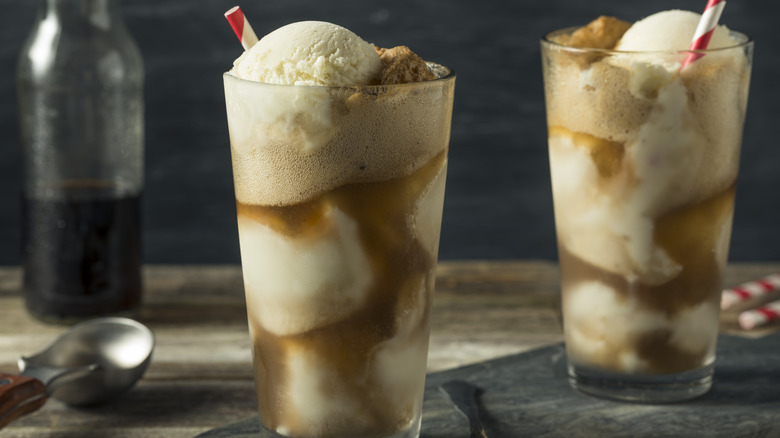 Shutterstock
The post has attracted far more than just likes. A ton of positive comments have flooded the post, and range from "I remember the post about these from last year, it made me want to try them but I never did lol my husband and son absolutely love root beer I'll have to look for them this time!" all the way to "They had these last year I'm glad to see them back they sold so fast." Others barely missed the mark, chiming in with, "Those look delish. I was just there today but didn't go aisle by aisle. I zoomed right to the coconut wine, which was pretty much it. I'll look next time. TY".
If you need a frosty treat that serves up the iconic taste of Barq's root beer and can cool you down after a fun day in the sun, you need to get your hands on these frozen desserts while you can. Just make sure to grab some soon. With this much attention, you know these products won't stay on shelves long and you don't want to miss the signature flavors locked away in each frozen float.