Copycat Melting Pot Cheddar Cheese Fondue Recipe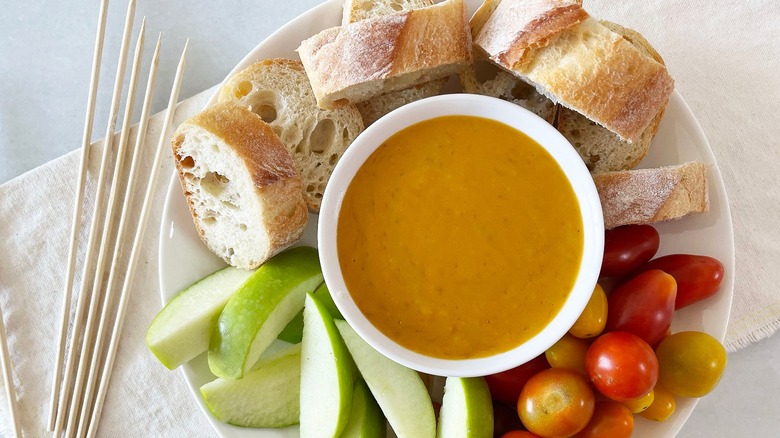 Jason Goldstein/Mashed
We have two words for you: melted and cheese. Now that we have your attention, how would you like to enjoy a copycat version of The Melting Pot's cheddar cheese fondue without ever leaving your house? If this sounds like your idea of heaven, enter Jason Goldstein, who shares recipes and cooking tips at Chop Happy. He has formulated a copycat recipe for this '70s comeback food that is simple, indulgent, and so worth trying out as soon as you can — perhaps this very night.
Believe it or not, this copycat The Melting Pot cheddar cheese fondue recipe calls for just six ingredients and takes a mere ten minutes to pull together. It's just about perfect for those spur-of-the-moment meal needs that pop up from time to time. Have last-minute guests stopped by? Do you care to impress a date with your home cooking? Want to just eat melted cheese, like, right now? Either way, this fast fondue is a win. As Goldstein tells Mashed, "This is perfect date night or holiday appetizer. The fondue is also a perfect midweek celebration dinner." 
Just note that the recipe does call for beer as one of the ingredients, but if anyone in your group wants or needs to abstain from alcohol, there's an easy fix. "If kids are eating it, use broth instead," suggests Goldstein.
Shop for your ingredients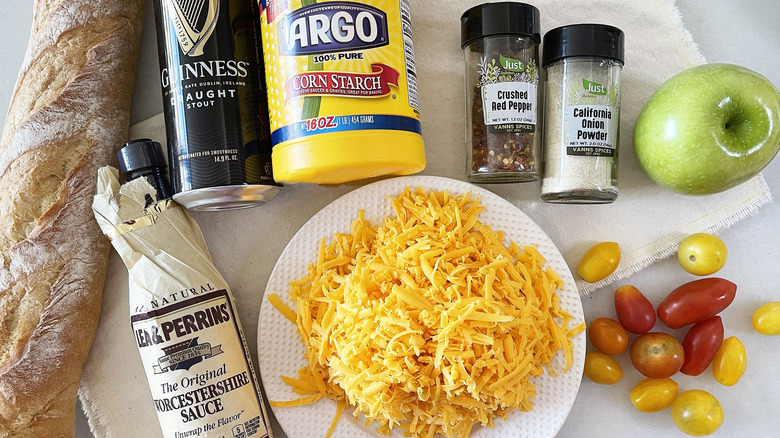 Jason Goldstein/Mashed
To serve up savory fondue for two, or for a few more, you will need just half a dozen ingredients. Chances are pretty good that you have all or most of them on hand already. So, first shop for a can of beer, of which you'll use one cup. A hearty stout like Guinness would work especially well here. You'll also need 4 cups of grated cheddar cheese, garlic powder, red pepper flakes, and Worcestershire sauce. You will also need a tablespoon of cornstarch to thicken up your fondue sauce.
Worcestershire sauce is especially key to this simple recipe. Why is this ingredient, which has its origins in England but was actually inspired by Indian flavors, necessary here? "The Worcestershire lends a sweet, salty, umami background taste," Goldstein told Mashed.
Finally, consider the following suggested dipping foods: a cut-up loaf of bread, cherry tomatoes, and apple slices to start. That said, you can add any other items to dip into the fondue pot that you would like, such as your favorite veggies or even tortilla chips. Just remember not to double dip!
Mix your cheese with the other ingredients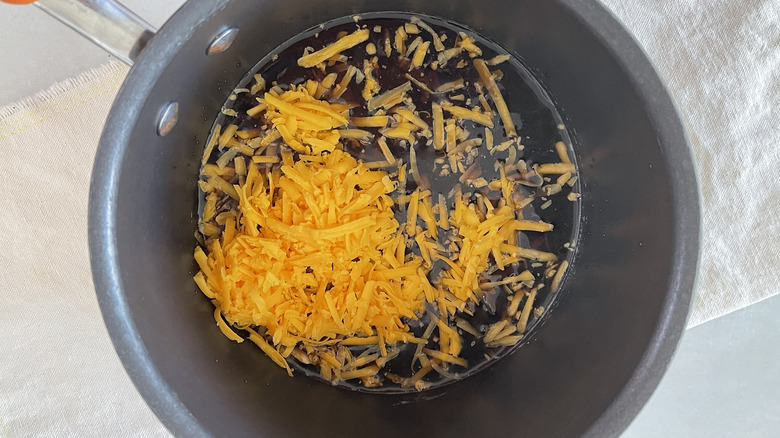 Jason Goldstein/Mashed
First, your cup of beer, accompanied by the garlic powder, red pepper flakes, and Worcestershire sauce will go into a pot set over medium-low heat. 
Once your ingredients are mixed together, you can start to slowly add in the shredded cheddar cheese. Don't add it all in at once, as that could make mixing everything into a delicious, cohesive whole a bit more complicated. Goldstein notes that you will want to keep whisking as you layer in the cheese, too, all to ensure that perfectly smooth texture in your fondue.
Now, it's true this fondue is hard to mess up, but Goldstein tells Mashed there is one misstep that really can make this meal, well, a mess. "If you cook the fondue on high heat, the sauce will separate," he cautions home cooks. So, practice a little bit of patience and keep that heat on medium-low. Do so, and melted cheese glory is only a few minutes away!
Melt the cheese mixture and serve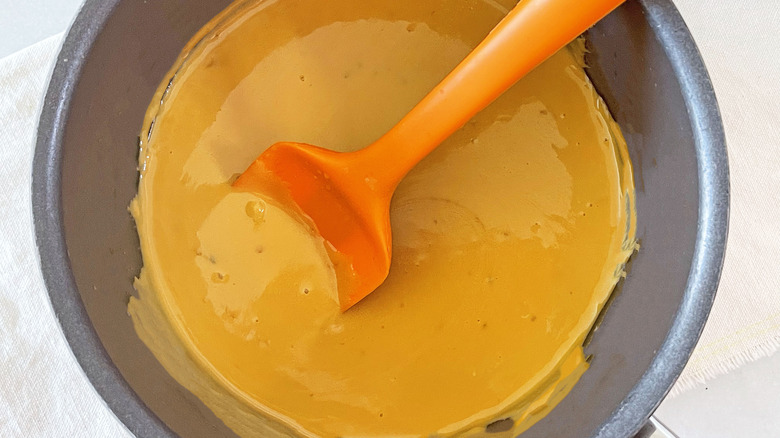 Jason Goldstein/Mashed
There is one final step before your (nearly) foolproof fondue is table-ready. You will want to thicken the cheese and beer mixture with a bit of cornstarch, giving the end result a thicker and more velvety texture. You'll need to add just a tablespoon and then cook the sauce for three more minutes, being sure to stir it occasionally to make sure nothing is clumping or burning in the bottom of the pot. 
Now, we wouldn't blame you if you dipped your hunks of bread or chips or veggies right into the pot. But if you plan to share your creation, you can opt to be a bit more civilized, and pour the fondue into a serving bowl, surrounded by your dipping options. If you happen to have a fondue set, complete with individual dipping forks, all the better.
Either way, savor this dreamy dip, and don't forget to bookmark this recipe so you can fix it the next time you are jonesing for comfort food that takes practically no time and very little money to pull off.  
Copycat Melting Pot Cheddar Cheese Fondue Recipe
We have two words: melted and cheese. How would you like to enjoy a copycat version of The Melting Pot's cheddar cheese fondue without ever leaving your house?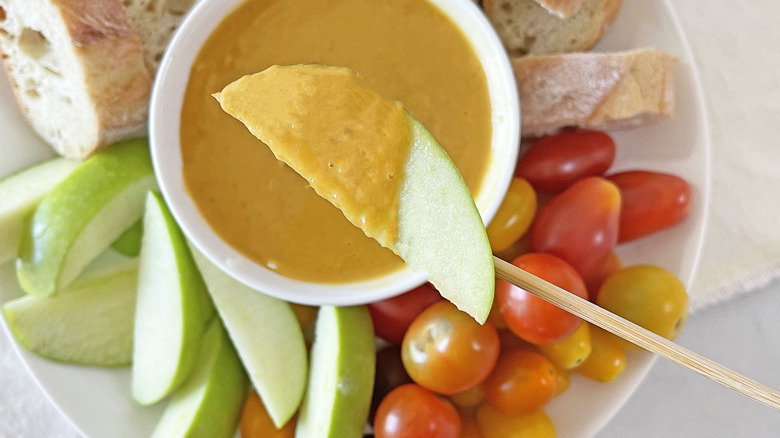 Ingredients
1 cup beer
4 cups of cheddar (grated)
1 teaspoon garlic powder
½ teaspoon red pepper flakes
1 tablespoon Worcestershire sauce
1 tablespoon cornstarch
Optional Ingredients
1 loaf bread (cut into cubes or small slices)
1 pint cherry tomatoes
2 apples, sliced
Directions
Place beer, garlic powder, red pepper flakes, and Worcestershire sauce in a pot on medium low.
Slowly add the cheese as you whisk the beer mixture. Then whisk in the cornstarch and cook 3 minutes stirring occasionally until mixture is fully melted and incorporated.
Pour into a serving bowl and surround with food for dipping.
Nutrition
| | |
| --- | --- |
| Calories per Serving | 288 |
| Total Fat | 22.3 g |
| Saturated Fat | 12.8 g |
| Trans Fat | 0.8 g |
| Cholesterol | 67.3 mg |
| | |
| --- | --- |
| Total Carbohydrates | 3.6 g |
| Dietary Fiber | 0.1 g |
| Total Sugars | 0.4 g |
| Sodium | 447.4 mg |
| Protein | 16.1 g |