The Real Reason Most Fast-Food Pizza Chains Get Their Cheese From The Same Company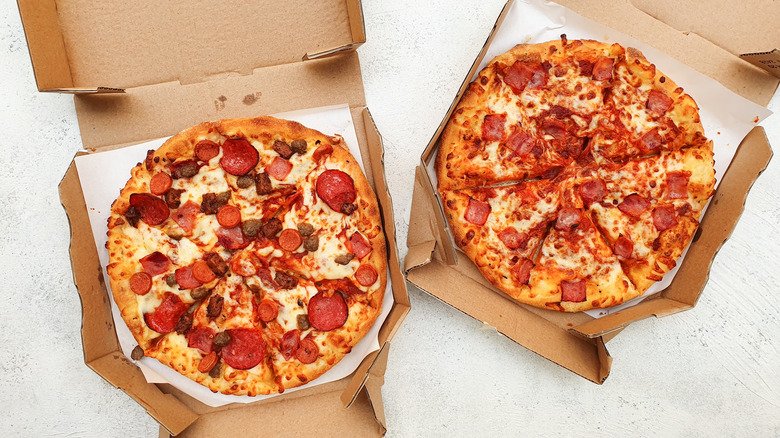 Shutterstock
Hey, pizza lovers! Here's a fun experiment that presents a great excuse to eat lots and lots of fast food pizza. First, order yourself a pizza from each of these popular brands: Domino's, Papa John's, and Pizza Hut. Set yourself up to do a blind taste-test (for example, serve the pizzas on paper plates that you have marked on the bottom with the origin of the respective pizzas), and then see if you can tell the difference between the three pizza's cheeses. 
Now, for the spoiler alert: The cheese on all three pizzas should be nearly identical — except, perhaps, with regard to the relative proportions of mozzarella to parmesan to other cheeses (such as provolone) because all three of the fast-food pizza chains get their pizza cheeses from the same supplier. That supplier is Leprino Foods, founded by James Leprino in 1958 (via Forbes). Leprino Foods processes mozzarella cheese, cheese blends, and pizza cheeses for pizzerias, foodservice operators, frozen food manufacturers, and private label cheese packagers around the world.  In 1992, it became the largest cheese supplier in the U.S., according to the Leprino Foods website. Here's how the brand came to dominate the market.
The company that supplies 85% of our nation's fast-food pizza cheese has that 'something-something'
James Leprino's father, Mike Leprino, Sr., began making mozzarella cheese in 1950 for the Leprino family's corner grocery store in Denver, Colorado, according to the Leprino Foods website. At the time, James was still just a kid, but when he graduated from high school in 1956, he joined his father working full-time at the Leprino store, via Forbes. Although the next few years proved challenging as a result of the rapid proliferation of large grocery chains, they also helped motivate the Leprino family when it came to their cheesemaking business. By 1978, the company was exporting whey products overseas, including to such distant places as Japan. Today, Leprino Foods is the world's largest mozzarella cheese maker, not to mention the leading producer of whey protein, lactose, and other dairy ingredients. 
Nevertheless, Leprino Foods remains a family-owned business that professes its commitment to the core values of quality, service, competitive pricing, and ethics (via Leprino Foods). Through its 50 patents with regard to cheese manufacturing, packaging, and distribution, Leprino has essentially defined for the U.S. what pizza cheese is supposed to be — and what it is. And that just may be the "something-something" that has allowed Leprino Foods to essentially dominate the supply chain for fast food pizza in the U.S.