This Is What Yolanda Gampp Typically Eats In A Day - Exclusive
Yolanda Gampp might be the queen of cake. On her popular YouTube channel and blog, How to Cake It, she can recreate almost any food or object out of sweet treats. While she spends her days baking and decorating flawlessly, Gampp told Mashed in an exclusive interview that she tends to lean on someone else when it comes to cooking meals. As it turns out, what she eats in a day largely depends on her husband, who Gammp describes as "the cook in our house." But that's usually just for dinner, Gampp said.
When it comes to breakfast and lunch, Gampp steps into the kitchen. "In a typical day, for breakfast, I'm pretty good. I usually have coffee, oatmeal," she said. Then for lunch, Gampp has a go-to meal that she is almost as thrilled about as she is for cake. "For lunch, I really love making salads. I love making salads. If I could have a salad YouTube channel, I would. I just think people wouldn't watch," Gampp said.
For dinner, Gampp says her husband is, "good at making anything." Her husband likes to make "pasta, homemade pizza, he'll make a whole roast chicken, he'll make a homemade chicken noodle soup." Dessert comes back to Gampp, though. "Of course, there's usually cake in my day," she added.
Gampp has a favorite fast food chain that you might not have heard of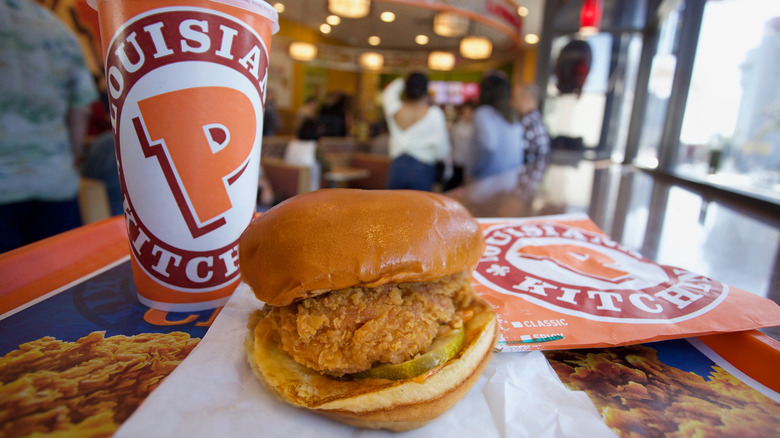 Shutterstock
While Yolanda Gampp loves food, she wasn't the only one on the set of her latest show, "Crime Scene Kitchen," to be a little obsessed with it. Gampp said of her co-stars, "obviously Curtis is super talented chef, but Joel and I both love food as well." That's why the three of them always looked forward to mealtime while filming. "Every time we got to order lunch we were like, what should we get? What should we have today?" Gampp said.
Though the cast likely wasn't eating fast food while filming the show, Gampp did admit that she has a go-to favorite. While you might think it'd be the Popeyes chicken sandwich, which she famously recreated for her YouTube channel out of vanilla cake (via YouTube), it's actually a burger from her hometown of Toronto. Gampp said, "in Toronto, there's a burger chain called Burger's Priest and I'm obsessed with their high priest burger. It's delicious." It might not be a part of the chicken wars, but it definitely sounds delicious.
Be sure to check out Yolanda Gampp judging bakes alongside Curtis Stone on new episodes of "Crime Scene Kitchen," on Wednesdays on Fox.