Copycat Raising Cane's Sauce Recipe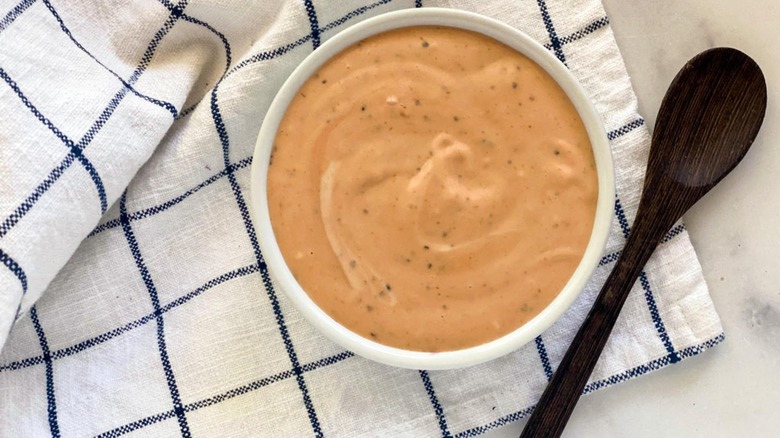 Miriam Hahn/Mashed
There's a lot to love about Raising Cane's, and one of those things is its dipping sauces. Like many fast-food chains, Raising Cane's has its own signature dipping sauce that is next-level good. If you've tried it, then you know what we're talking about, and if you haven't? Well, then you're missing out. Luckily there's a copycat version that you can make at home, saving you a trip to the drive-thru. It's also great if you love Raising Cane's restaurants, but don't have one in your area.
Wellness coach and recipe developer, Miriam Hahn, is the brains behind this copycat Raising Cane's sauce recipe that is seriously just as good as the real thing. She says that her favorite thing about it is the flavor. "This sauce is super creamy and tangy!" she raves. It also helps that it's "easy to make with just basic ingredients." One more major plus that we have to mention is that it only takes five minutes to make. Keep scrolling for how to make this yummy sauce.
Gather the ingredients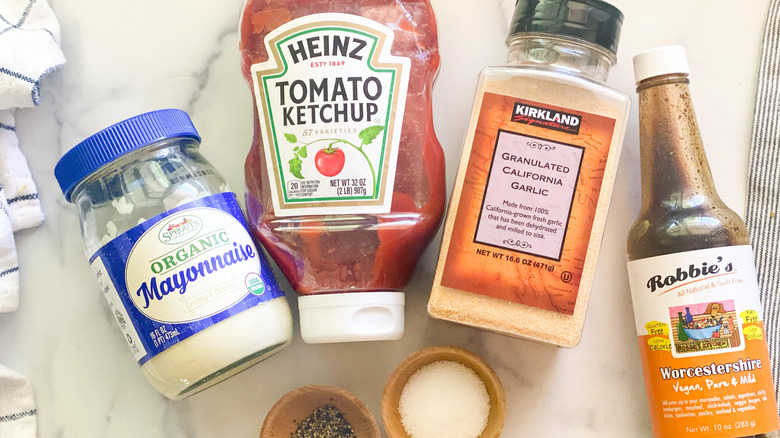 Miriam Hahn/Mashed
The first step in the process is to gather all of your ingredients. If you cook a lot, you might have many of the needed items at home already. You'll just need some mayo, ketchup, and Worcestershire sauce. In addition, there are only three more common ingredients, including granulated garlic, salt, and black pepper. Yep, that's all that this recipe needs. Pretty easy, right?
When you have everything in front of you, it's time to do the quick prep work. 
Mix everything together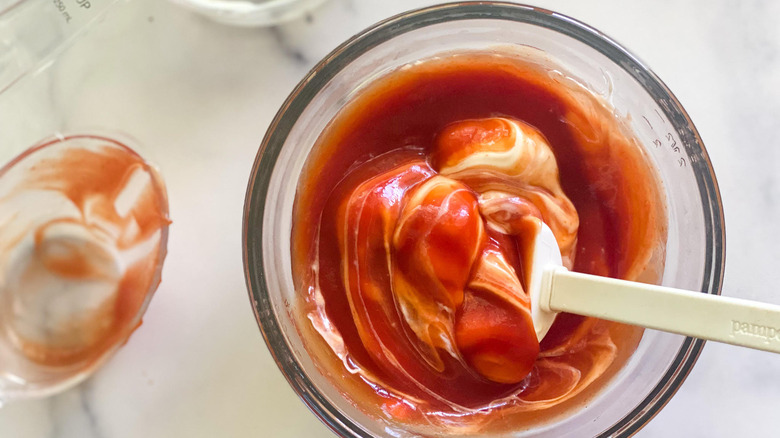 Miriam Hahn/Mashed
The first step to the recipe is to get out a bowl to mix everything together. Then, toss in all of your sauces, including mayo, ketchup, and Worcestershire. Before you stir, add the rest of the ingredients, including the granulated garlic, salt, and pepper. MIx well to combine and ensure nothing clumps together. A good mix is the key to a great sauce.
Once all of the items are well mixed, the sauce should start to turn a beautiful shade of orange. 
Stick it in the fridge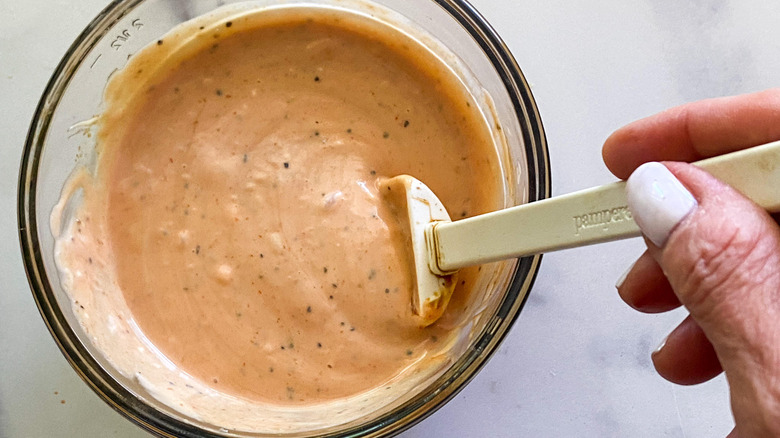 Miriam Hahn/Mashed
Once you've finished stirring the ingredients together, the sauce needs to chill for a bit. You can use the same mixing bowl that you used in step one, or transfer the sauce to a serving dish. Place it in the fridge for at least two hours before serving. This ensures that all of the flavors can blend together and provide you with the best possible result. When it's done, you can take it out and enjoy it!
Serving suggestions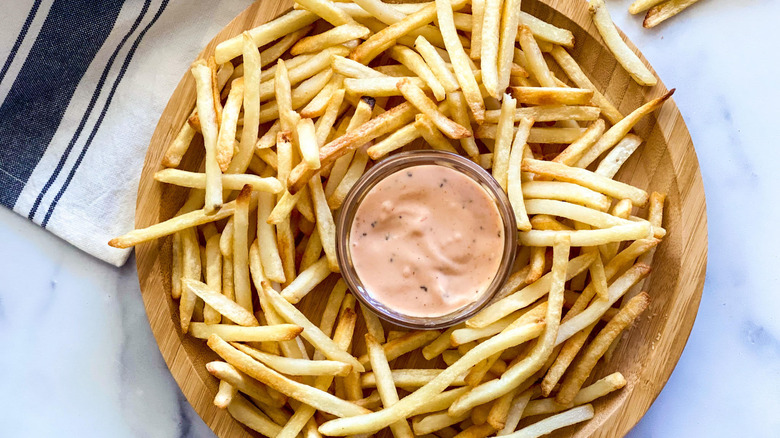 Miriam Hahn/Mashed
If you have eaten this sauce before, you know that there are a lot of things that it goes well with. Of course, french fries are one of the first items that come to mind. Hahn also has plenty of other serving suggestions, including using it as a dip for onion rings, chicken tenders, cauliflower bites, or fish sticks, or as a topper for a burger, sandwich, or pita pocket.
If you have leftovers, "It will stay good for up to five days in an airtight container," she adds.
Copycat Raising Cane's Sauce Recipe
This copycat Raising Cane's sauce recipe will save you a trip to the drive-thru. It's fast, easy, and just as good as the real thing.
Ingredients
1 cup mayonnaise
½ cup ketchup
1 tablespoon Worcestershire sauce
1 teaspoon granulated garlic
1 teaspoon black pepper
¼ teaspoon salt
Directions
Mix together all the ingredients.
Cover the sauce and put it in the refrigerator for at least 2 hours before serving.
Nutrition
| | |
| --- | --- |
| Calories per Serving | 146 |
| Total Fat | 14.8 g |
| Saturated Fat | 2.2 g |
| Trans Fat | 0.0 g |
| Cholesterol | 7.5 mg |
| | |
| --- | --- |
| Total Carbohydrates | 3.4 g |
| Dietary Fiber | 0.1 g |
| Total Sugars | 2.3 g |
| Sodium | 215.9 mg |
| Protein | 0.2 g |