Here's What Kash Doll's Kitchen Looks Like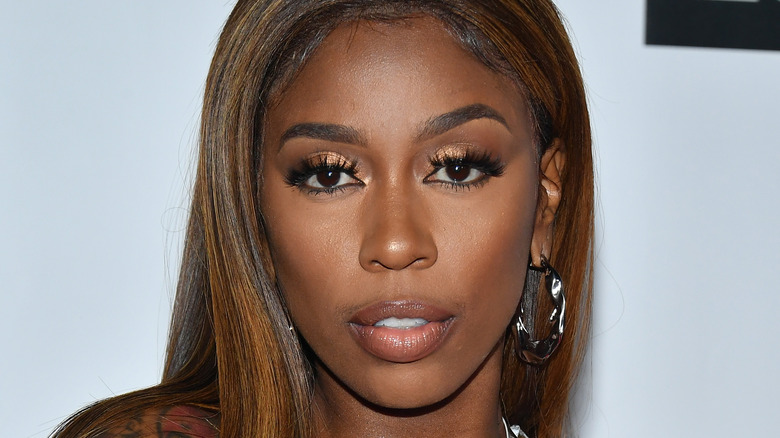 Amy Sussman/Getty Images
Rapper Kash Doll is a woman that's not afraid of living her life in style and working hard to achieve her goals. According to Delish, the musician has a lavish home with a kitchen and a home bar that are quite luxurious, to say the least. Her kitchen is a bright space with large windows that allows for plenty of natural light to come in, something that makes the musician very happy. "I really love the whole vibe in here," she remarked. "It's so bright."
The singer also has an impressive countertop bar that's near her kitchen, which is stacked with champagne bottles and her favorite drinks. "I love Belaire," she said. "I love the white and gold bottle." Even though Doll explained she isn't too fond of cooking she loves the space, which is perfect for preparing a meal for her nieces and nephews. The star also loves her colorful marble countertops, which she said are the perfect hue. "It's just so pretty but rich," she explained. "It's not too bright and it's not too dark. It gives you Kash Doll vibes."
Kash Doll's kitchen is a lavish space
Kash Doll told Delish that she planned her kitchen carefully and every single detail has been taken care of. For instance, the kitchen appliances are mostly blue to complement her marble-top. The rapper also keeps a stash of all her favorite and go-to food items and snacks in her hidden fridge. Some of the food items to look out for? Almond milk, cookie dough, mashed potatoes, cheese, eggs, and more.
Doll also proclaimed that she never stocks blueberries in her fridge because she cannot stand them. She, however, does love her microwave and is usually found heating something up for a quick, satisfying meal. In fact, she loves this modern convenience so much that she even popped some frozen chicken alfredo into the microwave during the video. Which is totally relatable, considering many of us also do this on a busy night. Albeit, not always in as fancy of a kitchen.