Creamy Pasta With Smoked Bacon And Peas Recipe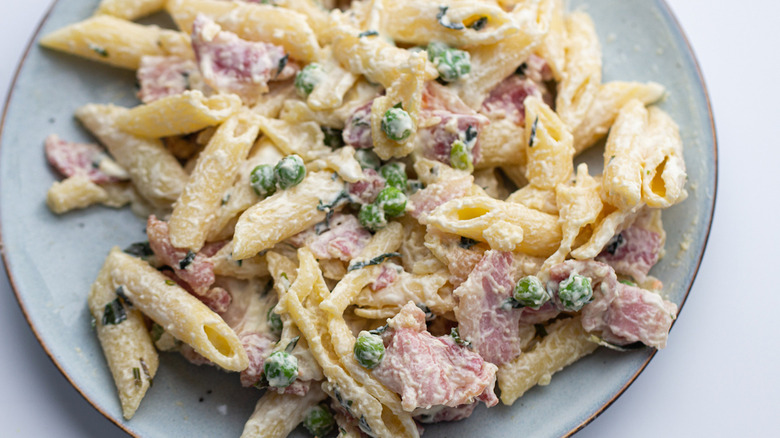 Susan Olayinka/Mashed
Of the many delicious kinds of pasta dishes that have come out of Italy over the years, the creamy creations are some of the most recent. According to La Cucina Italiana, cook Ippolito Cavalcanti documented pasta cacio e uova — a mix of beaten raw eggs, melted lard, and cheeses — in his 1839 cookbook. Flash forward to 1944 and Italians were making pasta carbonara, which is made from a creamy sauce combined with cured pork, aged cheese, and ground black pepper. Like many recipes, the exact origins of these dishes are up for debate, but if one thing is certain, it's that they have paved the way for experimentation and enjoyment for both professional and home cooks around the world.
Recipe developer Susan Olayinka of The Flexible Fridge has created a creamy pasta with smoked bacon and peas that uses the latter to add some sweetness to the salty profile of Italy's famous creamy pasta meals. This creation has a preparation time of only 15 minutes and a cook time of 10 minutes, making it a quick and easy dish for any occasion — especially a busy weeknight that could use a savory treat like this one. Interested? Let's take a look at what you'll need to get started.
Gather the ingredients for your creamy pasta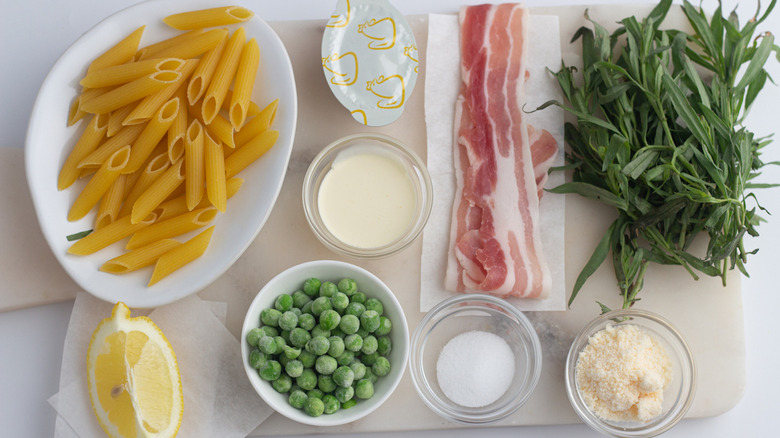 Susan Olayinka/Mashed
To make this creamy pasta, you'll need dry pasta, crème fraîche, bacon, fresh chopped tarragon, a chicken stock cube, frozen peas, Parmesan cheese, the juice of ½ a lemon, and salt. Olayinka recommends penne pasta in particular for its ability to hold onto the creamy sauce and deliver it in each bite. She also says you can swap the Parmesan cheese with Monterey Jack, pecorino, or even some freshly grated mozzarella.
For vegetarians and vegans, you can easily swap the chicken stock with a vegetable-based brand. As for other meat-based stocks, Olayinka advises against them, as they might overpower the many flavors in this dish. A milder chicken or vegetable stock is genuinely the best choice here to make sure all the flavors play well together.
Cook your bacon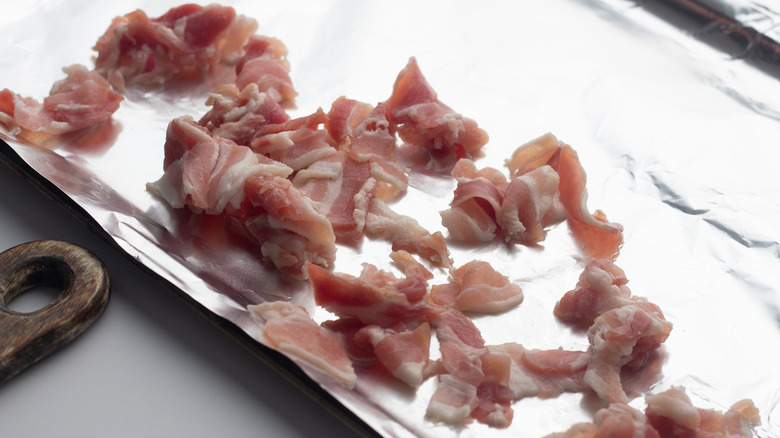 Susan Olayinka/Mashed
Start by preheating your oven to 350 degrees Fahrenheit. You may also want to let your peas sit at room temperature to warm. Now, carefully slice your twelve bacon rashers — that is, strips of bacon — into half-inch pieces. If you're having trouble chopping your bacon rashers, throw them into the freezer until they become firm. This will make it easier to slice the rashers into smaller, more controlled pieces. If your bacon is already frozen, make sure to let the rashers sit at room temperature until they're firm, but not hard.
Once your slices are ready to go, place the pieces onto a baking tray lined with parchment paper and bake them in the oven for 15 minutes. As always, it's a good idea to keep an eye on the process to make sure that nothing's getting burned or overcooked. When the bacon is thoroughly cooked, set the slices aside and get ready to prepare your pasta.
Cook your pasta
Susan Olayinka/Mashed
Get your penne pasta and cook it according to the instructions on the package. Ideally, your pasta will be al dente, which means that it has been cooked until it's firm to the bite. This transitional state doesn't last long, so it's important to follow the instructions of the pasta manufacturer and pay attention to how the pasta is faring while it cooks in the pot. At the end of the day, the best way to check if your pasta is ready is to taste a piece.
Of course, a little bit of forethought and preparation goes a long way towards making the perfect al dente pasta. That typically involves lots of water and salt, the former of which helps to add another layer of flavor and seasoning to the final dish. 
Mix together your ingredients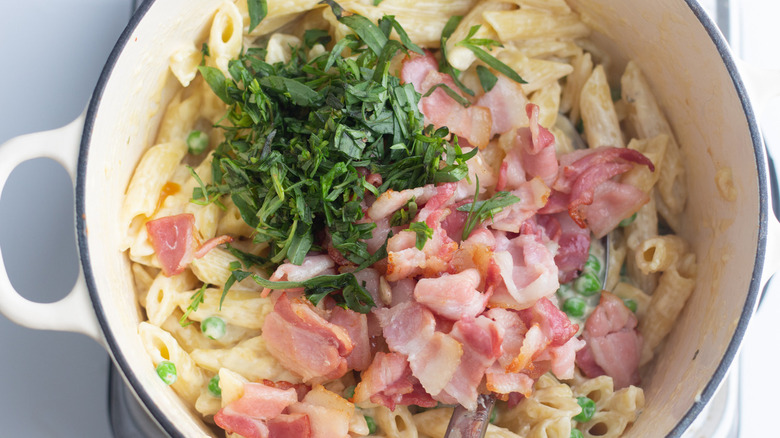 Susan Olayinka/Mashed
Remove the leaves from your fresh tarragon and place them into a small pile. Now, slice them into thin pieces by rocking your knife up and down over the leaves, just as you would with other herbs like cilantro or basil. If you'd like, you can also pour some olive oil over your tarragon leaves before chopping them to prevent them from turning dark or even blackening as they oxidize. 
When the leaves are chopped, take your smoked bacon and cooked pasta and add them to a large bowl or, after the pasta's been drained, back into the pot. Then, mix in your freshly chopped tarragon, as well as the crème fraîche, Parmesan cheese, and the cube of chicken stock (which you may want to crumble for ease of mixing). Also add in the warmed peas at this time, along with the juice of ½ lemon. Gently mix the ingredients together until you have a smooth, even consistency.
Serve your creamy pasta with smoked bacon and peas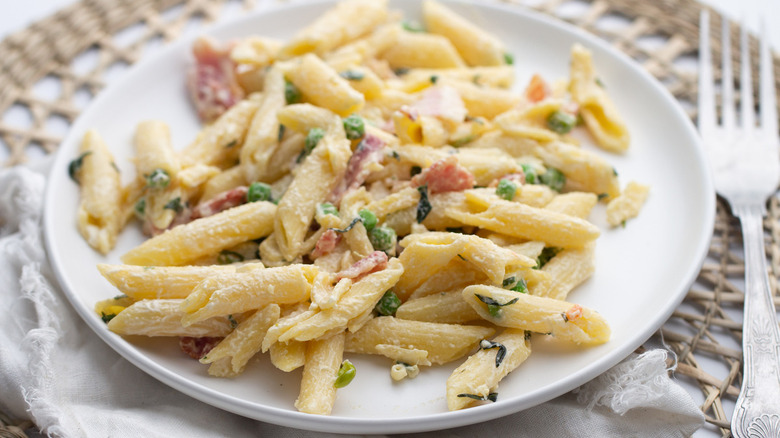 Susan Olayinka/Mashed
When your pasta is ready to eat, you can dive right in or whip together a light side. "I feel that this is a complete meal in itself!" Olayinka says. "It has the carbohydrates, the protein, and the vegetables."
For home cooks with bigger appetites who want a little something more to go along with this meal, she says that the dish pairs well with a fresh side salad made from cherry tomatoes, leafy greens, and some fresh, fragrant basil. If you want to inject your meal with extra carbs, crusty or garlic bread makes the perfect addition, too.
This dish is best eaten immediately to avoid any drying that might happen to the cream sauce. If you have any leftovers, save them for the next day and add some more crème fraîche and cheese to give it some fresh taste.
Creamy Pasta With Smoked Bacon And Peas Recipe
Recipe developer Susan Olayinka has created a creamy pasta with smoked bacon and peas adds sweetness to the salty profile of Italy's famous creamy pasta meals.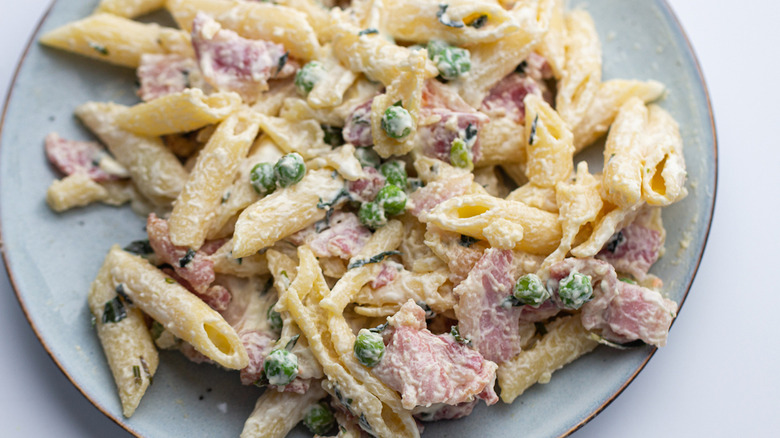 Ingredients
3 cups dry pasta
1 cup crème fraîche
12 bacon rashers
¼ cup chopped fresh tarragon
1 chicken stock cube
½ cup frozen peas
¼ cup parmesan cheese
½ teaspoon salt
Juice of ½ lemon
Directions
Preheat the oven to 350 degrees Fahrenheit. Allow peas to come to room temperature.
Slice the bacon into ½ inch pieces.
Cook the bacon at 350 degrees Fahrenheit for 15 minutes on a lined baking tray. Take out of the oven and set aside.
Cook the pasta according to the packaging instructions
Pick the tarragon leaves off the stalk and slice them thinly.
Mix the cooked pasta with crème fraîche, bacon rashers, fresh tarragon, parmesan cheese, chicken stock cube, peas, and lemon juice.
Serve immediately.
Nutrition
| | |
| --- | --- |
| Calories per Serving | 1,467 |
| Total Fat | 94.6 g |
| Saturated Fat | 32.7 g |
| Trans Fat | 0.4 g |
| Cholesterol | 317.9 mg |
| | |
| --- | --- |
| Total Carbohydrates | 66.0 g |
| Dietary Fiber | 3.7 g |
| Total Sugars | 5.7 g |
| Sodium | 1,255.3 mg |
| Protein | 83.1 g |