Everything You Need To Know About Spice Of Life
Few chefs have an appreciation for spices like Hawa Hassan. This Somalian chef takes flavor to the next limit thanks to her recipes that dive head-first into coconut-cilantro chutneys, tamarind-date sauces, and much more (via Vanity Fair). With the help of her cookbook, "In Bibi's Kitchen," Hassan aims to popularize African flavor profiles and cooking styles, while bringing greater visibility to the cuisine of Africa in general. Thanks to signature recipes like plantain stew that draw heavy influence from the cooking of family members and other loved ones, Hassan now appears poised to drive these flavors to the forefront of American kitchens with her new show.
Hassan hosts the new series "Spice of Life," which takes the chef to the homes of her peers and their restaurants, as she learns the stories behind traditional recipes from around the world. Hassan and her guests then draw parallels between the traditional foods and their own modern takes on these classics, making for a gripping program that bridges the divide between food and culture, according to a statement sent to Mashed. Guests include Chef Workye Ephrem at Brooklyn's Ghenet as Ephrem teaches Hassan about indigenous Ethiopian spices and delves into the history of doro wat and injera. You can also expect her to visit Brooklyn's Suya, the flagship restaurant of Chef Hema Agwu, who explains the ins and outs of Nigerian cuisine and Berbere spices.
A deep dive into incredible flavors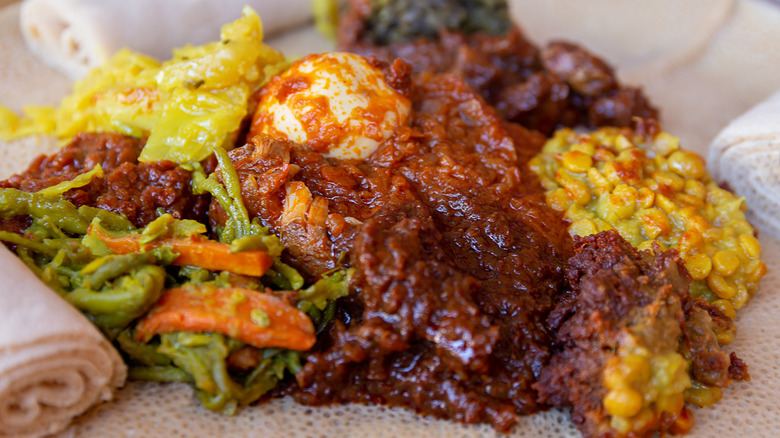 Shutterstock
Fans of Hassan's other show, "Hawa at Home," should feel instantly at home watching "Spice of Life." According to the statement, the new program builds upon the chef's expertise in showing off mouthwatering recipes featured in her cookbook, which features meals drawn from eight different African countries. "Spice of Life" kicks off its premiere on the Cooking Channel on Thursday, July 8 at 4 p.m. (PST) and 7 p.m. (EST). If you count yourself as an adventurous diner or just want to expand your food world, you need to check out the series when it hits the airwaves.
You couldn't ask for a better guide than Hassan to lead you through the complex world of African spices. Thanks to her knowhow, exploring new flavors feels easier than ever. Make sure to keep your eyes peeled for the premiere and get ready to dive into a whole new world of flavor that guarantees to change the way you approach African cuisine and cooking in general.