Coors' Boozy New Ice Cream Is Infused With Hard Seltzer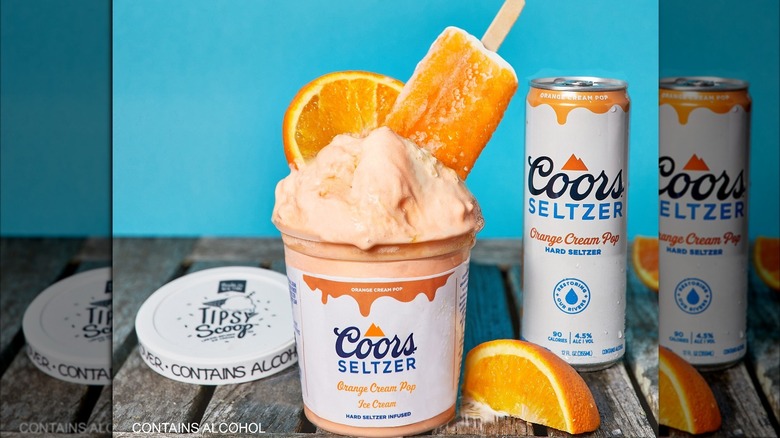 Coors
Nothing makes summer feel as fun as ice cream and when it comes to evoking childhood nostalgia, you just can't beat the iconic taste and image of an orange creamsicle. This dessert came about in 1905, when 11-year old Frank Epperson successfully coated ice cream in a layer of frozen fruit juice (via Mobile-Cuisine). This invention eventually morphed into the iconic creamsicle of today and has truly earned its reputation as a fun and fruity treat. Coors tapped into the classic orange creamsicle with their Orange Cream Pop hard seltzer, an adult beverage that has made waves thanks to its unique aftertaste of soft serve vanilla (via Best Tasting Spirits).
Coors have taken this seltzer to the next level with their latest product that promises to bring out the inner kid in anyone. According to a statement sent to Mashed, the beverage company plans to release a signature Coors Seltzer Orange Cream Pop alcohol-infused ice cream in partnership with New York City's Tipsy Scoop. The new ice cream officially launches on June 30 and guarantees to wow anyone looking for a new way to spice up a cookout or pool party.
A decadent way to chill out this summer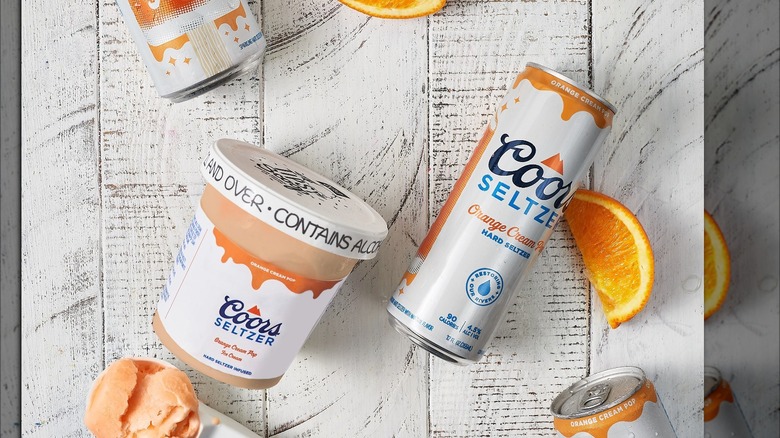 Coors
Anyone who can't wait to try out this alcoholic ice cream can already join in on the fun. According to the statement, fans can receive a promo code that provides a deep discount to online and in-person orders of the ice cream over at the Coors official website. While this flavor sounds like it should end up as an instant classic, just make sure you can get your hands on it. Thanks to the partnership with Tipsy Scoop, don't expect to find this unique Coors ice cream at Target or Walmart. You need to either order the product online or find a Tipsy Scoop Barlour in your area. Luckily, this franchise has branches across all of North America and the closest retailer of their products might even sit at the end of your street (via Tipsy Scoop).
If you can't wait to get the summer of fun going as soon as possible, make sure to get your promo code ready for when this new alcoholic ice cream launches on June 30. With a bit of patience, you can expect a tub of the Orange Cream Pop alcohol-infused ice cream in your freezer soon. Just make sure to take your time when you enjoy it — the product has a 5% alcohol content, which is slightly more potent than the seltzer itself.