The Reason Brazilian Scientists Need 20 Million Chicken Eggs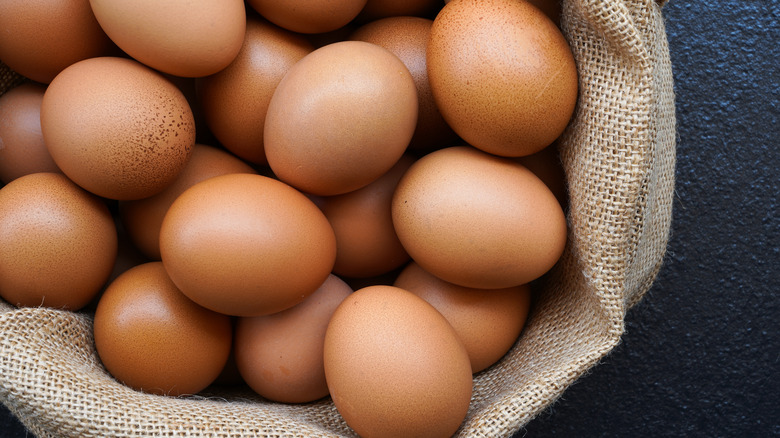 Shutterstock
You can do some amazing things with chicken eggs. According to Slow Food, you can use egg whites for leather cleaner and glue, egg yolks as hair conditioner, and eggshells for pest repellants, fabric whitener, and as a pan cleaner. While this common ingredient can serve a variety of household functions, science has taken the potential of chicken eggs one step further. According to La Prensa Latina, scientists and experts at Brazil's Butantan laboratory now need 20 million chicken eggs in order to develop the country's very own COVID-19 vaccine. The lab, which currently manufactures China's Sinovac vaccine for Brazil, now needs millions of chicken eggs in order to start producing their own medication, which should potentially yield 40 million doses. 
Scientists in the lab examine 500,000 egg embryos a day and sort out the healthiest specimens. They then inject the COVID-19 virus into the healthiest eggs and incubate the samples for 11 days. After incubation, the eggs cool down and experts extract the material. 11 days later, the virus in the extracted egg material deactivates and gets moved to another lab for the final steps of the vaccine's production. Signs for this new medicine look promising, as this particular vaccine comes in at a much cheaper price tag than Pfizer and Moderna vaccines, and has already received medical clearance from the Brazilian Health Regulatory Agency Anvisa. With the current production rate, Brazil should have 18 million doses of the new medicine ready to distribute by the end of July.
A new vaccine using time-tested methods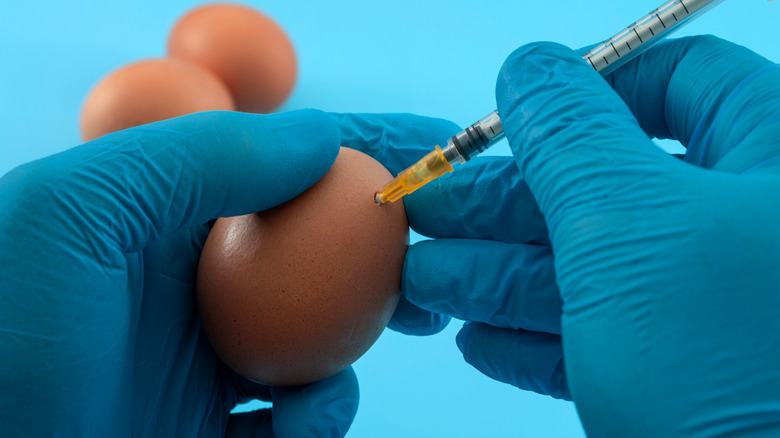 Shutterstock
If you have ever received a traditional flu booster shot, you most likely received medicine formed in a chicken egg. According to CNN, the United States stockpiled millions of chicken eggs to specifically use in the production of vaccines as of March 2020 and have designed varieties of flu shots around the embryo incubation method. Experts believed at the time this method of vaccine production couldn't produce medicine to effectively combat COVID-19, as they felt the coronavirus was too different in structure to work. Strained supply chains would also make it challenging to get enough eggs to make it an immediately viable option. 
Now, with the help of chicken eggs, the Brazilian government hopes to have a viable vaccine that can supplement Sinovac and help get the entire country quickly vaccinated (via La Prensa Latina). As development marches forward, clinical trials determine the efficacy of this new medicine built on time-tested formulas to combat COVID-19. With any luck, Brazil can quickly acquire all of the chicken eggs they need and can keep inoculating their populace against the disease.