McDonald's Tartar Sauce Copycat Recipe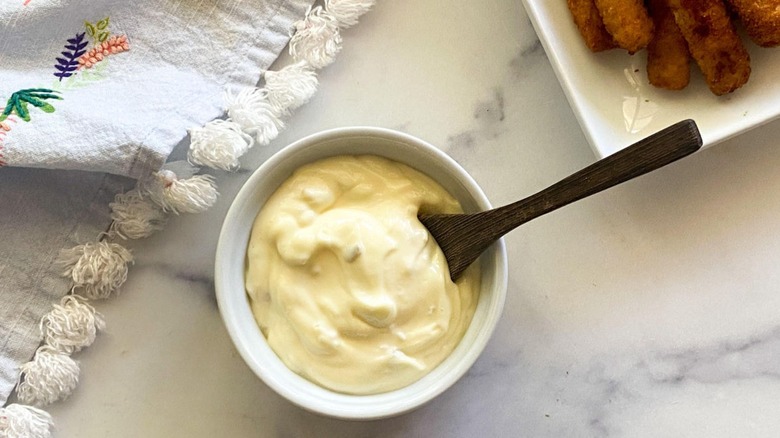 Miriam Hahn/Mashed
If you're a fan of McDonald's Filet-O-Fish sandwich, you know it just wouldn't be the same without a generous helping of tartar sauce. Sometimes, though, by the time you get your sandwich home, you find they've been a bit skimpy with the sauce. Or maybe you're making your own "fishwich" at home, but the one thing that's missing is your favorite condiment.
Filet-O-Fish fans, your lucky day is here! Wellness coach Miriam Hahn has researched McDonald's tartar sauce and came up with something she tells us is "very close to the McDonald's recipe." In fact, she goes on to add, "I would say it tastes exact." The one significant difference between this sauce and the Mickey D's version, is the fact that you can eat it at home any time. And don't feel like you have to stick to a fish sandwich, either — you can serve this sauce with anything you want!
This copycat recipe has only five simple ingredients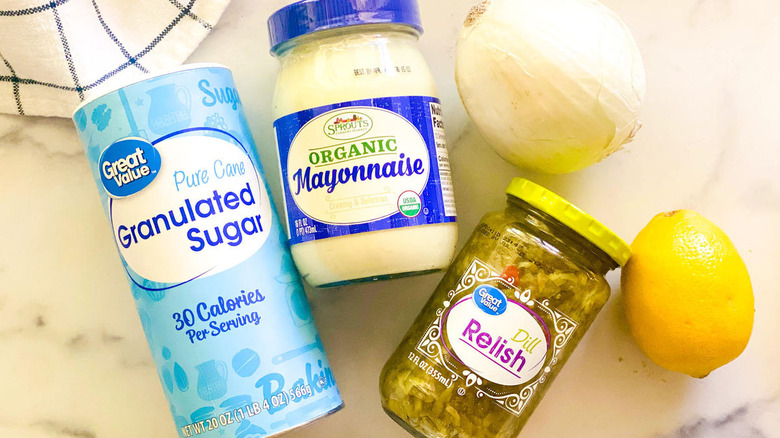 Miriam Hahn/Mashed
According to McDonald's website, the ingredients for the actual tartar sauce that goes on the Filet-O-Fish include soybean oil, pickle relish, calcium chloride, spice extractives, polysorbate 80, egg yolks, water, onions, distilled vinegar, sugar, spice, salt, xanthan gum, potassium sorbate, and parsley. Okay, not really easy to duplicate based on that "recipe," especially as no proportions are provided and they're a bit vague on the general subject of "spices." Not to mention, where do you even find polysorbate 80 and potassium sorbate, and what do you even do with them when you've got them?
You'll be glad to know Hahn's ingredient list is quite a bit shorter. To make her copycat tartar sauce, all you'll need is mayonnaise, white onion, dill pickle relish, fresh lemon juice, and sugar. As the McDonald's recipe just calls for "pickle relish" without specifying whether it's sweet or dill and sweet relish does seem to be more common, we asked Hahn why she chose to go with dill pickle relish here. She told us, "Sometimes, for copycat recipes, the ingredients are available online ... [the ones for McDonald's tartar sauce] do use ... dill pickle relish." She suggests one potential addition that McDonald's tartar sauce does not include: "Some people might like it with more of a kick, so you could add in some Tabasco or sriracha."
Making and tweaking the tartar sauce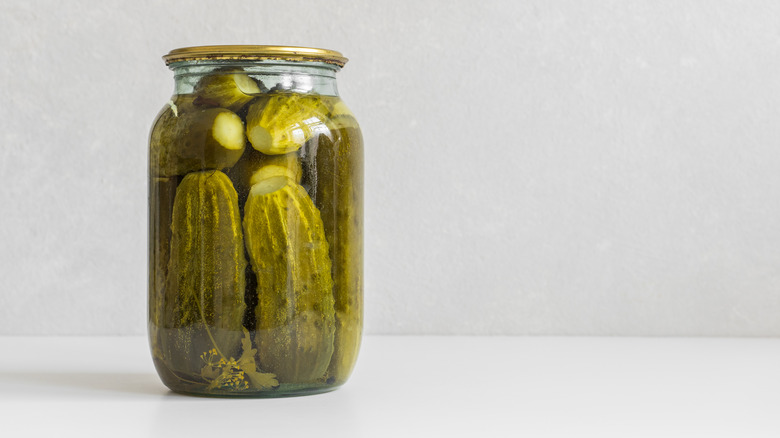 Shutterstock
The directions for making the sauce could not be simpler: Put all of the ingredients in a bowl. Stir. You're done. 
While this is a copycat recipe, it is permissible to make a few tweaks if you're willing to put in a little extra work and you want something that isn't identical, but superior, to the sauce that comes with your Filet-O-Fish. For starters, you could always make your own dill pickle relish by just chopping up some whole or sliced dill pickles, although one Quora user suggests also thickening the pickle brine by mixing in a little cornstarch and then bringing the brine to a boil. You could even, if you really want to get fancy, try making your own dill pickles from scratch. Homemade mayo is also a surprisingly easy condiment to DIY, at least if you use a blender.
How this tartar sauce stacks up, nutrition-wise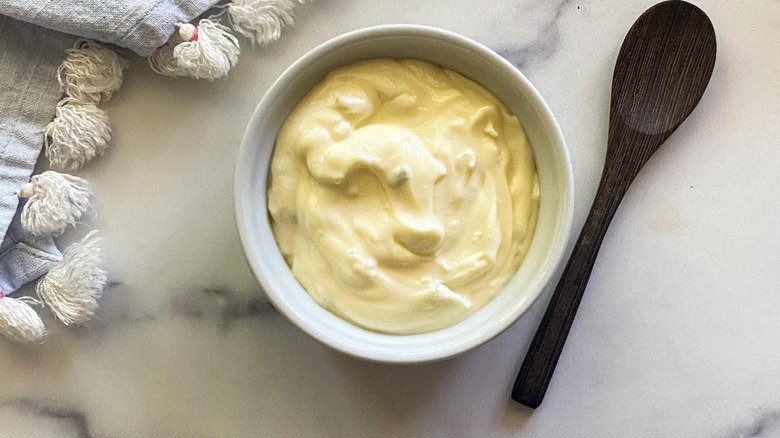 Miriam Hahn/Mashed
While you probably realize that this sauce isn't the healthiest thing in the world to eat, it is just a condiment, so indulging in a bit of it probably isn't going to have a huge impact on your diet. However, there are ways to make a few swaps that will up the health factor slightly. If you want to cut the calories, you could always use light mayo. Hahn also suggests making a healhier version using a plant-based mayo substitute like Vegenaise as well as omitting the sugar.
Tartar sauce isn't just for fish sandwiches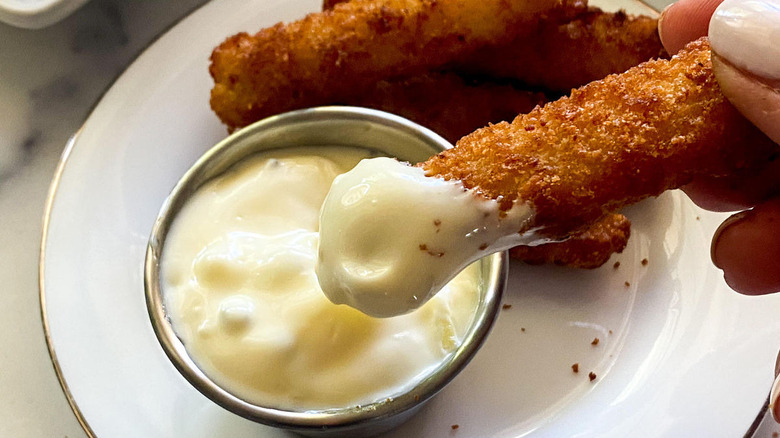 Miriam Hahn/Mashed
While tartar sauce is de rigueur for fish sandwiches, that isn't the only thing you can do with this copycat McDonald's condiment. You can also use it for fish and chips, fish fingers, fried shrimp, fried clams ... in fact, the entire spectrum of deep-fried seafood goes well with a side of tartar sauce. You can also use it with non-fried seafood, as well.
If you don't eat seafood, though, this doesn't mean that tartar sauce isn't for you. Hahn says, "You could also use it as a condiment on a hamburger or veggie burger or a dip for fries or onion rings," while some enjoy it with ham, chicken, and baked potatoes, or even as a dip for chips or raw veggies. In fact, it could be said that anything ranch dressing can do, tartar sauce can do better ... Well, that's a topic that's open for debate, but we'll let Hahn have the last word on her recipe. She says it can last for three to five days in an airtight container and adds: "If you are a McDonald's fan, this is a fun way to enjoy a homemade version [of their tartar sauce]."
McDonald's Tartar Sauce Copycat Recipe
Filet-O-Fish fans, your lucky day is here! We've researched McDonald's tartar sauce and come up with something that's very close to the original recipe.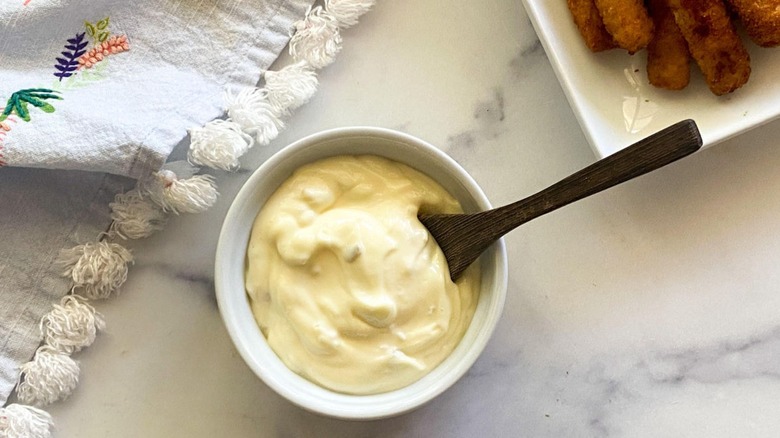 Ingredients
1 cup mayonnaise
3 teaspoons white onion, minced
2 teaspoons dill pickle relish
½ teaspoon fresh lemon juice
1 teaspoon sugar
Directions
Combine all ingredients in a small bowl.
Stir well to combine.
Serve with your favorite McDonald's copycat recipe.
Nutrition
| | |
| --- | --- |
| Calories per Serving | 272 |
| Total Fat | 29.7 g |
| Saturated Fat | 4.4 g |
| Trans Fat | 0.0 g |
| Cholesterol | 15.0 mg |
| | |
| --- | --- |
| Total Carbohydrates | 1.5 g |
| Dietary Fiber | 0.0 g |
| Total Sugars | 1.3 g |
| Sodium | 236.0 mg |
| Protein | 0.0 g |