Instant Pot Homemade Strawberry Jam Recipe
Susan Olayinka/Mashed
There's nothing quite like a thick, flavorful layer of homemade strawberry jam smeared across the top of gooey peanut butter slathered on top of warm crunchy toast or a bagel. Even saltine crackers are pretty tasty with some bright red ooey-gooey strawberry jam spread across each one. Most of us gravitate toward the glass jars of jelly or jam found on grocery store shelves, but truly, nothing can compare to homemade jam. Believe it or not, the process to make homemade jam is quite easy. Even sweeter than the jam itself is that it takes a mere 10 minutes to prep your ingredients and 17 minutes to whip up a batch of this homemade strawberry jam.
After she made her first batch of homemade strawberry jam, chef and recipe developer Susan Oliyanka vowed she would never buy store-bought jam ever again — that's how incredible her naturally sweetened concoction tastes. With just four ingredients and an Instant Pot, you too can have homemade strawberry jam waiting for you to sample in no time at all.
Who came up with the concept of jam?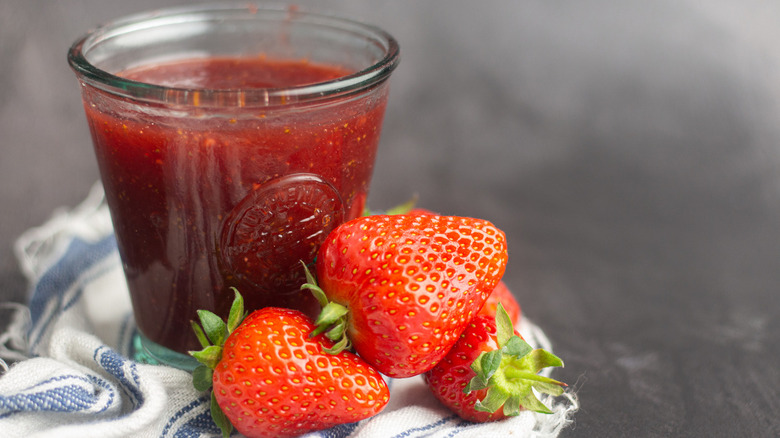 Susan Olayinka/Mashed
PB&Js have been around for what seems like forever. But what's the history behind this amazing condiment? According to Serious Eats, jam dates back to the 16th century when the harvesting and production of cane sugar allowed Europeans to preserve fruit. Oliyanka's recipe uses granulated sugar to develop the divinely delicious homemade strawberry jam in her recipe.
"The taste of this jam is just hands-down amazing ... in my opinion, it's even better than store-bought jam. I can't believe I was buying jam all this time. I will definitely 100 percent be making jam now," she says.
Gather up the ingredients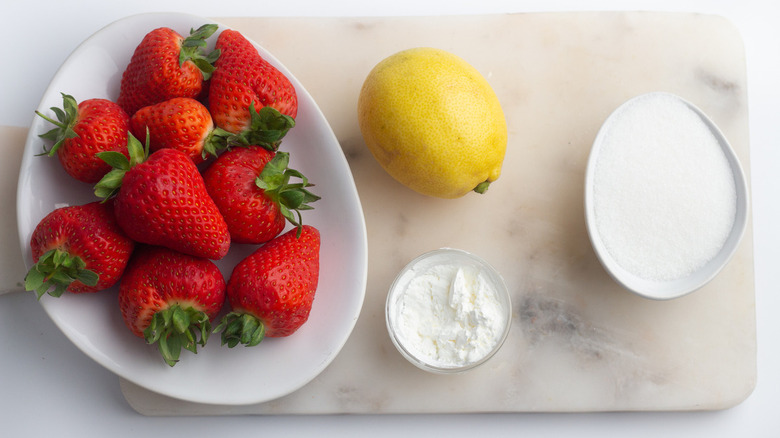 Susan Olayinka/Mashed
To create Oliyanka's homemade strawberry jam, you will need six cups (or two pounds) of fresh strawberries along with a cup of sugar, one lemon, and two tablespoons of cornstarch. If you aren't too keen on strawberries, you can swap them out for other fruit like raspberries, blueberries, blackberries, and even apricots, Oliyanka advises. "Anything with water content ... one thing that would not work so well is a banana," she says.
Also, don't forget to find a sturdy storage container that will be appropriate for housing jam, like a mason jar with a lid or an old jam jar.
How to pick the perfect strawberries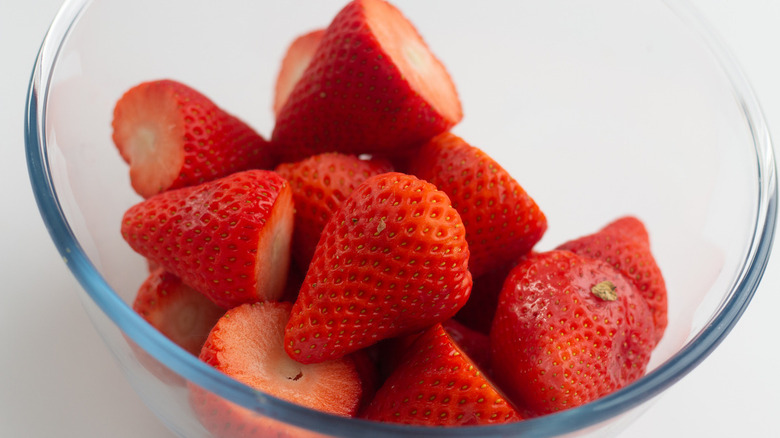 Susan Olayinka/Mashed
So what type of strawberries do you want find at your local farmers market or pick up at the grocery store? Oliyanka says she looks for ripe and sweet strawberries, large in size and completely red without any green or dull spots. Of course, you should make sure they aren't too ripe and don't have any soft spots or the beginnings of mold forming. Any green showing, and they'll be too firm to use. Any yellowing, and they're too ripe and not sweet enough. Remember that strawberries bruise quite easily, so you'll want to baby them until it's time to whip up a batch of your homemade jam.
Grab a paring knife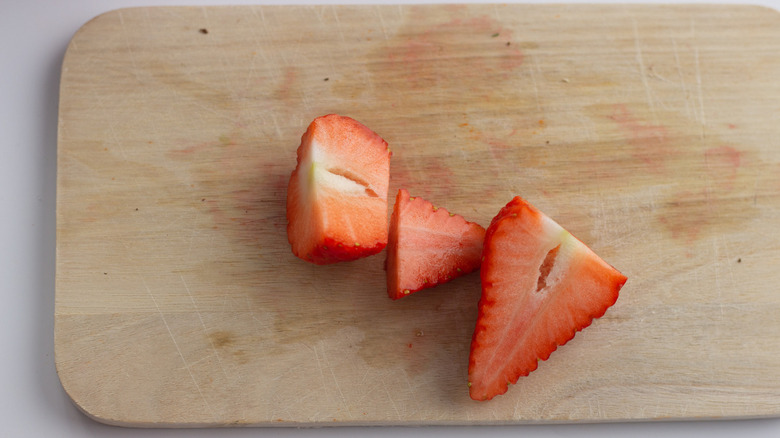 Susan Olayinka/Mashed
Start by gingerly holding each strawberry and slicing off the green leafy tops. Discard the tops and next slice the strawberries into four pieces each. Grab your Instant Pot and place the strawberries inside it. Measure out a cup of granulated sugar and pour it over the strawberries in the Instant Pot. Be sure to stir the berries three or four times, then let them sit for five minutes to soak up the sugar. During this step, the sugar draws out the liquid contained in the berries, and you'll end up with a puddle of sweet and shiny berries with a delicious strawberry syrup pooled up around them.
Next steps to yummy jam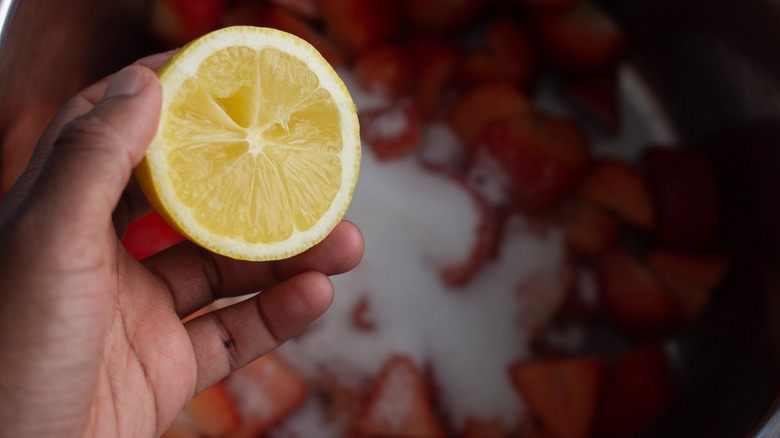 Susan Olayinka/Mashed
Once five minutes have passed, the strawberries should have released a lot of their juice. The next step is to stir the strawberries, then add in the juice of half a lemon and stir once again. Olayinka simply squeezed the lemon with her hands to extract the juice, but you can use a hand-powered citrus juicer if you'd rather.
Shut the lid of the Instant Pot and set it to cook for two minutes on the highest setting. After two minutes have passed, allow the pressure to release naturally, which Oliyanka says should take 15 minutes.
Create a cornstarch slurry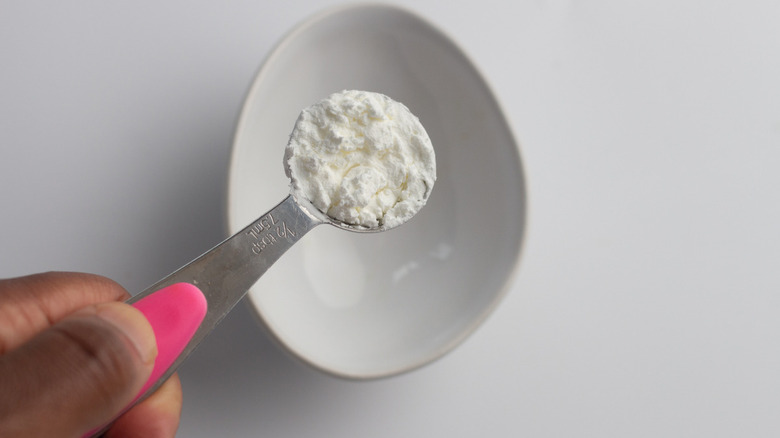 Susan Olayinka/Mashed
While the strawberries are hanging out in the Instant Pot, grab the cornstarch. Take the other lemon half and squeeze it into a small bowl, then add 2 tablespoons of cornstarch. Mix both ingredients together until thoroughly mixed. It's usually easiest to use a whisk to whip up a slurry like this. Cornstarch has the important job in many recipes of thickening up liquids like meat juices to make gravy. In this recipe, cornstarch helps the thinner strawberry puree become a thicker jam.
"It should be thicker than water, as in, it should be like heavy cream in terms of the consistency," Oliyanka says.
Blend up the berries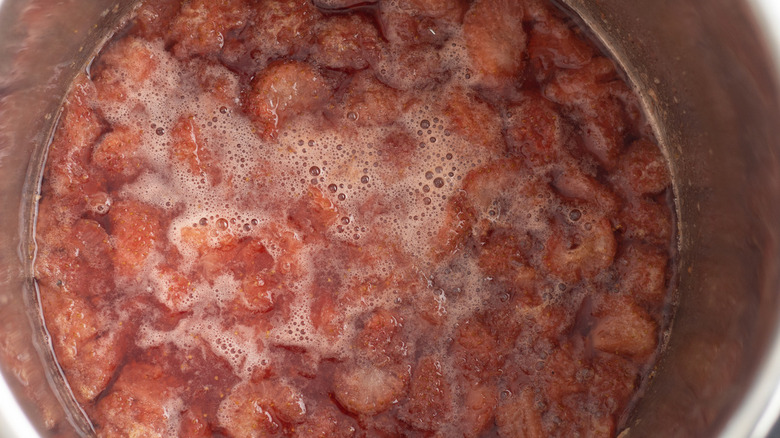 Susan Olayinka/Mashed
After you let the strawberries sit in the Instant Pot for 15 minutes, turn it off, retrieve a hand blender, and mix the beginnings of your strawberry jam on medium speed until the consistency is smooth. It's okay if you have some chunks and pieces of strawberry still left in the mixture. Once it's ready, add in the lemon and cornstarch slurry, and mix it up well.
"The reason why we want it at medium speed is because with strawberry jam, I find that it's more authentic when it has little bits of strawberries in it, so we don't want it completely smooth," Oliyanka said. You can mix the strawberry concoction right there in the Instant Pot, but be sure to turn it off first.
Serve your delicious strawberry jam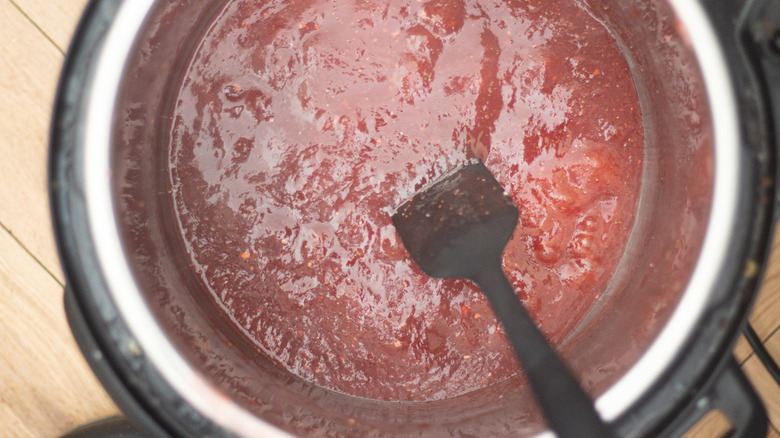 Susan Olayinka/Mashed
Turn the Instant Pot back on to sauté mode and cook the whole mixture on high for 15 minutes until it thickens. Use a wooden spoon and gently stir it up every two to three minutes for the duration.
"I find that a wooden spoon is much better to use in an Instant Pot, as it doesn't scratch the pot at all like a metal spoon. Home cooks can also use a silicone spoon," she says.
Grab your container and pour the homemade strawberry jam into the container to cool before consuming. Not only are mason jars handy and perfect for storing jams, but they're quite attractive, too, and would make a great gift brimming with berry jam.
Instant Pot Homemade Strawberry Jam Recipe
There's nothing quite like a thick, flavorful layer of homemade strawberry jam smeared across the top of gooey peanut butter slathered on top of warm toast.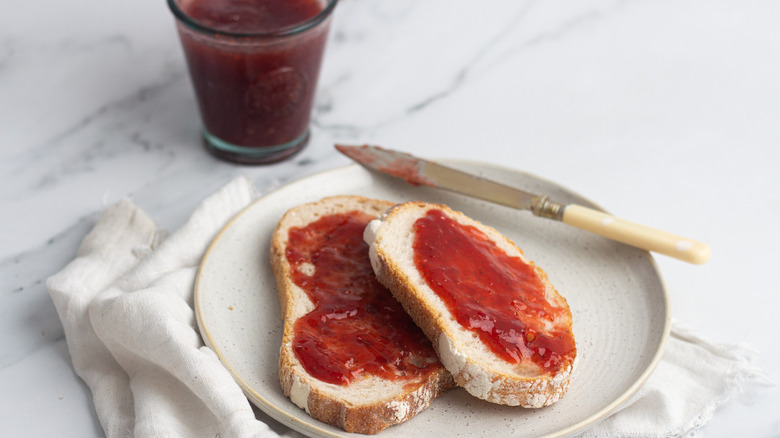 Ingredients
6 cups strawberries
1 cup sugar
1 lemon, divided
2 tablespoons cornstarch
Directions
Start by slicing the green tops off the strawberries.
Next, slice the strawberries into quarters and place them into the Instant Pot.
Add the sugar to the Instant Pot and stir, then let sit for 5 minutes.
After 5 minutes, the strawberries will have released a bit of their juice. Give the mixture another stir.
Add the juice of half a lemon and stir.
Close the Instant Pot lid and set to cook for 2 minutes on high.
After 2 minutes, let the pressure release naturally. This will take 15 minutes.
While your jam is cooking, make the cornstarch slurry. Add the juice of half a lemon to a small bowl, then add the cornstarch. Mix together until well incorporated.
After 15 minutes, turn the Instant Pot off, get a hand blender, and blend the jam mixture on medium speed until it is smooth with some remaining pieces of strawberry inside.
Add the lemon and cornstarch slurry and mix.
Turn the Instant Pot on sauté mode and cook for 15 minutes on high until it thickens. Mix with a wooden spoon every 2 to 3 minutes.
Transfer to a container to cool. Serve and enjoy.
Nutrition
| | |
| --- | --- |
| Calories per Serving | 286 |
| Total Fat | 0.7 g |
| Saturated Fat | 0.0 g |
| Trans Fat | 0.0 |
| Cholesterol | 0.0 mg |
| | |
| --- | --- |
| Total Carbohydrates | 72.5 g |
| Dietary Fiber | 5.0 g |
| Total Sugars | 61.4 g |
| Sodium | 3.4 mg |
| Protein | 1.7 g |