Dunkin's Leaked Hot Cocoa Bombs Are Causing A Stir
Looks like Dunkin' may already be adding to its menu for the 2021 holiday season. 
In a post, Istagram user CandyHunting leaked several new goodies she came across from the Sweets and Snack Expo, and it's looking like the doughnut and coffee chain will be welcoming hot chocolate and mint hot chocolate bombs in the coming months. These classic flavored hot cocoa bombs are wrapped in colorful foil that's perfect for the holiday season, and are all boxed up for easy gift giving. The bombs are made with Belgian chocolate and will also include mini marshmallows inside, according to the printing on the packages. 
However, Taste of Home noted that representatives for both Dunkin' and manufacturer Frankford Candy did not respond to a request for comment, so we will just have to wait and see if these delicious goodies end up coming to life this year or are a big rouse (we hope the former!). Additionally, no light has been shed on whether these will be available only at Dunkin' locations or also at other retail outlets that carry their products.
What exactly is a hot chocolate bomb?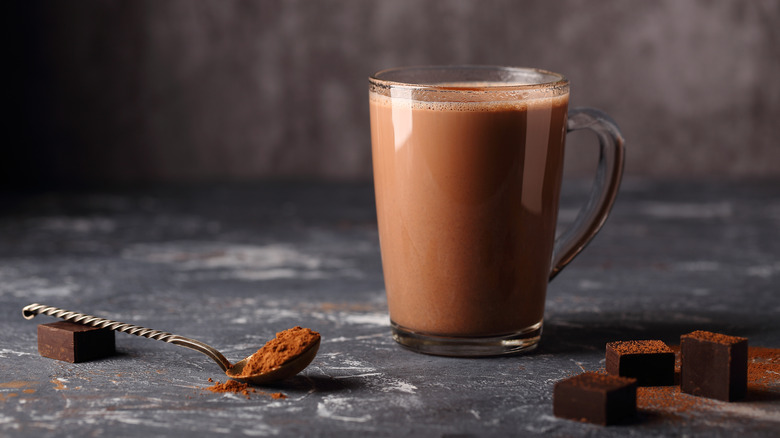 Shutterstock
Hot cocoa bombs hit a fever pitch this past winter. TikTok showcased the DIY trend (basically dropping the ball of chocolate filled with fixin's into a mug of warm milk and watching it all explode for an instant mug of the delicious drink), and the internet went wild as many began building their own recipes for the sweet treat. The Kitchn explains that there are several ways to make and fill hot cocoa bombs, and you don't even need a mold to do it, just a few parchment paper cupcake wrappers can do the trick.
To make them, simply temper the chocolate (which, says The Kitchn, is the best way to create these goodies) and begin filling your vessel of choice with the chocolate. After the chocolate has cooled and set, you can begin to fill your cocoa bomb. Fill it with hot cocoa mix, mini marshmallows, mint pieces, peanut butter, or any other fillings of your choice. After that, drizzle more of the tempered chocolate on top of the bomb and smooth it over with a spoon to create a seal. Decorate to your heart's content, and then let it harden before using or wrapping up as a gift.
From there, you can drop it in your own hot, steaming milk or make it a thoughtful gesture to give to a friend or loved one.