Copycat Raising Cane's Texas Toast Recipe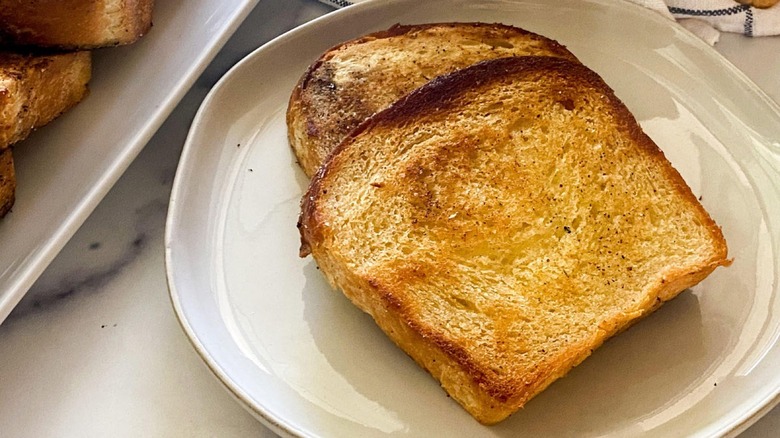 Miriam Hahn/Mashed
If you've ever visited Raising Cane's, you know the mouthwatering appeal of the thick, buttery Texas toast that accompanies your meal. However, if you're not fortunate enough to live near a Raising Cane's location, you might feel like you're out of luck when it comes to feeding your Texas toast cravings. 
Fortunately, Miriam Hahn, a wellness coach and recipe developer at YouCare-Selfcare, has figured out the secret to making a copycat version of Raising Cane's delicious toast, and it's so easy you can make it every day of the week if you'd like.
Plus, while Raising Cane's is known for its chicken fingers, making its Texas toast at home opens up a world of possible pairing options. While you definitely could serve this Texas toast alongside your own homemade fried chicken, Hahn says, "This is great with so many things. I like it with pasta, soup or salad." 
It's all about the bread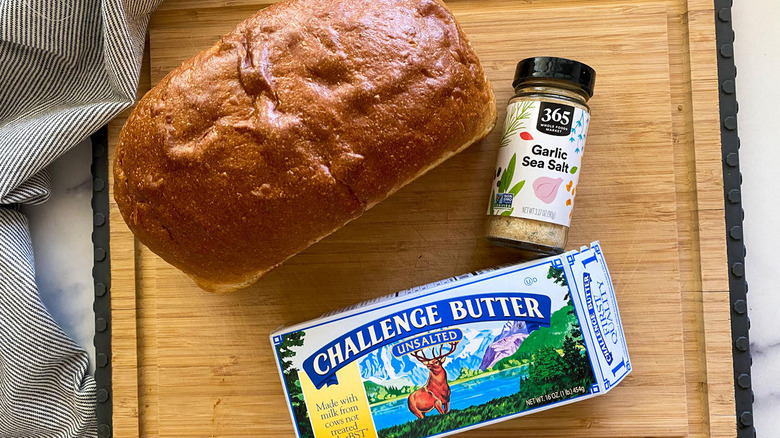 Miriam Hahn/Mashed
Of course, when it comes to toast, it's important to start with good quality bread. Raising Cane's website says that its Texas toast is made from "sesame seeded pull-apart bread," and if you can find something similar in your local grocery store or bakery, you're already set up for success. For this recipe, Hahn recommends an unsliced loaf of white bread, which you can either purchase from the store, or, if you're feeling adventurous, try baking your own bread.
Other than the bread, all you'll need for this recipe is some softened, unsalted butter and garlic salt. Or, if you're trying to avoid dairy, you can easily substitute a dairy-free butter alternative. And if you don't have garlic salt, you can use a mix of salt and powdered garlic, going light on the garlic.
The perfect slice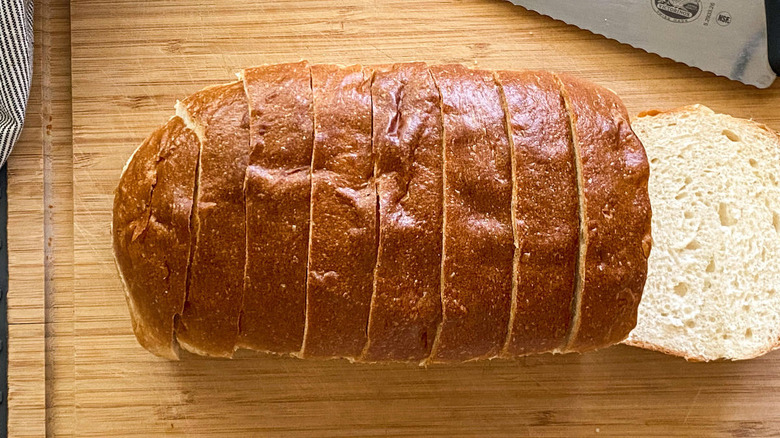 Miriam Hahn/Mashed
While you definitely could make this recipe with pre-sliced bread in a pinch, slicing your own is definitely going to yield better results. Using a serrated bread knife, slice your loaf of bread into 1 ½-inch slices. Slicing your bread thickly will allow it to soak up all the flavor from the butter and garlic salt, while still retaining the flavor of the bread itself. Plus, the texture will hold up better when the bread is cooked, delivering toast that is crunchy and crisp at the edges and still soft and chewy in the middle.
Slather on the flavor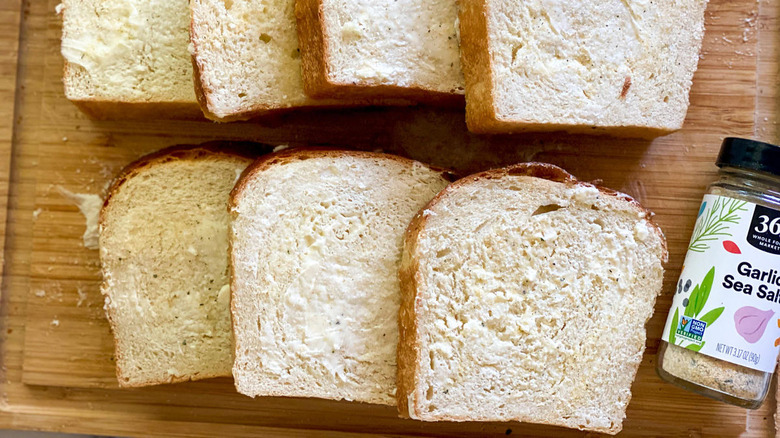 Miriam Hahn
Once your bread is sliced to the perfect thickness, it's time for the key to that rich, toasty flavor and golden brown color: the butter. Spread a generous layer of butter on both sides of your bread, making sure to get butter all the way to the edges of each slice. If you're curious why Hahn recommends unsalted, here's the difference between salted and unsalted butter. 
After your bread is thoroughly buttered, sprinkle some garlic salt over both sides of each slice. Don't shake it on too heavily; after all, garlic salt is still salt. A little goes a long way, and will add delicious flavor.
This recipe is also versatile, and easy to adapt to different tastes. "You can play with the spices and make so many variations," Hahn says. "It is delicious with nutritional yeast, which is a plant-based cheese flavoring, [or] parmesan cheese, cajun spices, oregano, and basil. The combinations are endless!"
Toast the bread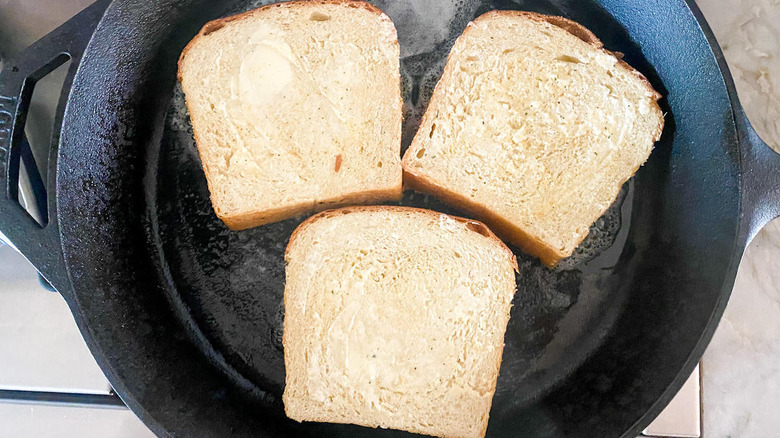 Miriam Hahn/Mashed
After you've buttered and salted every slice of bread, it's time to toast them up. Preheat a cast-iron skillet over medium high heat on your stovetop. If you don't have a cast-iron skillet, Hahn notes that a regular skillet will do. Once your skillet is hot, add a knob of butter and spread it around, allowing it to melt completely.
At this point, it's time to add your bread to the pan in a single layer, being careful not to crowd the slices. Toast the bread for a few minutes on each side, then remove from the pan. Repeat in batches until all of the bread is toasted.
Getting it just right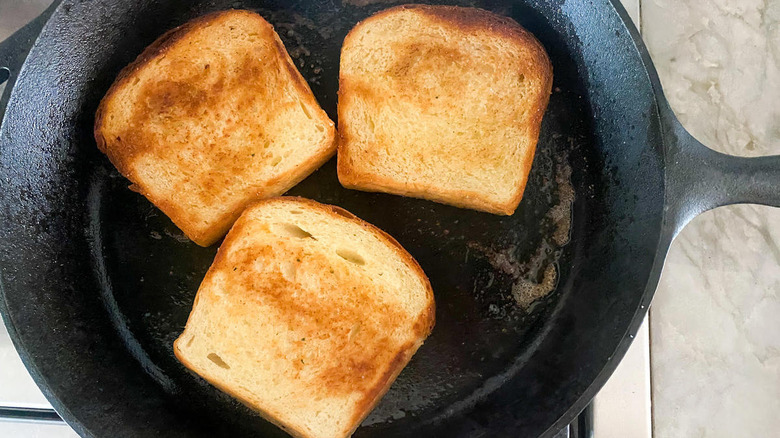 Miriam Hahn/Mashed
Keep a close eye on your bread as it cooks, since it's easy to go from golden brown to burnt in the blink of an eye. Different stovetops and pans vary, and you might need to increase or decrease the heat or cooking time slightly depending on your home's particular setup.
This also isn't the time to skimp on the butter. Add more butter to the pan before adding new slices, so that each slice gets packed with the maximum amount of flavor. 
Once you've finished toasting all your bread, you can either gobble it up right then, serve it as a side dish, or even use it for sandwiches. "[Texas toast] tastes really good with an egg or egg substitute sandwich," Hahn says. "I like to use avocado, basil, and tomato along with the eggs."
Copycat Raising Cane's Texas Toast Recipe
This copycat Raising Cane's Texas toast recipe is the perfect replacement for the mouthwatering, thick, buttery Texas toast that accompanies your meal.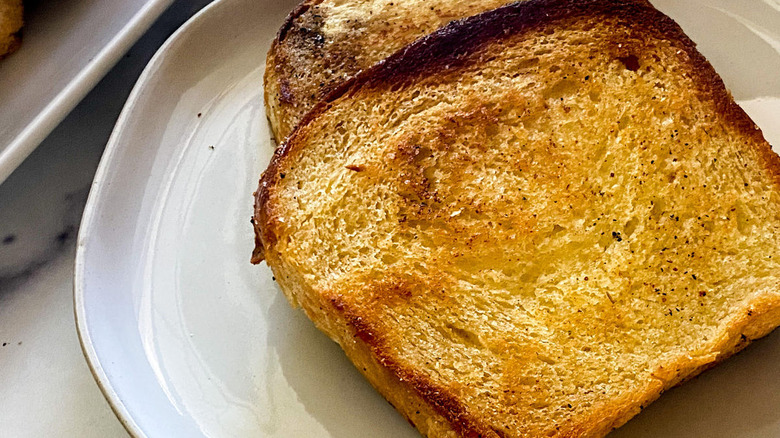 Ingredients
1 loaf white bread
Unsalted butter, softened
Garlic salt
Directions
If your bread is unsliced, slice it into 1 ½-inch pieces using a serrated bread knife.
Butter both sides of each piece of bread and shake on some garlic salt.
Add butter to a skillet and heat the pan to medium high.
Add the bread slices and cook on medium-high for a few minutes on each side.
Add more butter to the skillet between batches.