How Steak 'N Shake Responded To Allegations Of Worm-Infested Food
Shutterstock
On June 17, a federal judge ended a lawsuit by awarding Steak 'n Shake $80,000 in damages. The St. Louis Post-Dispatch reported that the payment consisted of "$70,000 in actual damages and $10,000 in punitive damages against Melissa White," an ex-employee of the burger chain who alleged that the chain's burger meat contained worms.
The specific allegation occurred two and a half years ago, in January 2018. As Fox News reported at the time, Melissa White uploaded a series of photos to Facebook which have since been deleted. However, the piece shares a screenshot of the post which includes a caption stating in all caps "JUST GOT FIRED FROM STEAK 'N SHAKE... BECAUSE I FOUND LIVE WORMS WHILE COOKING A STEAKPATTY MOVING INSIDE OF IT." The photos, though blurry, showed pictures of burger meat with something curling out of it. This prompted Steak 'n Shake to sue. The chain's lawyer argued that White was mistaken; what she saw was fat, not worms. A health inspector's report backed up this assertion. 
White's lawyer said that the jury heard from a separate entomologist who had found fly larvae within the meat, per the Post-Dispatch. Still, the jury ultimately decided against White, positioning her to face possible bankruptcy. "No matter what happens I still would have done the same thing," White maintained. 
Another high-stakes situation at Steak 'n Shake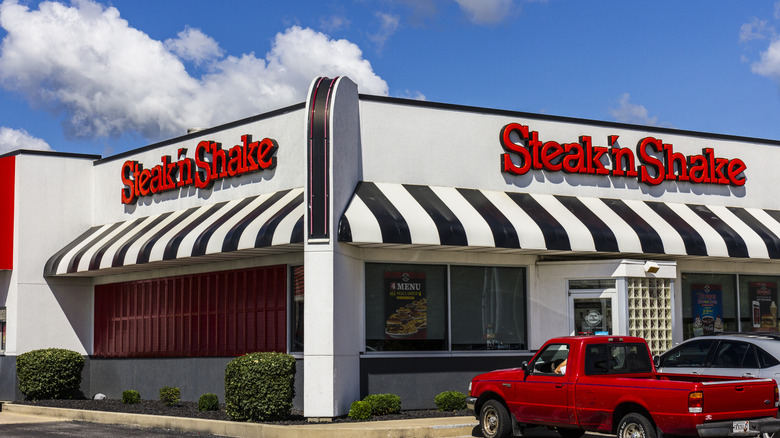 Shutterstock
Just as it seemed like Steak 'n Shake's troubles were over, they're now facing another lawsuit. This one has nothing to do with worms, but everything to do with wages.
On June 21, a new Ohio-based class action lawsuit was initiated, alleging that Steak n' Shake does not meet the standards required for their wages to be considered tip-credit. As Class Actions Reporter explains, certain procedures must be followed for a company to ignore the minimum wage in favor of using a tipping model. 
The complaint alleges that Steak 'n Shake violated these procedures by not giving the workers required information about their pay beforehand. The complaint also states that by making a worker buy their own uniform, the chain effectively reduced pay below the minimum required for tipped work, and was too frequently asking workers to perform labor not associated with their tipped work. The lawsuit includes anyone who has worked at a Steak n' Shake for at least a week since 2018 — the same year Melissa White's worm allegations surfaced.
Will this lawsuit go anywhere? It's hard to say. Either way, it shows that once a two-year struggle against a Facebook post ends, the next battle is always around the corner.