The Surprising Tool Little Caesars Uses To Make Its Pizza Sauce, According To Employee TikTok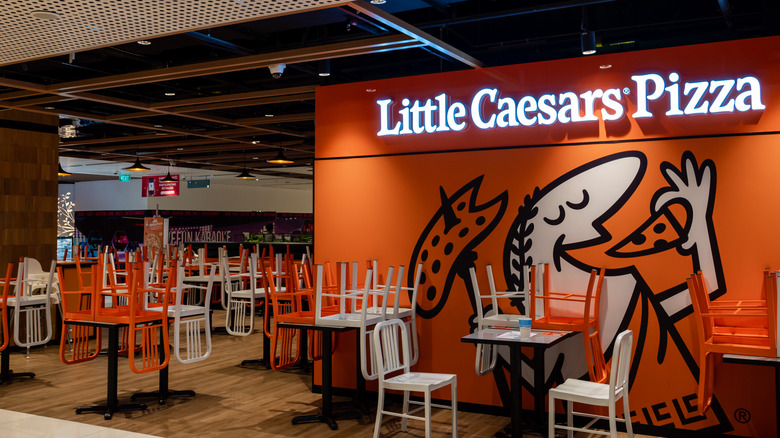 Shutterstock
When it comes to grabbing a quick and inexpensive pizza, no one does it better than Little Caesars. This pizza chain once held the title of "fastest growing pizza chain" and continues to dish out efficient pies across America, per Spoon University. This efficiency stems from the fact that the chain can buy ingredients at bulk prices, while finding shortcuts to keep their ingredients shelf stable for longer periods of time. Recently one Little Caesars employee documented the method they claim that their location uses to quickly mix sauces on social media, and viewers couldn't stop talking.
TikTok user @tye_pearson posted a video, featuring a Little Caesars employee mixing up a container full of tomato paste and other ingredients using a drill until the sauce combines into a traditional pizza sauce. The behind-the-scenes view into the Little Caesars kitchen sparked a slew of comments ranging from, "This is exactly why I have a fear of eating anything that wasn't made in my house LMFAO," to "And this is why I eat domino's."
Little Caesars says this is not an approved method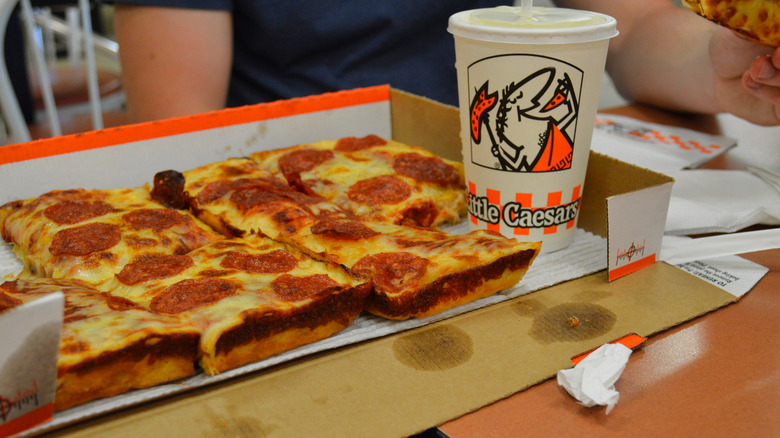 Shutterstock
Viewers couldn't believe the clip, and the revelation that the sauce got mixed with a power drill featuring a mixing attachment. In addition to the use of a drill shocking Little Caesars' fans, the fact that the sauce got mixed on the floor also got commenters riled up. The same TikTok user, @tye_pearson, uploaded further footage of their work in the Little Caesars' kitchen, including documenting how breadsticks get made. The chain fired the employee after learning about the video, while @tye_pearson defended the documentation, claiming they didn't think they did anything wrong.
The same employee has also posted a video of themself making the sauce from an earlier stage. The clip depicts the employee pouring a packet of spices into a tub of what looks like water and they prepare several batches of the sauce in a similar format. Comments have flooded the post, which range from, "Sure makes me not want any of their food" to "I WORK AT LC AND WE DON'T MAKE OUR SAUCE ON THE FLOOR." While this video has shocked followers, @tye_pearson's breadstick creation videos appear very normal in comparison, and simply shows a standard behind-the-scenes look into what goes on in the Little Caesar kitchen.
An efficient way to make breadsticks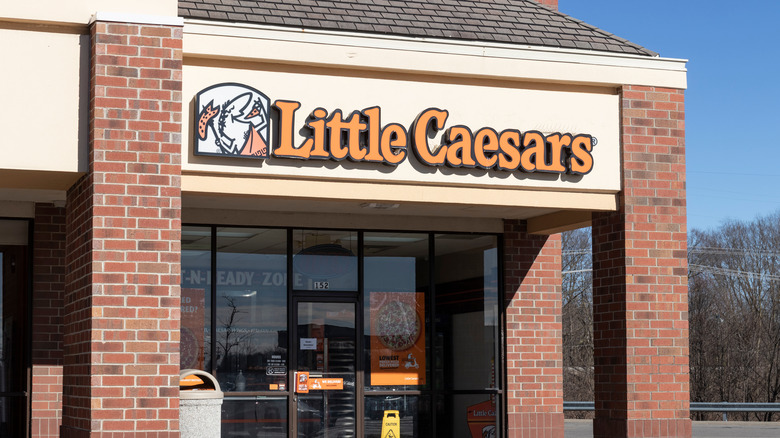 Shutterstock
While the TikTok video left followers shocked, their breadstick creation video showed off a more predictable way Little Caesars produced the side order. In the first of two videos, @tye_pearson documents how a package of flour, yeast, and other bread starting materials, get whisked into a container of water. The slurry gets poured into a proofing machine and quickly rises into preformed sections perfect for tearing apart. Commenters in this video pointed out how the Little Caesars' breadstick creation process differed from their own experiences, leaving replies like, "I worked for a different pizza place. Our dough came frozen. And all our sauces came in bags," and "I worked at Little Caesars for 11 years lol. I worked there before we even had the machine to roll them for us. We had to cut and weigh then roll it."
In a second breadstick video, the TikToker stirred up more controversy when they put the cut breadsticks into the oven. The video starts as the employee picks up a mound of proofed dough, places it on a tray, covers it in plastic wrap, and uses a machine to squash it flat. They then cut the dough into long strips, squirt a butter mixture on a baking pan, place the strips on the tray, and head towards the oven.
A new controversy for Little Caesars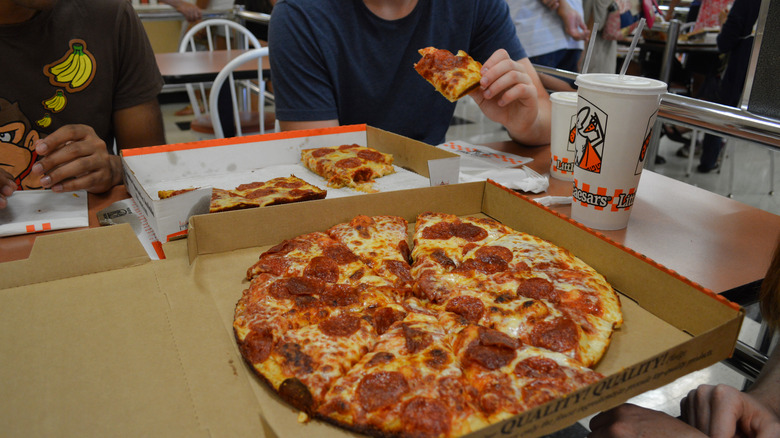 Shutterstock
While the first breadstick video didn't scare too many viewers away, some viewers took offense to the fact that the employee didn't wear gloves in the second video. Many others in the comment section came to the defense of the employee, claiming, "YOU DON'T NEED TO WEAR GLOVES WHEN IN A KITCHEN UNLESS YOU DON'T WASH YOUR HANDS. Fast food does it bc its fast food." Others noticed that the breadstick-making process differed from their pizza location, claiming, "as a manager at little caesars this is not how we make ours." The video laid bare some non-standard cooking techniques that Little Caesars quickly addressed.
According to a statement sent to Mashed, this sauce mixing method is not approved by the fast food pizza chain, and not something you should expect to see when visiting a Little Caesars. A representative for the company shared that, at most locations, employees combine crushed tomatoes and spices using a spatula or mixing spoon.