Bumble Is Starting Its Own Restaurant For Your Awkward First Dates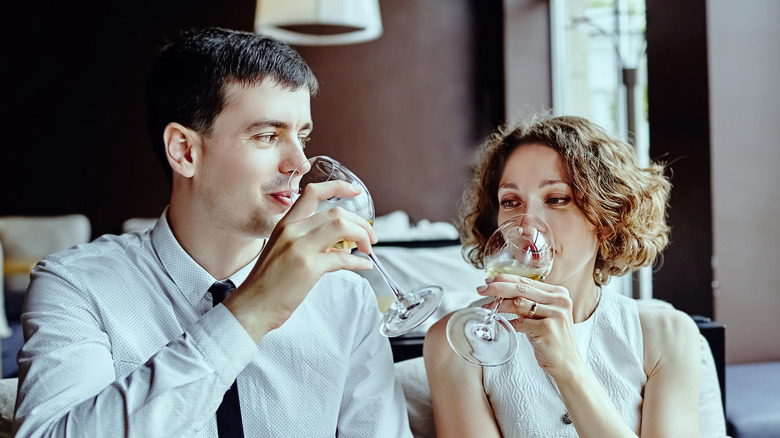 Shutterstock
"People on dates shouldn't even be allowed out in public," Jerry Seinfeld said in a 1994 episode of "Seinfeld" (via Seinfeld Scripts). The classic TV sitcom always had a knack for capturing the mundane at its funniest. And this notion — that dating can be so awkward that it's difficult to understand how the rules of etiquette could ever have thought to allow it to take place in public — well, it's just spot on, right? Who hasn't felt it at some time or another, whether it's someone on a presumably embarrassing date or someone forced to watch it unfold in real-time? Well, chagrined courters, we have good news. And that is that the dating app, Bumble, is not only feeling you but doing what they can to prevent further pain and suffering. 
So, does this mean Bumble is eliminating dating altogether, you might be wondering? Why, no, as a matter of fact, what Bumble is doing is eliminating the free entertainment for daters' fellow diners. Bumble is starting its own restaurant where your awkward first dates can take place among other awkward first dates, per Bloomberg. 
Not every plate can be shared, though
On July 24, the dating app Bumble will open the doors to its very first restaurant intended, at least theoretically, to make daters feel comfortable (via Fortune). We say "theoretically," of course, because while the new restaurant Bumble Brew, which will be located in New York City, was conceived as a destination that is truly date-friendly (e.g., all the food is meant for "sharing"), it has since been "reconceived as a 'safe space for healthy and equitable relationships and connections,'" according to Julia Smith, head of brand partnerships at Bumble.
The space will feature an 80-seat dining room, cocktail bar, and patio. Bumble Brew, in partnership with Delicious Hospitality, will serve breakfast, lunch, and dinner, with dishes like ricotta with bee pollen and plums, mushroom omelets, and less shareable meals like cheeseburgers and vegetable spaghetti. Which makes Bumble Brew, in essence, ... wait for it ... a restaurant. But in all seriousness, the fact that the women-make-the-first-move dating app has expanded its new restaurant's target demographic in a way that is inclusive to individuals who find themselves dining alone, for whatever reason, does make sense. Certainly, it would be difficult to fathom how a public restaurant could ever get away with welcoming "couples only," let alone "newly burgeoning couples" or "cautiously optimistic couples."