The Real Reason Sonic Did So Well During The Pandemic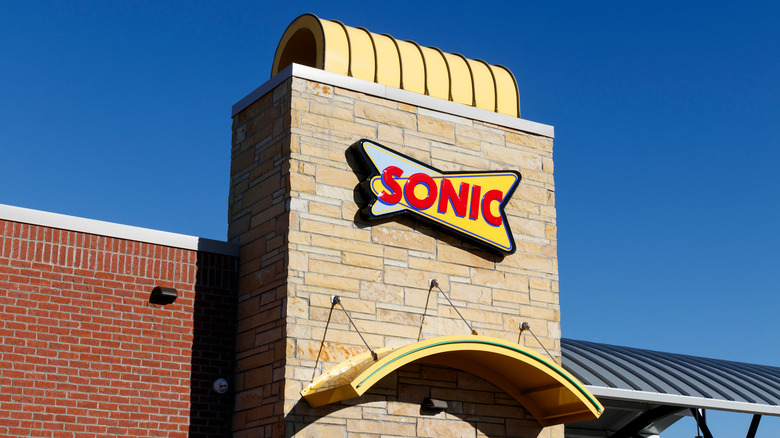 Shutterstock
Reading that restaurants have been pressed to the breaking point by the coronavirus pandemic barely registers as news anymore. That some restaurants, specifically the larger chains that could insert themselves more readily into the new landscape, have prospered has also become broadly known. Still, the billion-plus profit Sonic Drive-In made in 2020 over its 2019 earnings may raise an eyebrow due to just how successful they managed to be in an industry beset by existential crises.
While Sonic also credits their extensive menu offerings, their main source of success was the drive-in model around which the entire enterprise was created. "Some restaurants are a transaction to fill a function, but Sonic is about the experience," Claudia San Pedro, the president of Sonic since 2018, told Business Insider. The "experience" at Sonic remains unique in the fast food industry, because unlike a drive-thru, customers could still retain some sense of "eating out," even though they remain within their cars. Outdoor capacity dropped to negligible amounts during the pandemic's winter, so Sonic could pull from the crowd looking to celebrate with more than a takeaway. Moreover, because Sonic's business plan centers on the drive-in, they did not have to suffer the same shock to customer capacity that pretty much every other restaurant underwent. Rather, they could only go up.
Quick service restaurants are still betting on drive-thrus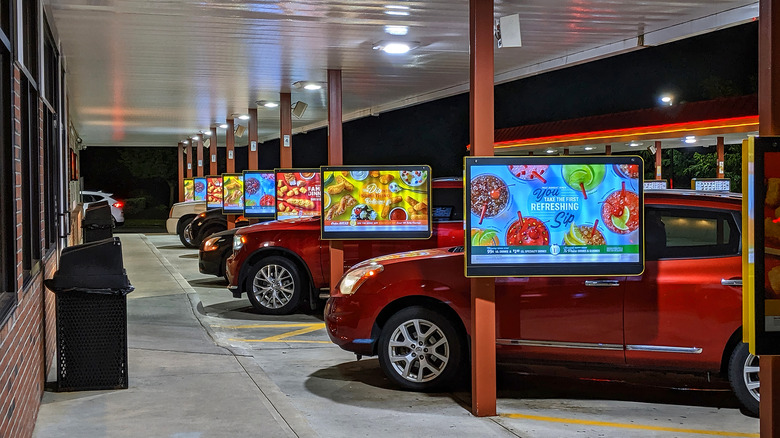 Shutterstock
While people can debate whether Sonic's pandemic fortunes were due more to luck or actual forethought, the restaurant industry is eyeing to expand into the pervasive "drive-thru only" model.
The idea, as the name suggests, is that the restaurant would have minimal to no seating, but more drive-thru windows so that they can have a quick turnover of cars passing through. Even fine dining is getting in on this action, as Fast Company reported in September 2020 when they highlighted Resy as the future of fine dining. Resy Drive Thru had customers drive through 10 cooking stations for a 10-course meal for $95 per person.
This only makes sense. The Institute of Food Technologists (IFT) noted in May that 46% of customers don't intend to resume their pre-pandemic dining habits just yet. However, the reason why they are pivoting to a drive-thru-only model, rather than Sonic's Drive-In model, may be due to the investment needed to serve as a drive-in and the incentive for speed in the quick-service restaurant industry. With a drive-thru, you only have the kitchen and the booths to take and hand out orders. A drive-in requires space for the cars to park and stay, costing both more money to build, and reducing capacity by lowering customer turnover. Sonic, then, can continue its niche domination as the big brands battle it out for what they have decided is the future of fast food and perhaps fine dining.