This Tavern Is The Oldest Restaurant In The United States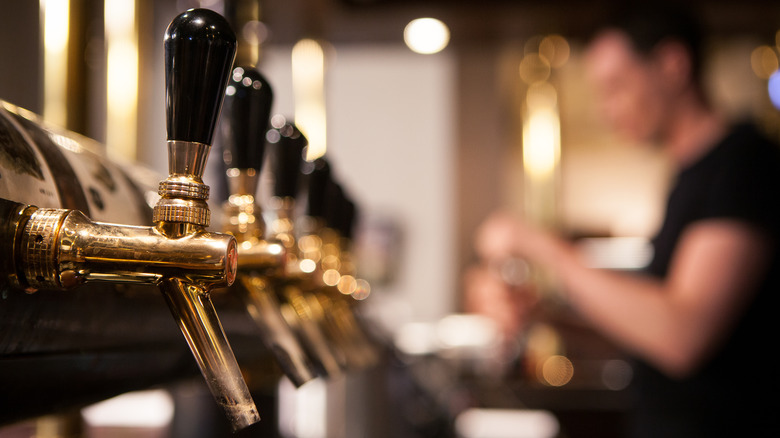 Shutterstock
Located in Newport, Rhode Island, the White Horse Tavern has not moved from its location at 26 Marlborough Street for over 350 years. According to its website, for its first 21 years, it acted as a home for Francis Brinley before being converted to a tavern by William Mayes Sr. in 1673. The tavern became an esteemed meeting place for business. Later, it also hosted overnight guests, one of which is rumored to have died when Mayes' daughter, Mary Mayes Nichols, and her husband Richard, were the owners. Along with other ghosts, the spirit of this unidentified man has lived in the tavern since his death in the 1720s, per HauntedHouses.com.
The tavern was passed through several generations of the Nichols family, but it was sold to Thomas and Bridget Preece in 1895, according to Legends of America. The building was in a disheveled, unkempt state by 1954. Thankfully, the Van Buren family made a generous donation and the old tavern was restored. The property was recognized as a National Historic Landmark in 1972. The establishment continues to serve "all sorts of strong drink," which William Mayes Jr. began to offer on the tavern's menu when he was the owner in 1702.
What can you expect at the White Horse Tavern now?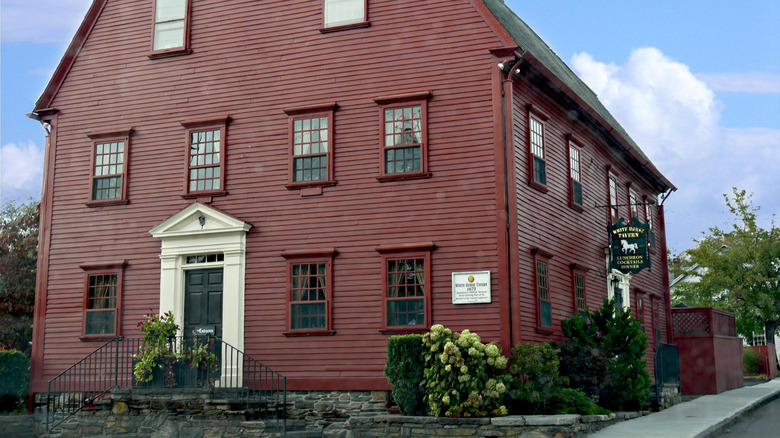 Shutterstock
The White Horse Tavern is still open for dinner between 5 p.m. and 9 p.m. from Sunday to Thursday and 4 p.m. to 9 p.m. on Friday and Saturday, according to OpenTable. It is described as upscale and "pricey" on Google Reviews. Some of its popular menu items include clam chowder, Beef Wellington, and local New England oysters, according to 10Best.
Despite being in an older structure, the ambiance of the restaurant is still very impressive from more recent renovations, while retaining its charm from earlier days. The tavern's website details small tables on the first floor, narrow staircases, and a cozy fireplace. It also advises guests to dress in "smart casual attire."
According to the Newport Discovery Guide, the White Horse Tavern has won awards that include "Most Romantic Restaurant" by Newport Life Magazine and "Best Place to Impress a Visitor" by Rhode Island Monthly Magazine.
So don't let those ghost stories scare you away, snag a table at the oldest restaurant in the country now! Reservations can be made on its website.