Instant Pot Farro Recipe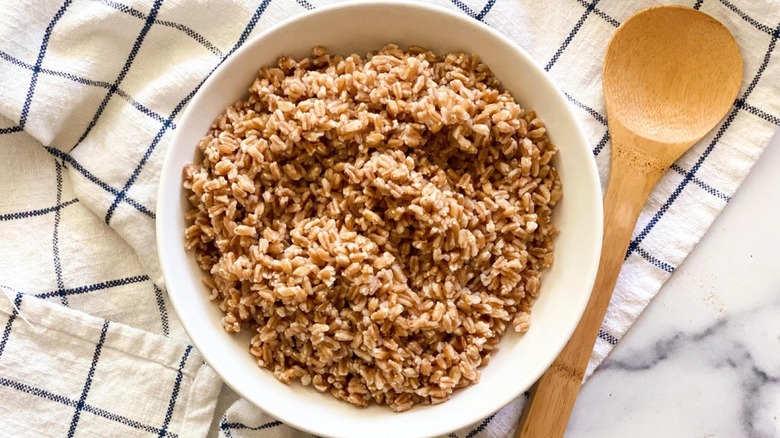 Miriam Hahn/Mashed
Imagine this scenario: You've come home after a long day and you need to cook something for dinner. Your mind might first think about what sort of protein you can whip up, whether it be chicken, fish, or tofu. You might also consider what you can add to round out your meal, including some sort of vegetable, potatoes, or a grain. When you think of adding a grain to your meal, you might first consider rice or quinoa. While these are great options, there is another type of grain, farro, that will help complete meal and provide plenty of nutrients.
Farro is an ancient grain that pairs wonderfully with pretty much anything. Farro is packed with nutrients, and has more protein and fiber than brown rice (via Consumer Reports), making it healthy and filling. And thanks to this Instant Pot farro recipe from wellness coach Miriam Hahn, it's never been easier to whip up for your next meal. 
"Farro tastes a lot like barley," Hahn explains. "It is a hearty grain that is delicious." And since the Instant Pot does all the cooking, you can prepare this farro recipe with minimal effort. So what are you waiting for? Give this Instant Pot farro recipe a try — something tells us you'll be enjoying it as a dinner side dish time and time again!
Gather the ingredients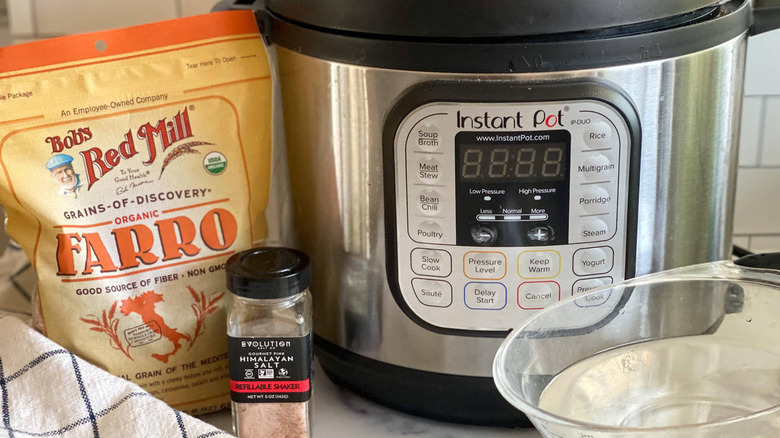 Miriam Hahn/Mashed
One of the best things about this recipe is that it requires only a few ingredients. Of course, you'll need farro, but be sure not to get the quick-cooking type. You'll also need a little bit of salt, some water, and your trusty Instant Pot. And that's it! Because the ingredients list is pretty short, the dish is much better suited as a side than a main course, so you'll want to incorporate it into a balanced meal.
Rinse your farro and add it to the Instant Pot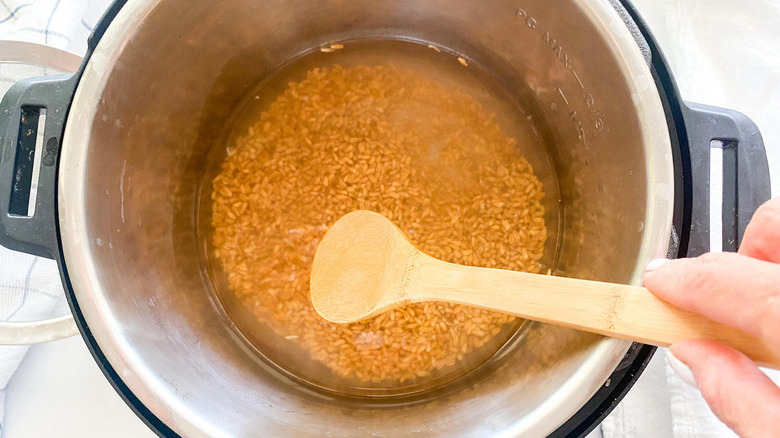 Miriam Hahn/Mashed
After you have your ingredients sorted and measured, you can go ahead and prepare the farro to cook. Like rice or quinoa, it's important to rinse your farro before cooking it. By doing so, you'll help get rid of some of the powder that accumulates in the bag, which could affect the flavor after you cook it. 
Once you've rinsed your farro, go ahead and put it into your Instant Pot. Add in the water as well as a little salt, which will help bring out the flavor. 
Seal the lid of your Instant Pot and cook on high pressure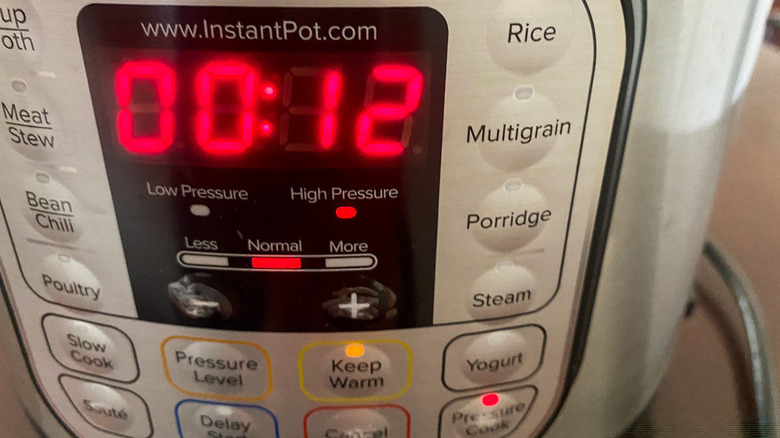 Miriam Hahn/Mashed
Now that you have the farro, water, and salt in the Instant Pot, go ahead and pop the lid on. Set the valve on the lid to "sealing," and then set the pot to high pressure. Set the timer for 12 minutes, which will be the cook time for the farro. It will take your Instant Pot about 15 minutes to come to pressure, so your farro won't be cooking during this time. Once it has reached the proper pressure, it will begin cooking, and you'll see your 12-minute timer begin to count down. 
Release the steam from the Instant Pot and drain the excess water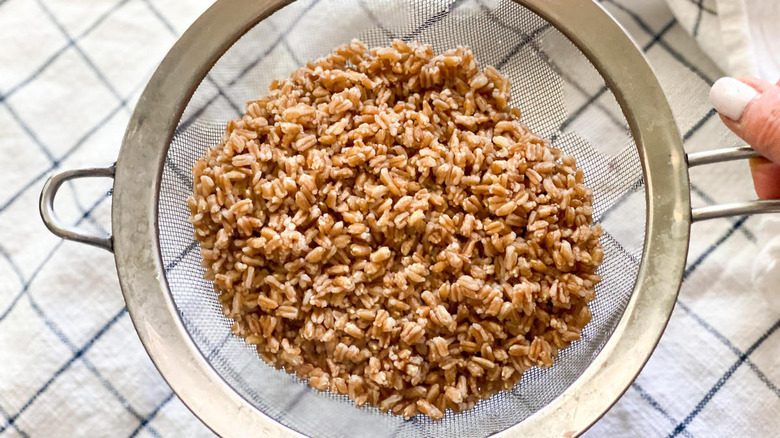 Miriam Hahn/Mashed
After the 12 minutes are up and your farro has cooked, you're ready to release the steam from your Instant Pot. To do so, you'll need to change the valve on the lid from "sealing" to "venting." All of the steam will rush out of the valve, so use caution and be sure to step back once you change the valve. "I do this by changing the valve with a serving utensil and standing back," says Hahn.
After all of the steam has released, you can remove the Instant Pot lid. Using a mesh strainer, drain the remaining water from the farro, which should look plump and fully cooked like it does in the photo.
Serve your farro and enjoy!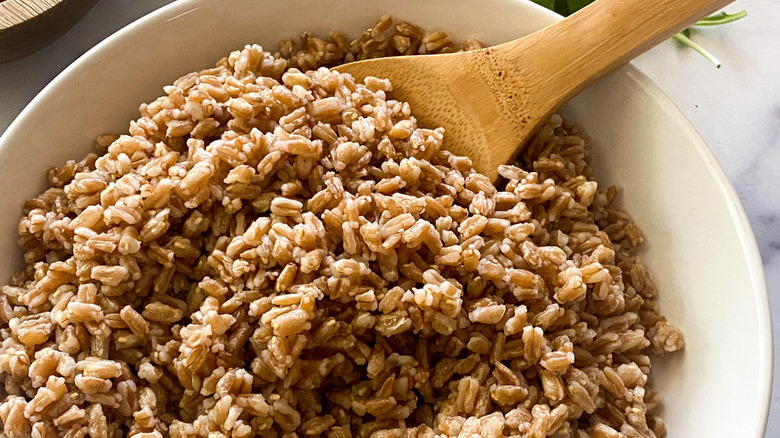 Miriam Hahn/Mashed
Once you're done draining the excess water, you're ready to enjoy your farro! 
Hahn notes that farro complements savory soups and salads wonderfully. If you have some fresh vegetables on hand, you can also chop those up and toss them with farro, canned garbanzo beans, and an olive oil dressing to make a hearty but nutritious meal. 
The great thing about farro is that it's incredibly versatile. The possibilities are truly endless, and thanks to this simple Instant Pot recipe, it's never been easier to give farro a try.
Instant Pot Farro Recipe
Farro is an ancient grain packed with nutrients. With more protein and fiber than brown rice, this Instant Pot farro recipe cooks fast with minimal effort.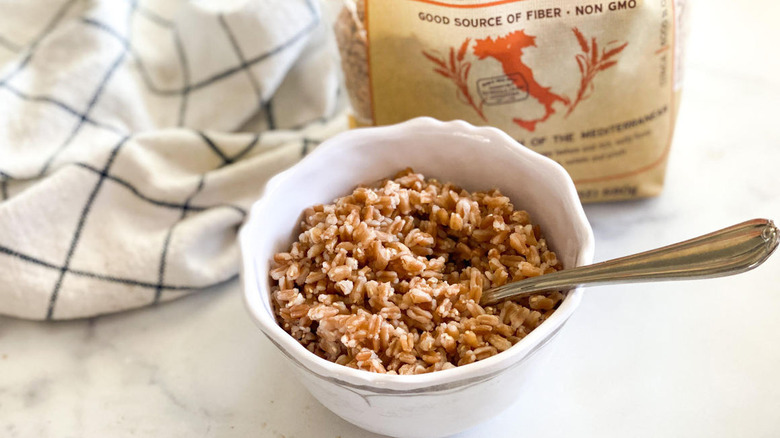 Ingredients
1 cup farro
3 cups water
1 teaspoon salt
Directions
Rinse the farro in cold water.
Add this to the Instant Pot with the water and salt.
Set the valve on the lid to "sealing." Select "high pressure" and set the time to 12 minutes.
The Instant Pot will take about 15 minutes to come to pressure before the cook time will begin.
When the time is up, do a quick release by changing the valve to "venting."
When the steam has been released, open the lid and drain the excess water.
Nutrition
| | |
| --- | --- |
| Calories per Serving | 147 |
| Total Fat | 1.1 g |
| Saturated Fat | 0.2 g |
| Trans Fat | 0.0 |
| Cholesterol | 0.0 mg |
| | |
| --- | --- |
| Total Carbohydrates | 30.5 g |
| Dietary Fiber | 4.7 g |
| Total Sugars | 3.0 g |
| Sodium | 514.5 mg |
| Protein | 6.3 g |