How Twitter Saved Busy Philipps' Birthday Cake For Her Daughter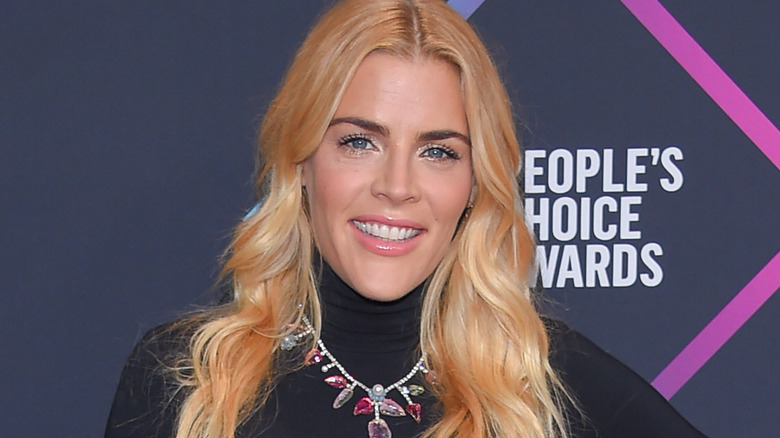 Shutterstock
If you need an elaborate homemade cake, Busy Philipps is the woman for the job. The "Girls5eva" actress is known for going out of her way to create the most ornate cakes, featuring creative shapes, flavors, 3D decorations, and more. Every year we get more and more excited at the prospect of eyeing a new cake by Busy, which typically happens around or on her children's birthdays. The actress has two children, Cricket, age 8, and Birdie Leigh, age 12, with her husband, screenwriter and film producer Marc Silverstein.
For example, just last year, she kicked off her youngest's birthday celebrations with a Minecraft-themed birthday cake. The box-shaped cake was painted all over in yellow, green, and brown checkered squares and even included a "derpy" pig, as Cricket had wished for, according to Philipps' Instagram. But Philipps does more than just your average sheet cake shape. For Birdie's fourth birthday, she designed a cake tower in the shape of Rapunzel's literal tower from the movie "Tangled," per MTV.
To say we're impressed by the mom and her cake skills would be an understatement. She designed her daughter Cricket's eighth birthday cake over the weekend, and we think she may have just topped herself.
Philipps made Stitch out of a bear-shaped cake mold
To give her daughter the best birthday possible, Busy Philipps had to do something she's never done before: ask Twitter for help. Last week the actress and mom of two reached out to Twitter followers in Charleston, SC, tweeting if anyone had a "full size Wilton Stand up bear cake pan," and if so, could she borrow it to make Cricket's birthday cake. She claimed she had lost hers and in a tizzy, she had accidentally ordered the mini version as a replacement. Her youngest would be turning eight the following day. Luckily, it didn't take long for Twitter to come through and a local WCBD news station reporter was able to swing by and drop off her Wilton Stand up bear cake pan for Philipps to borrow.
Less than 24 hours later, Philipps made her grand cake reveal, surprising the world that she in fact was not making a bear cake, but a cake in the shape of Stitch from the animated film "Lilo & Stitch"! "We did it, internet! You helped me locate the cake pan I needed to bake the Stitch cake of Cricket's dreams and IT WAS," Philipps wrote on Instagram. She added that Cricked "loved it more than anything," so we're calling it a win-win for everyone involved.