Cheesecake Factory's Newest Cheesecake Flavor Combines These 2 Popular Desserts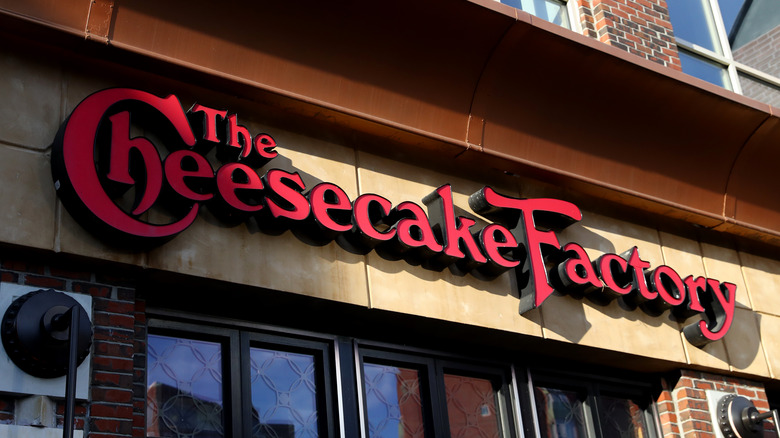 Maddie Meyer/Getty Images
The Cheesecake Factory is a popular restaurant chain for sure. As per Insider, the brand has hundreds of outlets in the U.S. and an international presence in major cities such as Hong Kong and Dubai. Plus, it's no mystery that the brand doesn't like holding back in terms of its offerings. Going through its vast menu is an intense experience in itself that lets you explore a bunch of flavors and food options. You're looking at over 200 menu items, at least. It's basically like reading a book at the dinner table. 
"We've changed the menu twice a year, every year, for 40 years. That's what keeps people interested ... There's nothing that America wants to eat that can't go on the Cheesecake Factory menu," the restaurant chain's CEO David Overton explained to NRN. And one of the best segments of the massive Cheesecake Factory menu? The cheesecakes, of course.
If you're a fan of these sweet offerings, there's some good news in store for you. According to Taste of Home, the Cheesecake Factory is releasing a new menu item inspired by two classic desserts.
Say hello to the Coconut Cream Pie Cheesecake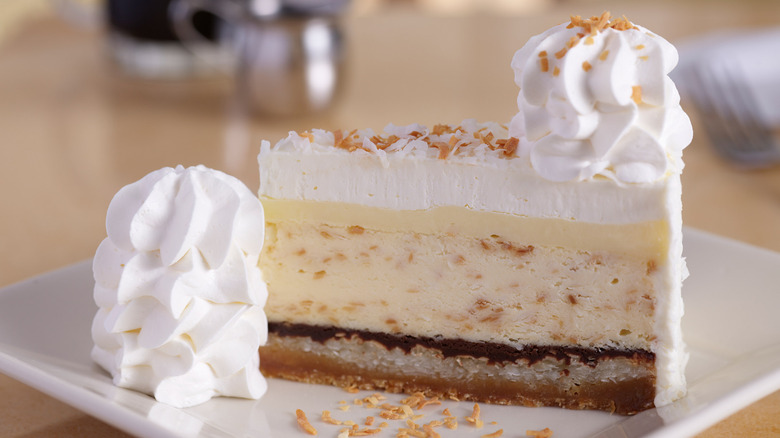 Cheesecake Factory
As per Taste of Home, the Coconut Cream Pie Cheesecake is a thing of beauty. It has chocolate and coconut, coupled with a few unexpected flavors. The Cheesecake Factory's menu describes this item so well, it will make you want to dig in as soon as possible. It reads, "Coconut Cheesecake, Vanilla Custard and a Layer of Chocolate all on a Coconut Macaroon Crust." Custard, chocolate, and coconut macaroons all layered in one slice? Count us in! The menu item will be first introduced to customers on National Cheesecake Day (July 30) of this year, so you don't have to wait long to taste this sweet mashup.
The Cheesecake Factory has also announced plans to go the extra mile for charity this year, pledging to donate $1 to Feeding America for each slice of cake sold on July 30. The brand will keep the movement going, by donating 25 cents for every Coconut Cream Pie Cheesecake sold through the rest of the year. Heartwarming and delicious.