Classic Chili Recipe With A Twist Recipe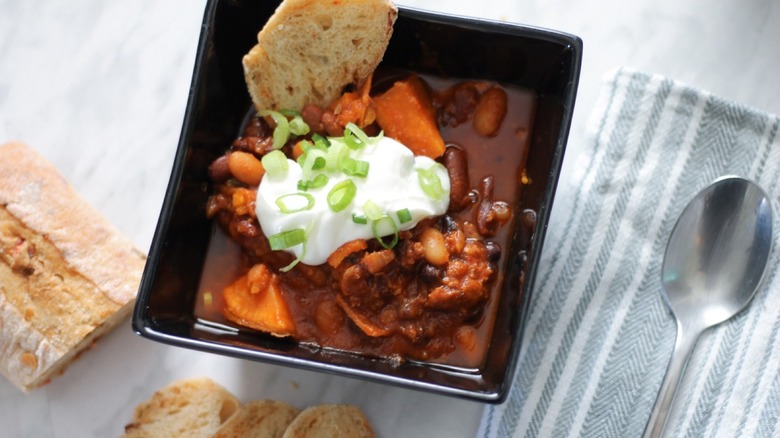 Melissa Olivieri/Mashed
Once upon a time, you could only enjoy some of your favorite recipes at certain times of year. After all, how can you justify cooking chili when it's 95 degrees outside?
Thanks to your Instant Pot, that's a problem no more. Using the Instant Pot has helped many chefs make some of their wintertime favorites in the warm weather months, and in a fraction of the time. Take this interesting twist on classic chili by Melissa Olivieri of The Olive Blogger using chorizo sausage.
"The use of the chorizo is what really sets this chili apart from any other — it has a really nice smoky flavor with a hint of heat," she explains of her take on the filling family meal. "That paired with the sweet potato makes this a winning combination that isn't typically found in a traditional chili recipe. It is also a nice change to your usual beef chili!"
Get your ingredients together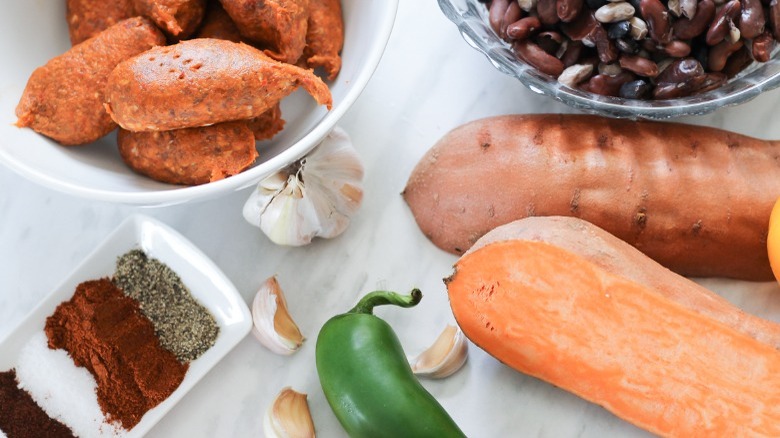 Melissa Olivieri/Mashed
Chances are, you've already got a lot of what you need to make this delicious chili in your home pantry. You'll need 18-ounces of chorizo sausage with the casing removed. Then, you'll need a large sweet potato, three cloves of garlic, a bell pepper, an onion, and a jalapeño.
You'll also need two cups of cooked beans. Canned and drained beans or home-cooked beans are both fine. Olivieri says that her family's favorites are red kidney beans, navy beans, and black turtle beans. Don't forget a 23-fluid ounce jar of strained tomatoes.
Next, grab the kosher salt, ground black pepper, chili powder, and chipotle powder. Now you're all set to make this delicious, easy treat.
Cook the chorizo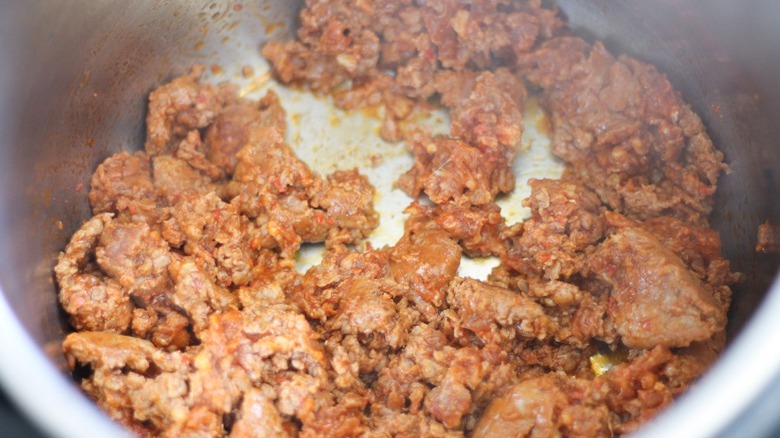 Melissa Olivieri/Mashed
Begin by setting your Instant Pot to sauté. As it warms up, you can remove the chorizo from its casing. To do this, simply use a sharp knife to pierce the length of it and pull out the filling. The casing should slip right off.
When the Instant Pot is ready, add the chorizo and break it up with a fork. Continue to mix it, breaking it up more as it cooks for about five minutes.
Add the onion, garlic, and jalapeño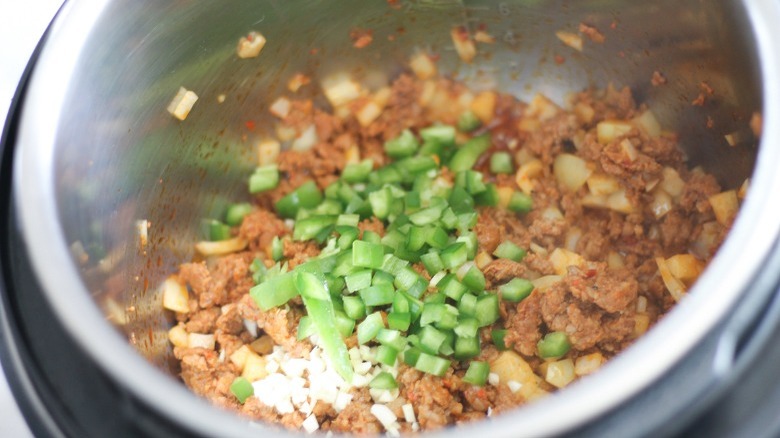 Melissa Olivieri/Mashed
Next, you want to add your diced onion in with the chorizo, stirring occasionally to allow the onion to soften for two minutes.
Once the onion is tender, you're ready to add the garlic and jalapeño. Depending on who you're cooking for, you might be questioning whether adding jalapeño is a good idea.
"You can always leave the jalapeño out," Olivieri advises. "If you want to replace it with something, I would suggest just a green bell pepper for the texture. Those who like less spice will want to remove the seeds and membrane to have just a hint of spice from the jalapeño, but it can definitely be omitted altogether." 
Add some flavorful spices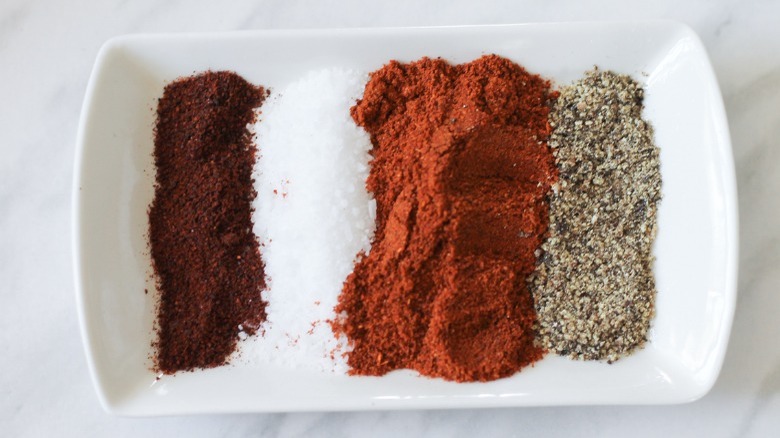 Melissa Olivieri/Mashed
Time to add even more flavor to this yummy dish! Add in the kosher salt, ground black pepper, chili powder, and chipotle powder. With the chipotle, a little goes a long way. Just a little will add a smoky aroma and depth of flavor.
Once those are added to your Instant Pot, stir everything together well. You want to make sure the entire chorizo mixture is coated in the spices as you cook.
Add the sweet potatoes and bell pepper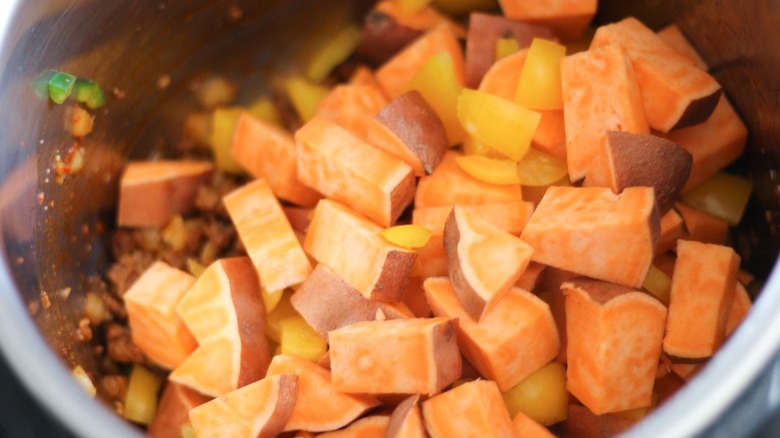 Melissa Olivieri/Mashed
Next, you'll get to add the delicious sweet potato and your diced bell pepper. Once you've added them in, give the pot a stir and continue to sauté for two minutes so the sweet potatoes can soften a little. If you don't think they've come too far in two minutes, don't worry. By the time this recipe is done, they'll be just right.
After the two minutes are through, it's time to turn off the sauté function on your Instant Pot. Now, you're ready to add the sauce to this chili.
Incorporate the strained tomatoes and water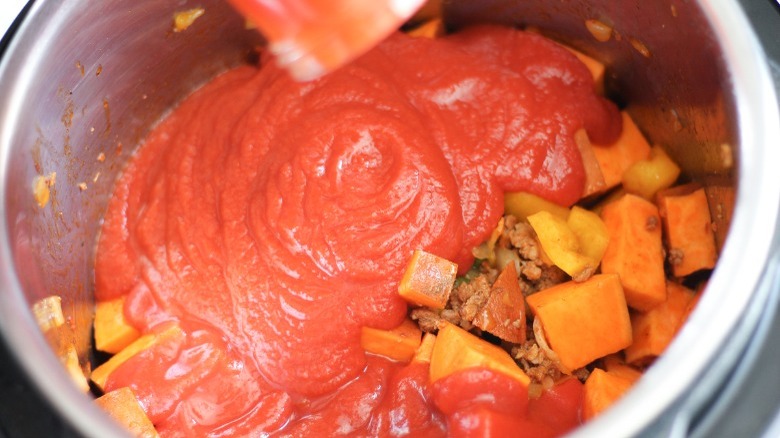 Melissa Olivieri/Mashed
Once the sauté function has been turned off, add the strained tomatoes and water into the chorizo mix. Stir well to combine all of your ingredients. Lastly, add in your choice of beans. 
Then you're ready to kick back and relax while all the wonders of chili happen. Set your Instant Pot to the chili setting (or high pressure if there isn't a chili setting) for 15 minutes and get ready to enjoy it.
Allow the pressure to release naturally before opening the Instant Pot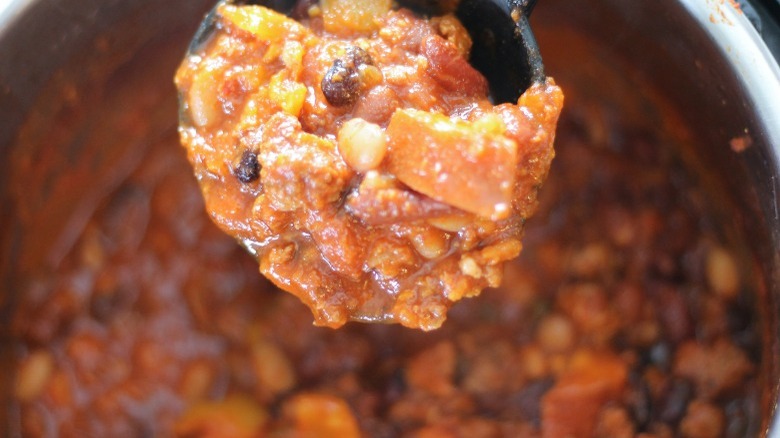 Melissa Olivieri/Mashed
You'll want to use the natural release function to release the pressure from the Instant Pot before opening it. When you do, there before your eyes will be some seriously delicious chili.
"When you open the Instant Pot, your chili will look watery on top — this is normal!" Olivieri emphasizes. "You will want to leave the lid off for 10 minutes (give or take) while you prepare your salad to serve alongside it. This will thicken it perfectly."
While a salad is not mandatory, it's a great idea to freshen up your meal. Besides a salad, think crusty bread when it comes time for serving. Those two sides and a bowl of chili make a wonderfully balanced meal in next to no time!
Classic Chili Recipe With A Twist Recipe
Using the Instant Pot means this classic chili recipe with a twist comes together in a fraction of the time. What's the twist? Spicy chorizo sausage.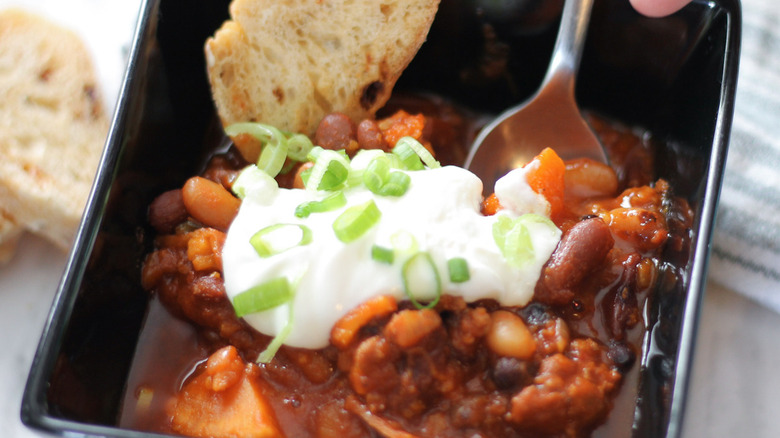 Ingredients
18 ounces chorizo sausage, casing removed
1 large sweet potato, washed and cut into 1-inch pieces
3 cloves garlic, minced
1 bell pepper, diced
1 onion, diced
1 jalapeño, seeded and diced
1 teaspoon kosher salt
1 teaspoon ground black pepper
1 tablespoon chili powder
¼ teaspoon chipotle powder
1 23-fluid ounce jar strained tomatoes
1 ½ cups water
2 cups cooked beans
Optional Ingredients
Sour cream
Chopped green onions
Directions
Set the Instant Pot to sauté and cook the chorizo for 5 minutes, using a fork to break it apart.
Add the diced onion and stir, cooking for 2 minutes for the onions to soften.
Add the jalapeño and garlic and cook for 1 minute more.
Add the kosher salt, black pepper, chili powder, and chipotle powder. Stir to coat the chorizo mixture.
Add the chopped sweet potatoes and bell pepper and continue to sauté for 2 minutes.
Turn the sauté function off and pour the strained tomatoes and water into the Instant Pot. Stir well to combine all the ingredients.
Add the cooked beans.
Set the Instant Pot to "chili function" or high pressure for 15 minutes, then allow the pressure to naturally release before opening the lid.
Garnish the chili with the optional green onions and sour cream, and serve with crusty bread and a salad. Enjoy!