Bad News For Fans Of Dunkin's Beyond Meat Breakfast Sandwich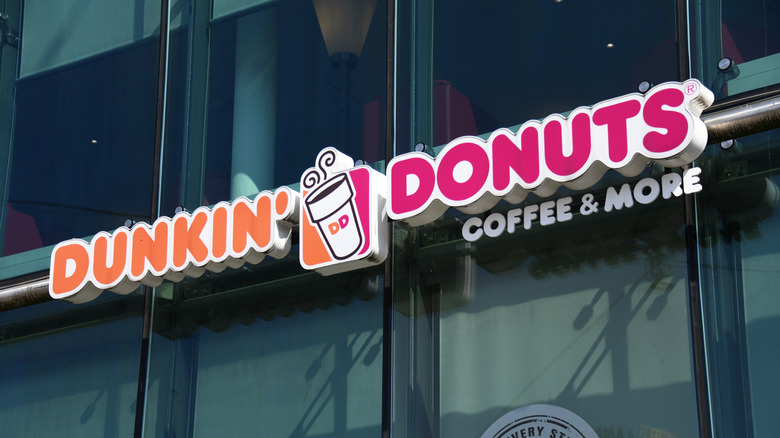 Shutterstock
Dunkin' made waves when it first announced the release of their Beyond Meat breakfast sandwich, becoming one of the first major fast food breakfast chains to bring plant-based meat to its menu. After a trial launch of the vegetarian item in some of its New York locations in the summer of 2019, the brand decided to bring the sandwich to all of the restaurants nationwide in the fall, announcing in a blog post that October: "This product is part of our commitment to offer our guests a wide range of menu choices to fit their individual lifestyle needs, and our fans LOVE it. We heard from Dunkin' guests far and wide that they needed this plant based sandwich in a store near them, and we are excited to bring the Beyond Sausage Sandwich to stores nationwide" (via Dunkin' Newsroom).
While that decision was a boon for vegetarian Dunkin' fans everywhere that could now grab a filling, meatless breakfast along with their morning coffee, it seems that Dunkin' themselves has grown less fond of the decision over time. According to Eat This, Not That!, the brand recently removed the item from their menus in thousands of locations.
Dunkin's Beyond Meat breakfast sandwich is disappearing from locations nationwide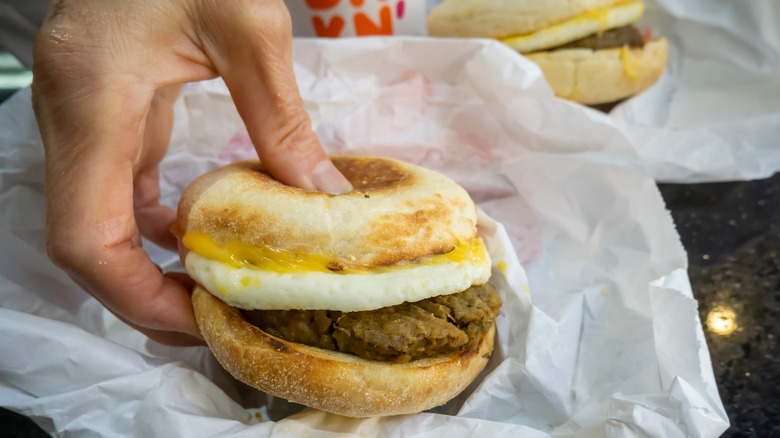 Shutterstock
Although Dunkin' continues to partner with Beyond Meat, their famous plant-based breakfast sandwiches are now only available in 10 states, launching rumors that it will be permanently discontinued, according to Business Insider. However, Dunkin' denies these rumors, saying it has not been discontinued, although it is no longer available on their online menu.
"We maintain a strong relationship with Beyond Meat and will continue to work together to explore innovative plant-based options to meet consumer demand for plant-based menu items," said Michelle King, Dunkin's head of corporate communications. "The Beyond Sausage Breakfast Sandwich continues to be available at several hundred Dunkin' restaurants throughout the country including in California, Arizona, New Mexico, Colorado, Missouri, Nebraska, Hawaii, Utah, Kansas, and Wyoming."
While the disappearance of the Beyond Meat breakfast sandwich is certainly a big loss for many customers, one can hope that their continued partnership with the alternative meat brand can only mean that other exciting new plant-based items will be coming to their local Dunkin's location in the future.