Baskin-Robbins' Adorable New Ice Cream Creations Are Turning Heads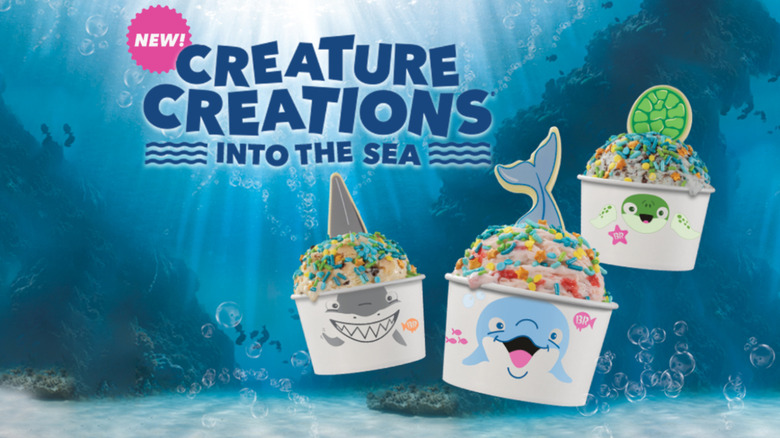 Baskin-Robbins
It's just about the peak of summer, and there's probably nothing that tastes better in the afternoon heat of a midsummer day than a cup of sweet, cold ice cream. It is one of the best warm weather desserts, and luckily, now Baskin-Robbins is helping their fans beat the summer heat with the new release of Beach Day, their July Flavor of the Month. Their newest ice cream creation brings to mind a calming beach scene with its decadent sweet and salty mixture of vanilla ice cream and ocean-inspired blue sea salt, swirled with crunchy graham cracker crumbles that resemble tasty "sand," according to Chew Boom. Milk chocolate, caramel-filled candy sea turtles and splashes of bright and colorful frosting are sprinkled atop the ice cream "waves" to complete the seasonal new release.
But that's not all customers will get when they order dessert at Baskin-Robbins. The company is also releasing adorable, summery new Creature Creations Into the Sea, which are a collection of fun ocean-themed characters that are available with your choice of any ice cream flavor.
Baskin-Robbins' new Creature Creations Into the Sea bring summer fun to every ice cream order
These cute sea critters include a dolphin, shark, and sea turtle, and each come with their own signature cup design, edible white chocolate topper, and sea-inspired wave of colorful sprinkles, according to Baskin-Robbins Newsroom. And for extra fun, customers who order these new Creature Creations now will also receive a fun crown inspired by the nautical creature of their choice. The company announced their newest summer treats on Instagram, posting a short video of the new ice cream with the caption: "The cutest combo we ever did sea. Get it, sea??" Many fans of the brand were charmed by the cute concept and delicious flavor of the sweet new dessert.
"It's officially summer at Baskin-Robbins. Beach Day and our lively lineup of Creature Creations will have you feeling like you're enjoying a day at the beach even when you're not seaside," Shannon Blakely, Vice President of Marketing & Culinary at Baskin-Robbins, said of the new releases (via Baskin-Robbins Newsroom).