Aarón Sánchez Just Revealed His Tattoo Regret On TikTok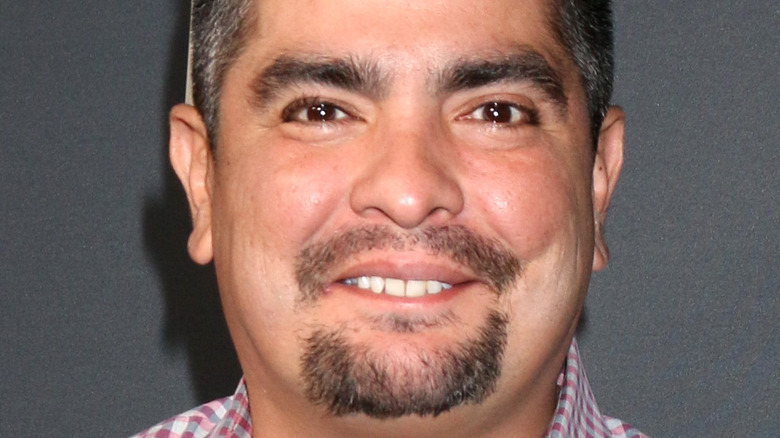 Shutterstock
Celebrity chef Aarón Sánchez might be best known for his cooking, his New Orleans restaurant Johnny Sanchez, and his judging on TV shows "Chopped" and "Masterchef," but today he took to TikTok to talk about a more personal side of his life: his tattoos, and, more specifically, his tattoo regrets. Many people may have noticed on TV that Sánchez has a significant number of tattoos, and, according to InsideHook, each one has a personal meaning. In fact, as Mashed has previously reported, Sánchez is co-owner of a tattoo parlor in New York City called Daredevil Tattoo.
However, on TikTok, Sánchez notes that he once got the name of a romantic partner tattooed, which later become a problem when the relationship ended. "I'm one of those guys that falls in love madly, and I put my ex's name on my body, and then I covered it up after we were no longer together," he said. Sánchez challenged viewers to then guess where on his body the offending tattoo was located, with the first correct answer receiving both a gift of food from online gourmet food company Goldbelly, as well as a signed copy of his new memoir, "Where I Come From: Life Lessons From a Latino Chef."
It's not the first time Aarón Sánchez has talked about bad tattoos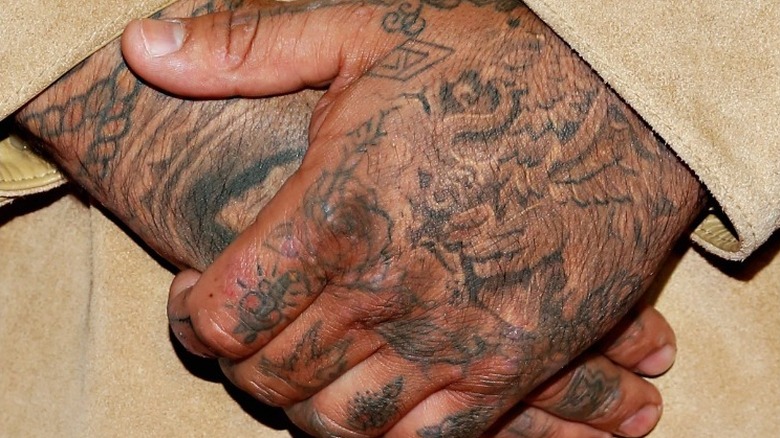 Cindy Ord/Getty Images
While Aarón Sánchez has a significant number of tattoos, he has in the past spoken out about ink other chefs have gotten that he thinks are cliché. In talking to Uproxx in 2018, he said he thinks vegetable-related tattoos, in particular, are terrible. "I've gone on record as saying, 'If I see an asparagus stalk I'm going to puke in my mouth.' I try and tell cooks that it doesn't make you cook better. I'm just throwing that out there."
That said, Sanchez admits that he's not immune to the impulse to get cooking-themed tattoos. "The only cliché thing I've done, I guess, is I have a knife [near my elbow]." However, he clarified, "But, that was way long ago, before everyone started getting a knife."
At this point, though, even if he wanted to add a food-themed tattoo, Sanchez has no more skin space left. As he told InsideHook, "I've started saying that I'm running out of paper when folks ask about new tattoos. I still touch things up here and there and cover things from time to time, but, yeah, I've basically used up all the space for big pieces."