Seared Salmon With Chickpeas And Kale Recipe
Prep time: 10 minutes. Cook time: 25 minutes. Servings: 2.
When it comes to incorporating more fish into my diet in an effort to stay healthy, salmon is an easy choice for busy weeknights. Brimming with nutrients and minerals such as iron, zinc, and B vitamins, this egalitarian fish also contains natural selenium to help you look your best. Think healthy hair, skin, and nails. Its beautiful coral flesh and somehow-light-yet-rich-flavor makes it a winner in the looks and taste department to boot. Whether you roast, bake, poach, or sear salmon, it manages to prove itself a worthy main component to a nourishing meal.
While cooking fish can be intimidating if you don't do it often, I urge you to try your hand at simple preparations that make fish the star, letting it shine without too much fuss. To that end, choose recipes that require few additional ingredients in order to elevate humble fillets. Pair the fish with a warming veggie-forward side and before you know it, you have yourself a balanced meal that's as good for your body as it is for your taste buds.
Here, salmon fillets are pan-seared for extreme ease. Crispy skin, naturally rendered fats, and flaky tender salmon flesh make the perfect accompaniment to a side serving of sauteed veggies. Nutty chickpeas are cooked with caramelized onion, earthy mushrooms, and leafy dinosaur kale. This simple but delicious meal presents one fantastic reason to enjoy fish in your diet on the reg.
Ingredients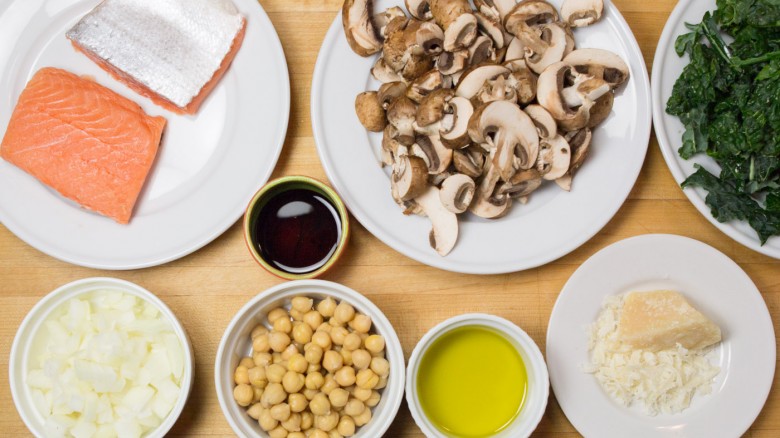 Shopping list


2 skin-on salmon fillets


kosher salt


freshly ground black pepper


¼ cup olive oil, divided


½ cup yellow onion, chopped


2 cups baby bella mushrooms, thinly sliced


¾ cup cooked chickpeas from a can, drained


1 small bunch dinosaur kale (lacinato), ribs removed and roughly chopped


balsamic vinegar


freshly grated Parmesan cheese


Equipment


large pan


medium cast-iron skillet


Season salmon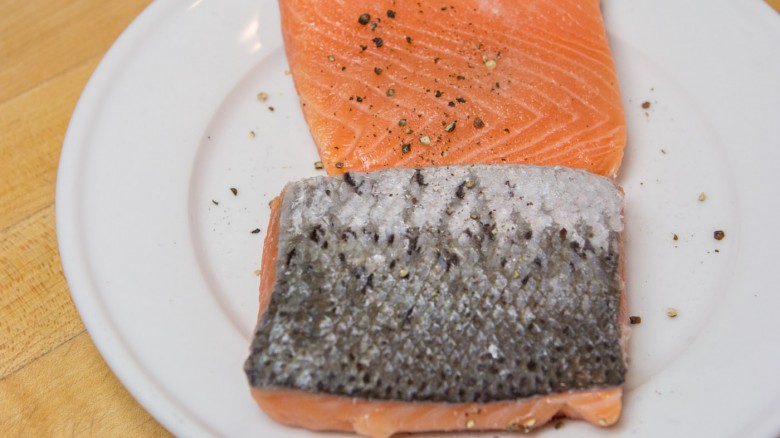 Season the salmon all over with as much salt and black pepper as desired. Set aside.
Saute onions, mushrooms, chickpeas, and kale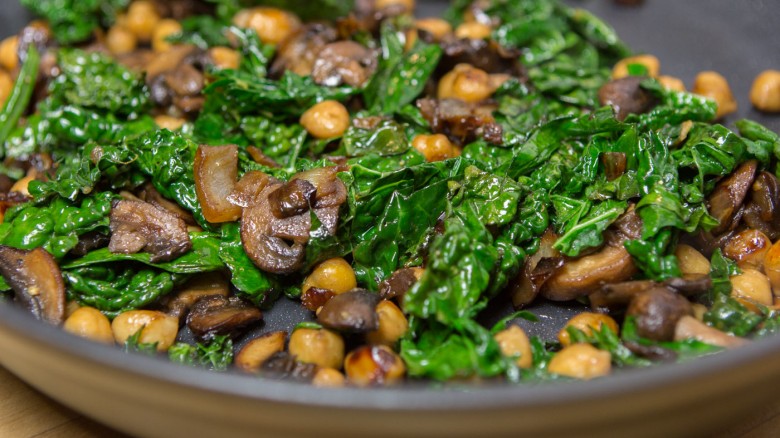 Heat 1 tablespoon of olive oil in a large pan over medium-high heat. When the oil is shimmering, add the onion and season with salt. Cook, stirring occasionally, until soft and nearly caramelized, about 8 minutes. Add another 1 tablespoon of olive oil and mushrooms. Season generously with more salt as desired. Saute, stirring, until the mushrooms are browned and softened, 3-4 minutes. Add another 1 tablespoon of olive oil, chickpeas, and kale. Saute, stirring, until the kale is wilted, 4-5 minutes. Add a splash of balsamic vinegar as desired and toss to combine. Season with more salt and black pepper as desired. Remove the pan from the heat, cover to keep warm, and set aside until ready to serve.
Sear salmon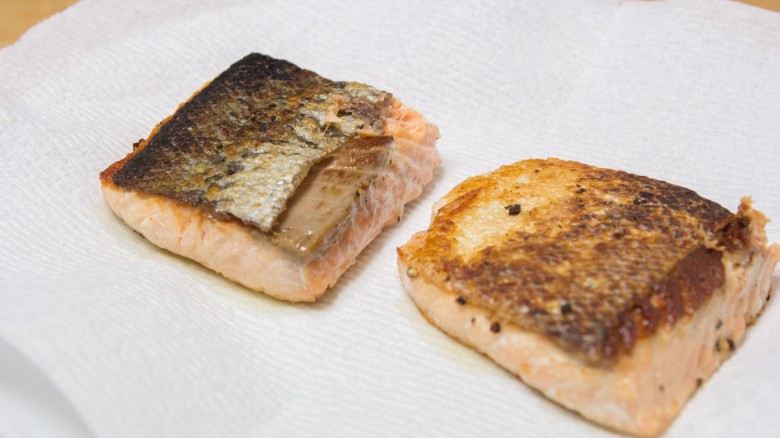 While the vegetables saute, heat remaining 1 tablespoon of olive oil in a medium cast-iron skillet over medium-high heat. When the oil is shimmering, add the salmon skin-side down and cook, pressing down with a spatula, until the skin is crisp, about 5 minutes. Flip the salmon and cook until opaque, 1-2 minutes more. Transfer to a paper-towel-lined plate to drain.
Serve salmon and vegetables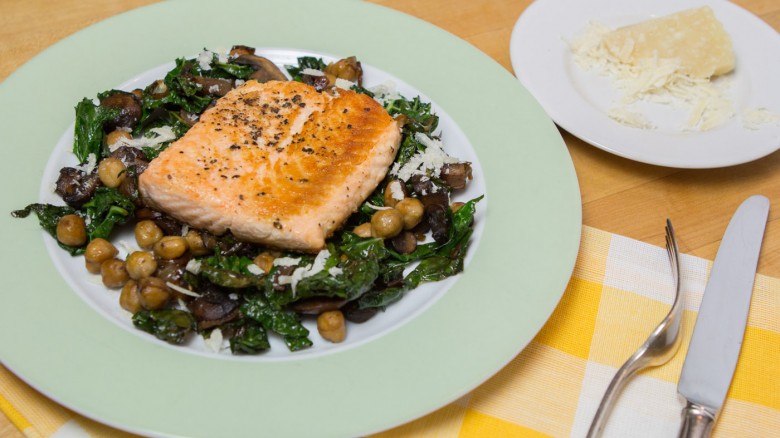 Garnish the vegetables with grated Parmesan as desired. Serve alongside salmon and enjoy.