Authentic Mexican Rice Recipe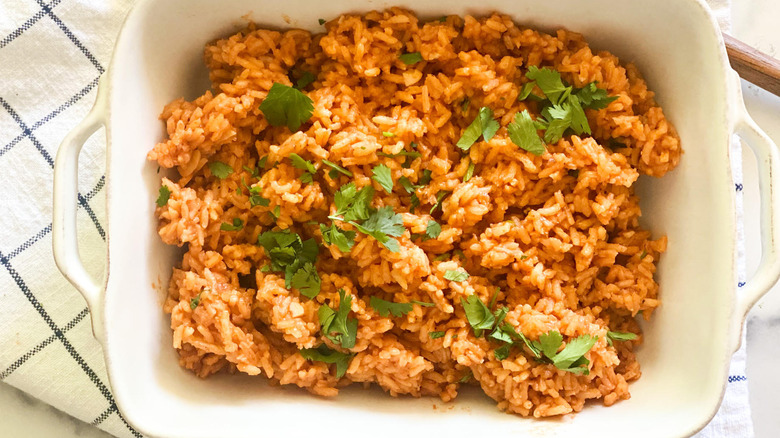 Miriam Hahn/Mashed
There's just something about a rice dish that makes your meal so delicious. This recipe for authentic Mexican rice is super simple and requires just a handful of ingredients you'll need to throw together. Another great thing about this dish is the fact that you don't need to be a world-class chef to make it, and it's super simple for any beginner. 
Miriam Hahn is the brains behind this wonderful recipe. "This rice is so good ... it is very creamy and savory, giving it a different taste profile than Spanish rice," she says. "I think the tomato bouillon is the key thing that makes this rice different." Not going to lie, our mouths are already watering just thinking about it! Whether you pair it with tacos, tamales, or pretty much anything else, it's going to be a hit.
Keep scrolling to find out how to make this amazing rice, which is sure to impress your guests, family, or just yourself!
Gather the ingredients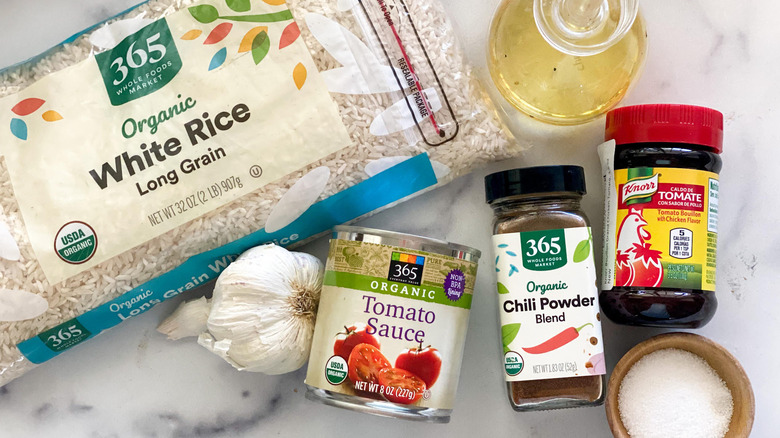 Miriam Hahn/Mashed
For the first step in the process, gather all of the ingredients that you will need to make this tasty side dish. The first item on your shopping list is long grain rice.
You'll also need some type of oil — Hahn said she opted for avocado oil. One more item that you are sure to have at home is two cups of water. In addition, grab some tomato sauce, garlic cloves, and chili powder. You will also need Caldo de Tomate, a.k.a. tomato bouillon. Last but not least is salt, which most people already have at home. 
That is all you need to start, so without further ado, let's begin!
Heat the oil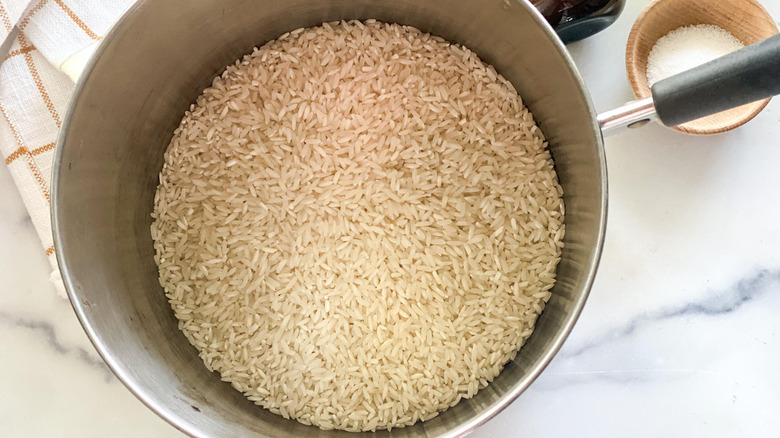 Miriam Hahn/Mashed
Now that you have all of your ingredients, we can get down to the nitty-gritty. Take out your favorite saucepan and put it on your stove. Turn the heat to medium-high and heat the olive oil. Then, you can throw in all of your rice. "Long-grain rice works best, as short-grain rice tends to get sticky," Hahn shares. "I use long-grain white or long-grain brown. (I always try and find organic rice to reduce toxins.)"
Stir the whole mix for two minutes using a timer or by simply looking at your clock. Once you've had the rice on medium-high for two minutes, go ahead and reduce the heat to low.
Add the water and other ingredients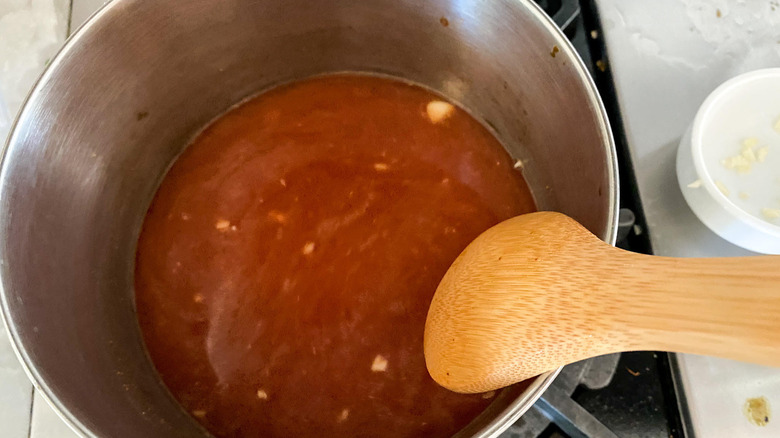 Miriam Hahn/Mashed
When your heat is down, it's time to a few more items to the saucepan. First, dump in the water and tomato sauce to give the rice a good liquid base. Next, you can add some of your spices, including garlic, chili powder, salt, and the Caldo de Tomate. Give the rice and all of the other ingredients a few stirs so everything is well incorporated.
Now, it's time to kick up the heat again. Bring the mixture to a boil, then cover it. Set your timer for about 20 minutes and let everything simmer.
Finish and fluff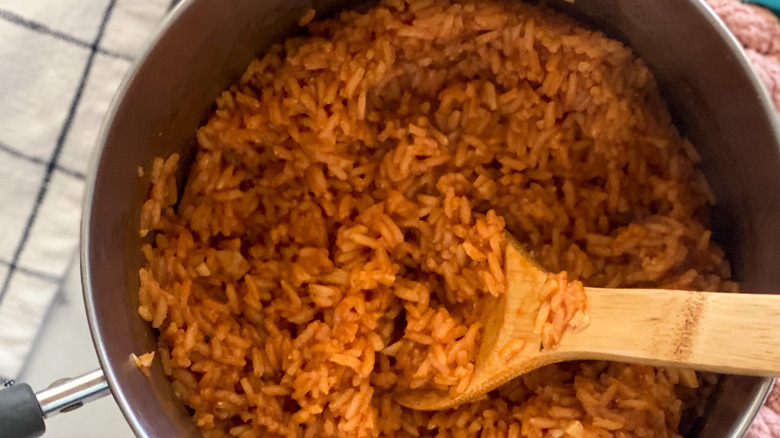 Miriam Hahn/Mashed
Once the timer goes off, the rice should be done or really close to being done, and your kitchen should be smelling amazing. Before you take the saucepan off of the heat, be sure that all of the water is absorbed. If the water is absorbed, you can go ahead and take it off the heat because that means it's done. If there is still a little bit of water remaining, keep it on the stove and let it cook a little bit longer.
Once you take the saucepan off the heat, use a fork to fluff it up. Voila, it's finally finished. Wasn't that super easy? 
Serving suggestions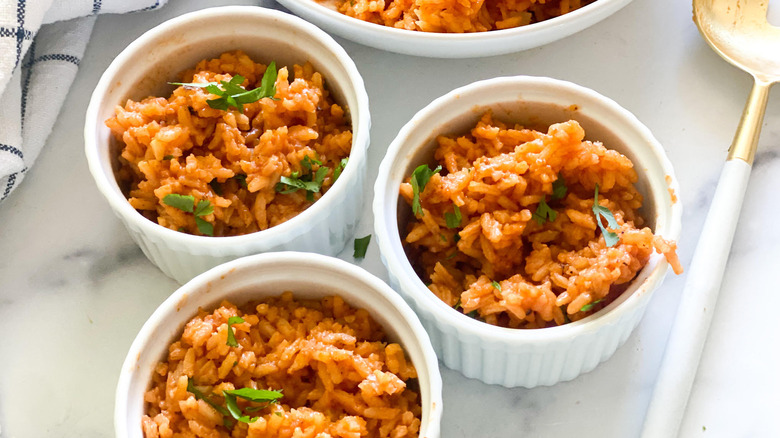 Miriam Hahn/Mashed
There are plenty of ways to serve this rice, and the possibilities are truly endless. "I love to use this rice in Mexican rice bowls or make-at-home Chipotle bowls," Hahn says. "It's also good with tacos, burritos, fajitas, tostadas, etc. Great side dish!" We also think that it would be super yummy paired with a quesadilla. 
We don't foresee you having any leftovers, but if you happen to have some, they will be good for five days as long as they're stored in an airtight container. Now, it's time to dig in! We hope you love this dish as much as we do.
Authentic Mexican Rice Recipe
Whether you pair this authentic Mexican rice dish with tacos, tamales, or pretty much anything else, it's going to be a hit.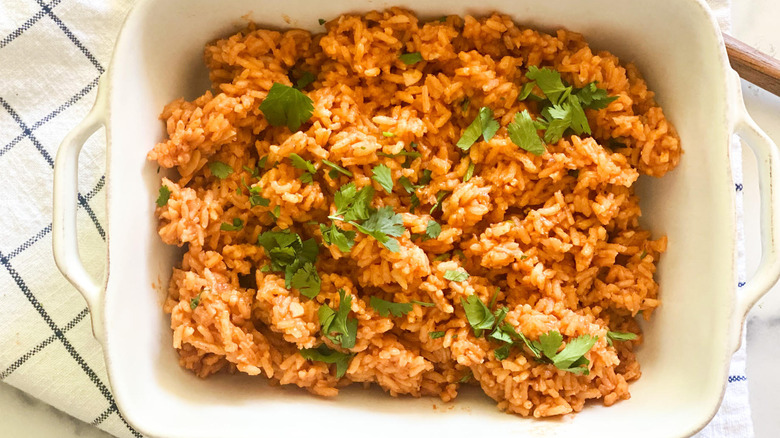 Ingredients
1 tablespoon oil
1 cup long-grain rice
2 cups water
4 ounces tomato sauce
2 garlic cloves, minced
1 teaspoon chili powder
1 teaspoon salt
2 teaspoons Caldo de Tomate (tomato bouillon)
Directions
Heat the oil in a saucepan over medium-high heat and add rice. Stir for 2 minutes, then reduce to low heat.
Now add the water, tomato sauce, garlic, chili powder, salt, and Caldo de Tomate. Bring to a boil, then cover and simmer for 20 minutes.
After 20 minutes, if all water is absorbed, turn off heat and fluff with a fork. Serve.
Nutrition
| | |
| --- | --- |
| Calories per Serving | 211 |
| Total Fat | 4.0 g |
| Saturated Fat | 0.4 g |
| Trans Fat | 0.0 g |
| Cholesterol | 0.0 mg |
| | |
| --- | --- |
| Total Carbohydrates | 39.3 g |
| Dietary Fiber | 1.3 g |
| Total Sugars | 1.1 g |
| Sodium | 468.1 mg |
| Protein | 3.9 g |