Air Fryer Carrot Fries Recipe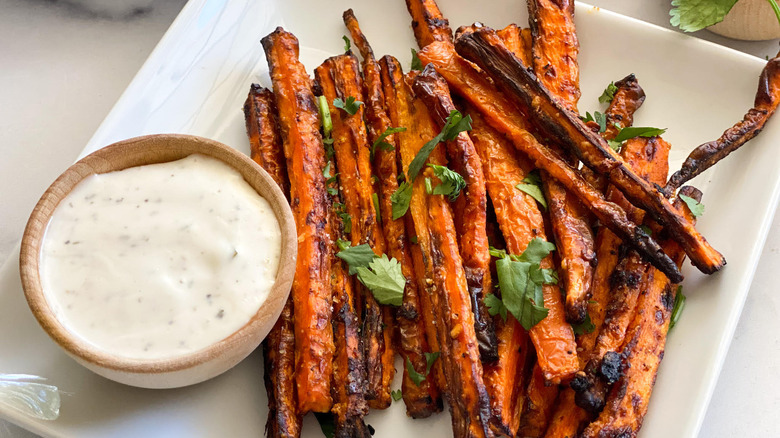 Miriam Hahn/Mashed
The air fryer is one of the best tools in the kitchen because it gives you crispy, fried food with just a little bit of oil. While the oven can do a similar thing, the air fryer adds that extra level of crispiness that you can usually only get when deep-frying food. 
We love this dish because carrots are such a healthy food already. According to Healthline, they're high in fiber, potassium, and anti-oxidants, not to mention that beta carotene and vitamin K1. In addition, they can help with weight loss, they're good for your eyesight, and they also taste amazing.
Another great thing about the recipe is that it takes just 6 minutes of prep time and 10 to 15 minutes of cook time, making it a breeze. Recipe developer Miriam Hahn shares that her favorite part of the dish is that "it is a new way to eat carrots! I typically eat them raw and I recently found out that carrots have three times the antioxidants when they are cooked. They are so delicious this way!" she says. 
Keep scrolling to find out how to make these yummy carrot fries that are just as good as real french fries, but way healthier.
Gather the ingredients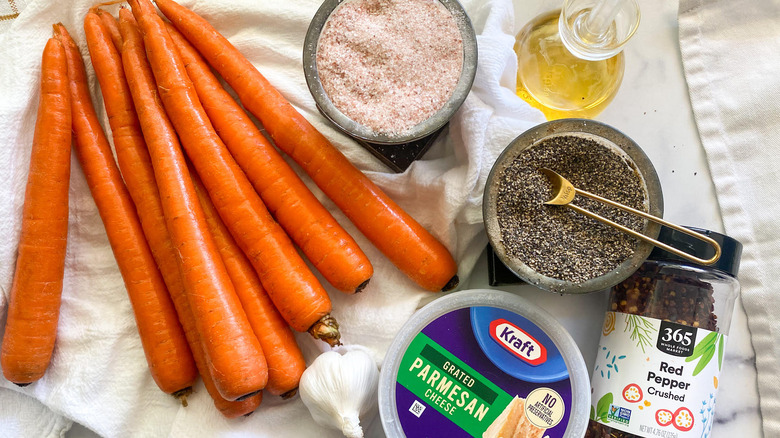 Miriam Hahn/Mashed
For the first step in the process, gather all of the ingredients needed for the recipe. The star of this tasty side dish are the carrots, and you will need about six to eight large ones. In addition, you'll need a tablespoon of oil. In Hahn's case, she says that she used avocado oil, but feel free to use olive or another type. Then, grab two cloves of garlic and coarse salt for a little bit of flavor.
To complete your grocery list, parmesan cheese is a must. Last but not least are red pepper flakes and black pepper. That's all you need to get started! 
Scrub and cut the carrots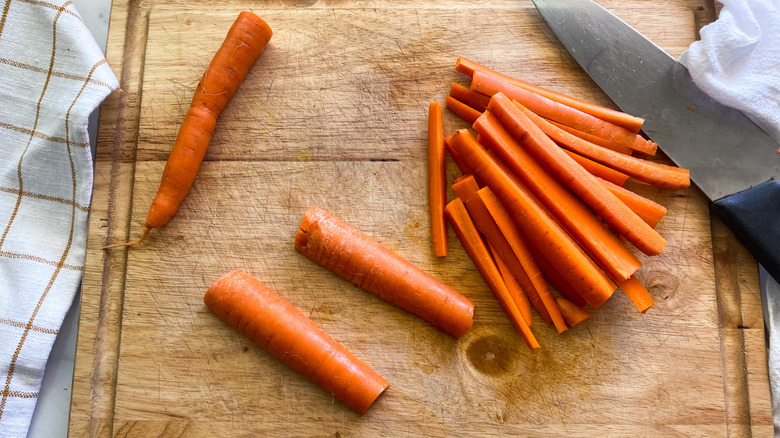 Miriam Hahn/Mashed
The first thing you should do is scrub the carrots, removing any dirt or germs that may have gotten at the store. If you'd like them peeled, you can also do that at this time, but it's totally optional. 
Now, it's time to get cutting. First, cut each carrot in half crosswise. After that, you'll want to take each half and cut it in half lengthwise to create a flat surface. Now, lay each half down on the flat side and then cut it into three equal slices. The carrot slices will shrink as they cook, so be sure that you're not cutting them too small.
Crush the garlic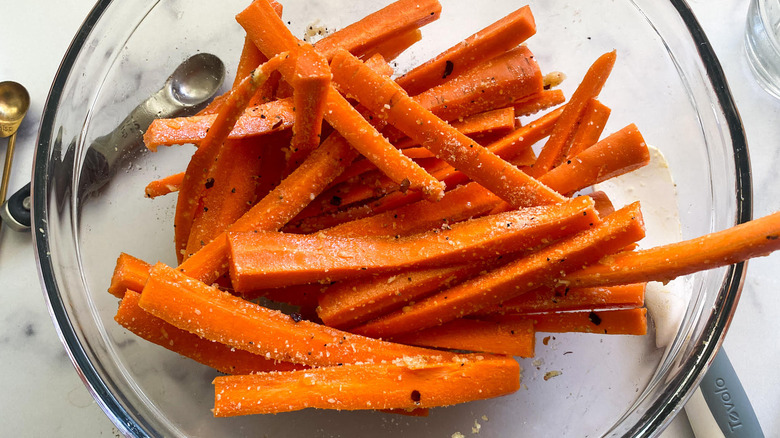 Miriam Hahn/Mashed
Take out a garlic press and your garlic. Crush the garlic with the press and then mix it with the oil and salt in a bowl large enough to hold the carrots. Then, add the carrots and toss them together. Hahn says that it's easiest to use your hands for mixing. If you don't want to use your hands, you can instead try a spoon. 
Once the carrots are coated with oil, sprinkle the parmesan, red pepper flakes, and black pepper on top of the carrots. Mix everything again with your hands or a spoon and continue on to the next step. 
Cook the carrots in the air fryer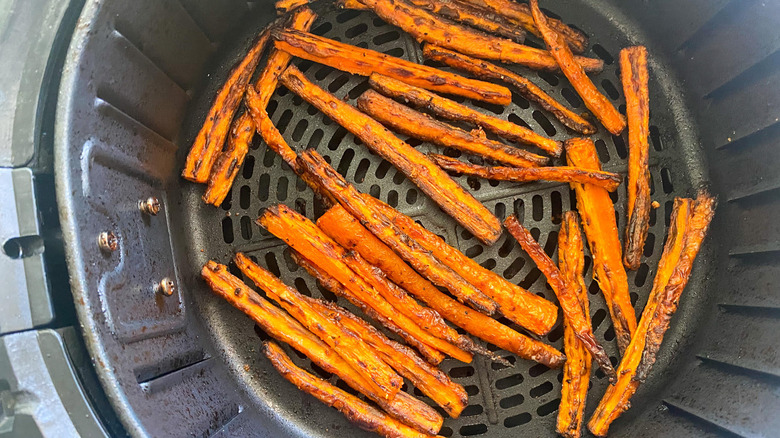 Miriam Hahn/Mashed
Take half of the carrots and stick them in the air fryer. Make sure that you put them in a single layer because they won't cook evenly if they overlap. It's okay if the sides of the carrots touch, but just make sure they don't cross over one another. You'll most likely need to work in batches. 
Set the temperature on the air fryer to 400 F and set your timer for 15 minutes. 
Hahn says that you can also cook these in a convection oven, but she prefers the air fryer. "If you use the convection setting in your oven, it will be a similar affect, but it is so nice not to heat up the oven and use the air fryer instead," she says.
About halfway through the cooking time, shake the carrots well. Be sure to check the carrots at about 10 to 12 minutes to make sure they're not getting overdone (this will depend on the size of your slices). Once you finish the first batch, put in the second batch and follow the same steps.
Serve the fries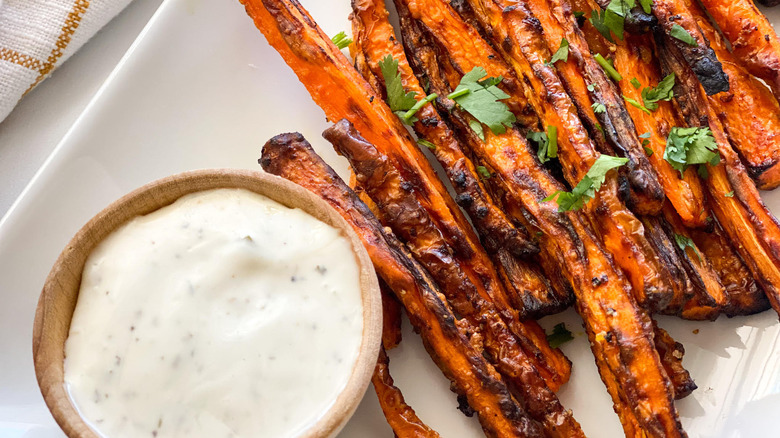 Miriam Hahn/Mashed
After repeating the steps for the second batch of carrots, you can take them out and serve the carrots however you choose, but they're best served immediately. If you let them sit out too long, they will lose their crispiness. You can, however, always put them back in the air fryer for a few minutes to get their crisp back.
As for what to eat them with, "They are good alone, but they taste great with ranch, ketchup, guacamole to name a few," Hahn says. "I like to serve them with veggie burgers or sandwiches but carrots are a versatile vegetable so go with anything." Yum! 
Air Fryer Carrot Fries Recipe
Looking for a new, healthy, and easy way to cook carrots? This air fryer carrot fries recipe takes just 6 minutes to prep and 10 to 15 minutes of cook time!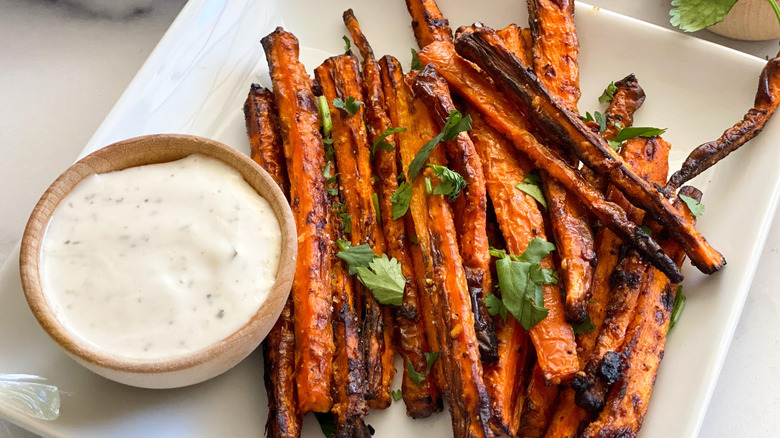 Ingredients
6 to 8 large carrots
1 tablespoon oil
2 cloves garlic, crushed
½ teaspoon coarse salt
1 to 2 tablespoons grated parmesan
¼ teaspoon red pepper flakes
⅛ teaspoon black pepper
Directions
Scrub the carrots and peel if desired.
Cut each carrot in half crosswise. Then take each half and cut it in half lengthwise to create a flat surface. Lay each half flat side down and cut it into 3 long slices.
Crush the garlic with a garlic press and mix it with the oil and salt. Then toss this with the cut carrots.
Now mix the parmesan, red pepper flakes, and black pepper. Sprinkle this on the carrots and mix again.
Put about half of the carrots in the air fryer, in a single layer. Set the temperature to 400 F and the time to 15 minutes. Shake them halfway through the cooking time.
Check them after 10 minutes. The amount of time needed will depend on how big your slices are and your individual air fryer.
When the first batch is done, put in the second batch.
Serve the fries!
Nutrition
| | |
| --- | --- |
| Calories per Serving | 99 |
| Total Fat | 4.7 g |
| Saturated Fat | 0.9 g |
| Trans Fat | 0.0 g |
| Cholesterol | 2.4 mg |
| | |
| --- | --- |
| Total Carbohydrates | 12.8 g |
| Dietary Fiber | 3.6 g |
| Total Sugars | 6.0 g |
| Sodium | 313.1 mg |
| Protein | 2.5 g |