The Truth About Aerosmith Star Joe Perry's Hot Sauce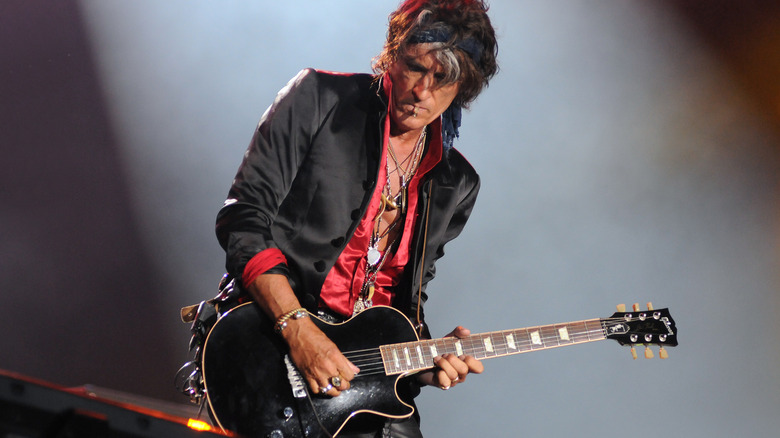 Shutterstock
Joe Perry is probably best known for shredding his guitar on stage with the almighty Aerosmith. But what fans of the rock 'n' roll powerhouse might not know is that he's also a bonafide hothead. So much so that he launched his own scorching hot sauce appropriately called "Rock Your World" back in 2004. 
While he's better known for melting faces on stage with his guitar, Joe Perry's foray into melting mouths is more than just a gimmick — in fact it has roots in his family. According to Blabbermouth, Perry's love of all things spicy comes from his Portuguese heritage. His father hails from the semi-tropical island of Madeira — just off the coast of Portugal — so spicy food wasn't just a big part of his upbringing. It was impossible to get away from.
So what was it that made this rock 'n' roll Hall of Famer start his own brand of scorching hot sauces? Turns out it was sheer boredom with food while on tour.
Perry got inspired to make his own hot sauce because of bland food on tour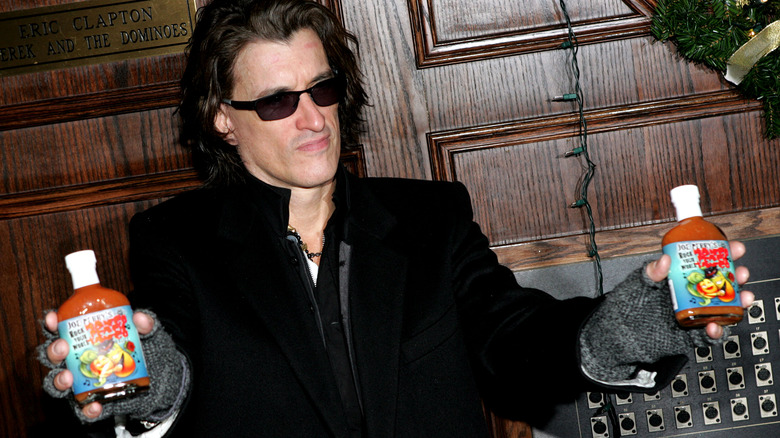 Paul Hawthorne/Getty Images
One of the perks of being in one of the best rock 'n' roll bands of all time is that you get to travel the world many times over. But in so doing Perry found there wasn't always time to sample the local cuisine due to his busy tour schedule. That meant eating a lot of bland food on-the-go, leaving him craving the spicy flavors he was used to enjoying. That's when he came up with the idea of bringing his own secret stash of hot sauces to accompany him on the road.
"Traveling on the road, you run into a lot of bland food, so I got into carrying around my own hot sauce. Then I was having trouble finding something that I really liked, that was the perfect one. Either it was too hot or too fruity or too much vinegar or too much tomato. So I ended up coming up with a formula," he once said, as noted by Blabbermouth.
None of the bottled sauces he took on tour could cut it, so he did what any rockstar would do — invented his own and then shared it with fans. It soon became the Rock Your World sauce that fans and foodies alike love today.
So how much punch does this hot sauce pack? Well, in Perry's own words, "If you can handle Tabasco Sauce, you can probably handle my sauce." So while seasoned spice fiends probably won't bat an eyelid, those with a more delicate palette might want to proceed with caution.